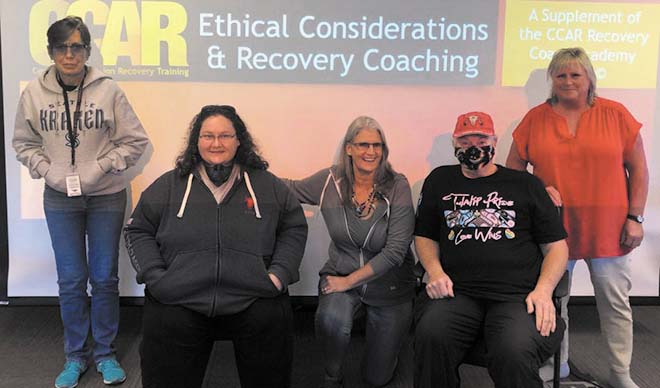 By Kalvin Valdillez, Tulalip News
Back in 2020, just weeks before the worldwide COVID-19 outbreak, the Tulalip Problem Gambling Program held a four-day training, over the course of two weekends, designed to build a network of support for local individuals on the road to recovery. Approximately twenty people attended the training and became certified recovery coaches, learning skills to help empower and encourage those battling addiction to stay the course, especially during difficult times when they are on the verge of a relapse.
"A recovery coach is someone in-between a sponsor and a counselor," explained Problem Gambling Counselor, Robin Johnson. "They're not there to tell them what to do. They are not doing the twelve steps with them, that's not what they're there for. They're there to help, depending on their individual needs, finding out what those needs are, and meeting them there."
She continued, "This is not the first recovery coach training that we've had, but it was by far the most successful. We've had better response and incorporated not only addiction, or chemical addiction, but also gambling addictions. Our philosophy is that we help the community heal from within, and the more people that we can teach to be recovery coaches, and have them in the community and available to others, that is just going to snowball. That was our hope and that is actually what seems to be happening at the moment."
Through the recovery coach training, the Problem Gambling program planted a seed that is coming to fruition today. Six of those recovery coaches stayed in contact throughout the pandemic's stay-at-home mandates, meeting virtually to discuss how they can spread the word and let those in recovery know they are available as a source of support, brainstorming ideas on how they can better serve their community. Ultimately, the group decided they needed a physical space where recovering addicts can go in times of distress and when in need of support, and with that came the idea of opening up a local Recovery Café.
The original Recovery Café was established in 2004 right here in the Pacific Northwest, in the Belltown neighborhood before migrating to South Lake Union in 2010. Since then, the Recovery Café has assisted not only those wanting to lead a clean and sober lifestyle, but also the homeless population in Seattle as well.
The café offers a positive environment where people can enjoy coffee and healthy meals while interacting with others in a number of activities including open mic nights and birthday celebrations. Café goers can take part in peer-to-peer groups such as recovery circles and they also have access to computers, WIFI and a plethora of resources. The Recovery Café model has been such a success that over 20 non-profit organizations have opened cafés of their own in cities throughout the country. And recently, a second location was opened in Seattle's SODO district.
Although there is an established Recovery Café in Everett, opening a location in the Tulalip-Marysville area will benefit a community that has been significantly impacted by the opioid crisis over the years. This establishment could not come at a better time either as early projections predict that overdose cases and excessive gambling cases have been on the rise since the first wave of the pandemic hit. Offering a space where people can go to simply be around others who strive for the same goal can help during the recovery journey.
Still in the early planning phase, led by those six individuals who attended the Problem Gambling's recovery coach training in 2020, the group is working on establishing a board of directors, designing a logo, raising funds and most importantly finding a space to set up shop. Ideally, the group would like the café to be in an area that is convenient and accessible to both Tulalip and Marysville community members. If you happen to be reading this and the perfect location comes to mind, the group would love to hear from you.
The recovery coaches also enlisted a number of professionals to help navigate the process of opening up the café, including Tulalip Tribal Prosecutor Brian Kilgore, Tulalip Recovery Liaison Helen Gobin-Henson, Tulalip ODMAP Social Worker Jackson Nahpi, and Robin Johnson and Sarah Sense-Wilson of the Problem Gambling program. The Tulalip Foundation has also leant their expertise to the project, helping the Café become a non-profit organization and apply for and obtain grants.
"I'm really excited about this group of people," said Brian. "I think that they're going to go out into the community and they're going to create a physical space where people can come in and get wraparound support and services. I think that the power of having a physical place, around which to build services, is going to be really transformative for all the work we're doing. Government, non-government, volunteers, we're all working the same problem, right? We're trying to save lives, trying to get parents back to their kids and rebuild families and communities and stop people from dying, but we just haven't had a physical place to do it."
Once the group finds a space to operate, they believe everything should easily fall in place, and they are aiming to have the café up and running by the end of the year. In addition to finding a space for the Café, the recovery coaches will be doing community outreach over the next couple months. If you are interested in helping get this project started and helping people maintain a clean and healthy lifestyle, please contact the Problem Gambling program at (360) 716-4304 for more information.
Helen expressed, "This project is important because we have nowhere for our people who are sober and clean, or want to get sober and clean, to gather. And we have so many people who are homeless, who are hungry, and they could come to the café and enjoy a meal. I feel like when the people who are sober and clean get together as a group, they can connect with each other and say, 'Are you going to an in-person meeting today? I'd like to go with you', or 'what Zoom meetings are you hitting?' They can connect there at the café. This is so important to me, to help the people who are sober, and encourage the people who might be thinking about getting sober and clean, find a safe and supportive place to gather."