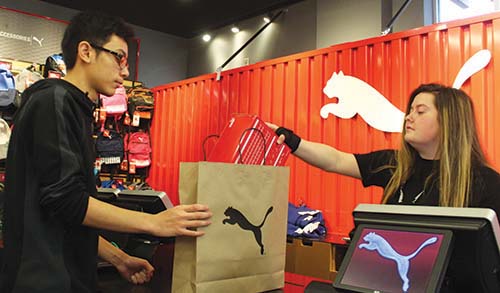 By Kalvin Valdillez, Tulalip News
Restaurants, retailers and grocers across the state of Washington will have to cease all distribution of single-use plastic bags, effective Friday October 1. In an effort to reduce the pollution of Mother Earth, and more locally the Salish Sea, the state has outlawed one of the main culprits causing harm to the environment.
Plastic carryout bags are handed-out at a high-frequency on the daily. According to the Center for Biological Diversity, the average American household accrues over 1,500 plastic bags annually and recycles less than one percent of those bags. The bags were created for the convenience of the shopper, intended to be utilized to transport your goods and purchases home safely. However, they are causing irrevocable damage to the natural world, especially aquatic life as over 100,000 marine animals are killed from plastic bags and plastic toxins each year.
Single-use plastic bags are non-biodegradable and take hundreds of years to break down into micro-plastics, which ultimately finds its way to the waterways and are consumed by sea-life, and in-turn often consumed by the human population. According to a study performed by the non-profit organization, Plastic Oceans, 100% of the mussels that they tested were contaminated with micro-plastics. Plastic Oceans also estimates that the average person eats over forty pounds of plastic throughout their lifetime due to the pollution caused by plastic bags.
Single-use plastics are produced by fossil fuels. The process of creating the bags alone emits an enormous amount of greenhouse gasses. In the Pacific Northwest, we are already beginning to see the link between plastic pollution, the food chain and climate change, especially when considering our depleted salmon and orca populations. It is estimated that by the year 2050, there will be more plastic in the ocean than there are fish. And as the plastic, and all the chemicals and toxins they contain, makes its way back up the food chain, it can start to create major health concerns for humans including hormonal imbalances, reproductive issues and in extreme cases, cancer.
The ban was originally supposed to go into effect at the start of 2021, but due to supply chain issues caused by the global pandemic, the ban was pushed back to October 1. Stores and eateries will be required to offer either paper bags or 2.25 mil thick-film reusable plastic bags – made with 20% recycled material, at a cost of eight cents per bag. Green or brown compostable bags are also an alternative and the fee for those bags are optional and at the business' discretion.
Although this is a big change that consumers will have to get used to, many Washingtonians are already familiarized with a sans-plastic-bag-lifestyle. Nearly forty cities throughout the state have already implemented their own single-use plastic bag ban ordinance over recent years, including Quil Ceda Village on the Tulalip reservation.
Quil Ceda Village is home to a number of businesses and restaurants including the Tulalip Resort Casino, Tulalip Bingo, Walmart, Cabela's, Home Depot and the Seattle Premium Outlets. When the city first implemented the plastic bag ban, they received little pushback and a surprising amount of support. With over 130 retail stores, the outlet mall phased out all of their plastic bags in 2017. In 2018, when the ban went into effect, most stores switched from plastic to paper and some stores even elected to stop offering bags completely.
"Overall the [plastic bag ban] is going well," said Quil Ceda Village General Manager, Martin Napeahi. "The only issues I think we have had are from the consumer. Change in habits is tough for anyone, myself included, but I think consumers have adjusted and now bring their own reusable bags when they shop. Generally speaking, all of our retailers are following the ban. Stores like Cabela's and Walmart offer reusable bags for a cost and Home Depot offers brown bags."
Like Quil Ceda Village, neglecting to follow the statewide ban comes with a price tag and businesses that continue offering single-use plastic bags can be fined up to $250 per day. If you're looking to avoid the 8¢-fee per bag, remember to BYOB on all of your shopping excursions beginning October 1. For additional information on the statewide ban, please visit www.ecology.wa.gov/bagban.