By Shaelyn Hood, Tulalip News
On November 12-14, and December 3-5, Tulalip will be hosting their annual Native Bazaar, where local tribal members will be showcasing and selling their various crafts. The Bazaar will take place at the Don Hatch Jr. Youth Center, 6700 Totem Beach Rd, from 9:00 AM – 4:00 PM.
Tammy Taylor has been the volunteer organizer for 10 years. However, she said that the event itself has been going on long before she took it over. The event originally started by Carolyn "Uppy" Thornberry around 23 years ago, when she opened the doors for tribal members to gather and display their crafts. Tammy Taylor has been so glad to carry on the tradition, noting how every year is filled with laughs and smiles, "Getting to spend a weekend or two with our elders, all day long, and getting share stories amongst the tables, that makes me happy." She voiced how she wants all of our membership to come out to this beautiful gathering and support one another.
Already, 49 different vendors have been listed to be at the Bazaar, making it the largest Bazaar that Tulalip has ever had. With 2019's Native Bazaar being the second largest with 32 vendors. Some of the vendors will be bringing different Native art, cedar baskets, carvings, beaded jewelry, Native prints, crafts, drums, clothing, and more. You will also find food vendors like Lynette Jimicum, Brian Gobin, Jared's Corner, and various other baked goods. Most vendors will accept cash, and only some will take card.
Tammy Taylor recognized that to protect our elders, our vendors, and our community, the COVID-19 mask mandate will be enforced.
The artists are excited to gather again with friends, and family, and display their different crafts, especially since, due to covid, there was no bazaar last year.
Some vendors to look out for are: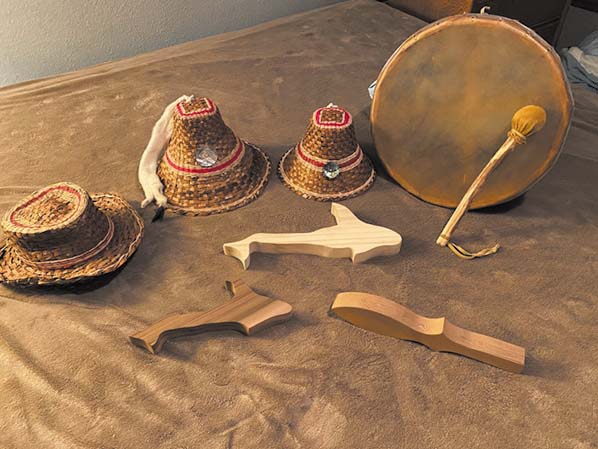 David Fryberg. He has been participating in the Bazaar since Tulalip first started the event. David makes drums, rattles, clappers, cedar woven baskets, and hats. He first started learning his different crafts to become more connected to his culture 30 years ago, and to hopefully start teaching his family. Often, he makes different items for his family as well, "One year, we made all the boys drums, and all the girls rattles, so they could play together." Lance Taylor took him on, and first taught him how to weave. David typically will sell his pieces during the bazaars, Canoe Journeys, and on Facebook to friends and family, but he also travels to different reservations in the state.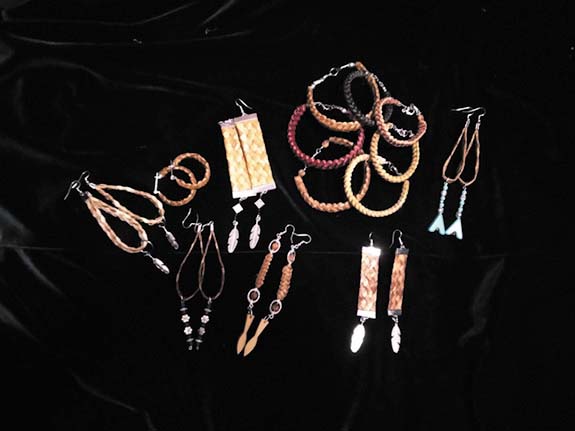 Jamie Sheldon. She has been participating in the Bazaar for 4 years now. Jamie and her mom will be bringing cedar jewelry, knitted hats, cedar baskets, and headbands, and Pendleton tote bags. Jamie helps teach the Weaving Gatherings every Wednesday night at the Hibulb Cultural Center. She is most excited to see all the different art pieces everyone is bringing, "I like just seeing all the people. I mean, everyone comes out to do their Christmas shopping. So, I missed that. It's good to see everybody and what they're making, it's fun!"
Margaret Henry Hayes. She has been participating in the Bazaar since 2017, but because of the COVID-19 shut down last year, she is most excited to just gather with people again, "I think what's really exciting for me is getting to see family and getting to reacquaint with people I haven't seen for a long time. I enjoy selling and being a part of that, but I enjoy even more being a part of something positive in our tribe and being able to connect." She went on to say, "We all do something a little different. Each person is so unique, with what they're doing and what they're using. It's really nice for me to scroll around to see what the rest of the families are doing." Margaret will be bringing vaÍrious natural shea butter soaps, bracelets, cedar dolls, rice bags, apple butter and jams. She started learning how to make cedar dolls from a class 15 years ago, and it will take her on average a week to make each doll. You can typically find her cedar dolls at bazaars, and the shea butter soaps at a boutique in Everett.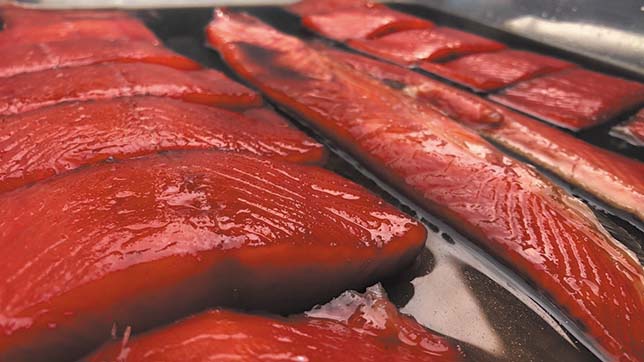 Rocky Harrison. This will be his first year working the Bazaar. He will be selling smoked salmon. He catches the fish, and his cousin Dennis Reeves helps smoke it for him. Rocky has been fishing with his family since he was a child, and now he owns his own business and fleet of boats. Fishing became a saving grace for him, "When I was growing up, I was on a negative path. Fishing is one of the things that has helped me. I was able to develop a more businesslike mindset and better myself. Fishing has helped me change my life around." He usually sells to fish buyers, so he is happy to have the opportunity to sell directly to tribal members, visit everyone before the holidays, and bless people with delicious fish.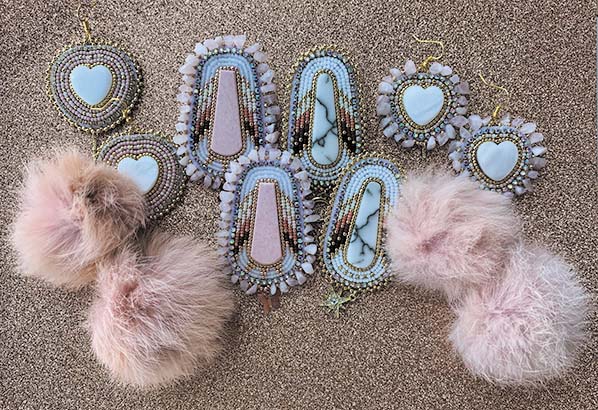 Jasmyne Diaz. This is her third year doing the Bazaar. She mostly creates flat stitch beading and a lot of earrings. She works with various materials like beads, dentalium shells, fur, and cedar. She first learned in elementary school from her grandmother. She was inspired to carry the tradition, "I'm just trying to break generational curses. I collect jewelry to leave to my kids, like turquoise rings, ivory jewelry, etc. But my husband and I strive to not only leave material things, but also leave skills that they can carry on."Í She typically sells most of her products on Instagram- @sageandsapphirebeading and her website- www.sageandsapphirebeads.com Her items sell quickly online, so she is excited to sell directly to tribal members and give them the first opportunity to buy.
These are just a handful of the many vendors that will be attending the event. Come check out the countless artworks and the amazing artists behind them. Please keep in mind, because of the limited space, the Bazaar is no longer accepting any new vendors at this time. If anyone has any questions about the bazaar, please contact Tammy Taylor at: 425-501-4141.