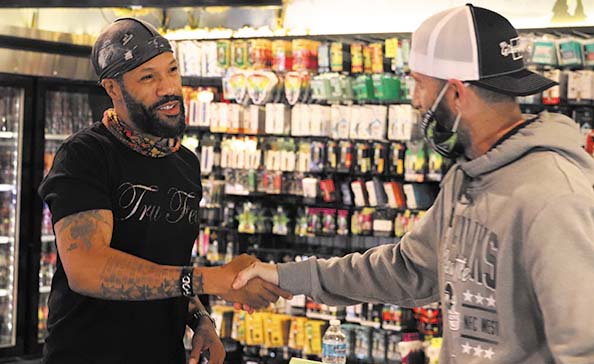 By Kalvin Valdillez, Tulalip News
"Next," rang out the unmistakeable, highly recognizable voice of a hip hop legend, whose work spans across the past three decades. A steady line of fans, the majority of whom did their best impression of the famous lyricist and actor while they waited, extended out of the doors of the Tulalip Remedy retail cannabis boutique. The 2x Grammy nominated artist shared conversation and posed for photos with each of his fans on the morning of December 11. However, this wasn't your typical meet-and-greet, once fans received their photos and autographs, the rapper then asked, "now what type of bud you smoking today?"
"I come here all the time, I am a regular," shared starstruck fan, Jordan Brown. "But when I heard about Redman, I had to come down and check him out. From 'How High' to 'Power', I've watched him in all that."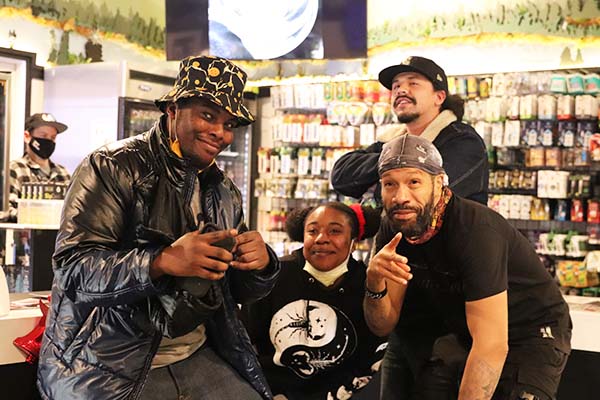 It was a dream come true for many lifelong fans of Redman when they learned that he would be assisting them with their purchases, and that they would receive top-tier strain recommendations from a living icon in the cannabis culture. If you aren't familiar with Redman (also known as Funk Doctor Spock), he is not only Grammy nominated, but he also has multiple platinum, gold, and silver albums under his belt including 'Muddy Waters', 'Whut Thee Album', 'Doc's Da Name' and' Blackout!'. And that's not to mention his work as an actor. His voice could be heard as both cartoon and video game characters in numerous projects throughout the years, and of course he is known by many for his role as Jamal King in the stoner cult classic movie, 'How High'. 
After the experience of meeting one of her heroes, Mara Brown excitedly exclaimed, "It is cool to see that he is really just one of us. He likes a lot of the same stuff as us and shares a lot of our opinions. It shows that he cares about us and enjoys making all of us feel good through his art and music. It makes you want to keep supporting him. Redman is a real person, someone you can look up to and support his message."
Throughout the day, Redman signed a variety of memorabilia that his fans held close to their heart, including a VHS copy of 'How High', which prompted him to ask the fan, "Do you still got a VCR?" His comedic personality that he is famously known for did not disappoint during the appearance, and his presence uplifted the spirits of both the fans and employees during the two-and-a-half-hour event. One fan dressed in a nun's habit and sunglasses, because Redman's character in 'How High' also dressed in the religious get-up when he attended a Halloween costume party as Deloris from the movie Sister Act. Another fan and local community member, Alex Jimenez, did not wish to purchase anything from the store (and would've forgone the photo as well if Redman didn't insist on flicking-it-up together), but simply attended to meet the rapper and gift him with t-shirts and hoodies that he designed himself through his business.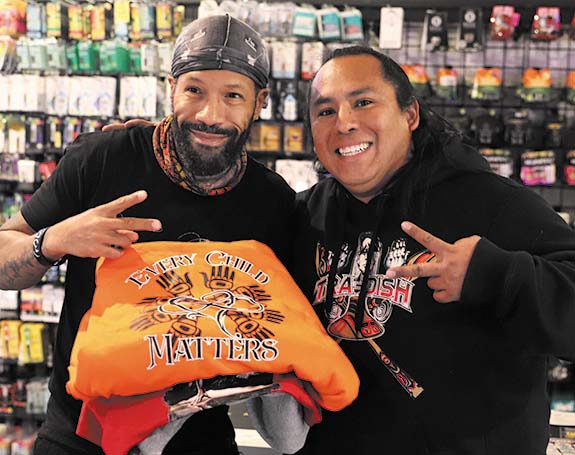 Alex stated, "I just came to meet Redman and give him some clothing that we made at Picture That Printing. We gifted him with an Every Child Matters shirt and an MMIW shirt and our 'Tradish' sweater. I felt like it would be nice to give him something that represented our culture."
As one of the very first tribal owned cannabis retail shops, Tulalip Remedy has flourished since first opening its doors three years ago. The shop is known for their great customer service, and the friendly and knowledgeable staff at Remedy have helped change the overall perception of marijuana in the community. More and more people are learning about the benefits the plant has to offer while simultaneously becoming loyal Tulalip Remedy customers.
For many, marijuana serves as an actual remedy, helping individuals manage diabetes, Alzheimer's disease, anxiety, depression, insomnia, PTSD, multiple sclerosis, fibromyalgia, arthritis, epilepsy, cancer, among many other diagnoses. The medicinal aspect is something that caught the attention of Redman over a decade ago. Learning how the plant, which he has such an affinity for, is helping people in their everyday lives has strengthened his love for cannabis all the more.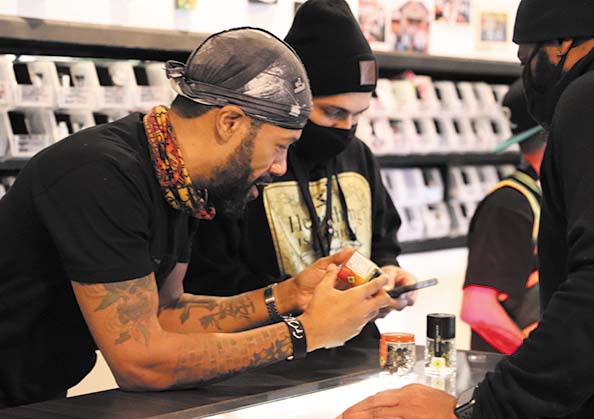 "It's a blessing to see how far the cannabis culture has come since I first entered the game in '92," Redman shared. "The part I like most about it is that it's not just for recreational use, it's also medicinal. It helps save the lives of kids, and of many people – any kind of person with a disorder, internal or external. I actually did a crash course on cannabis at Oaksterdam University out in Oakland. After I did that course, in maybe 2005 or '06, I was like wow I didn't know about all these components involved in the cannabis plant. There are over 400 components that haven't been discovered yet, we won't even be here in this lifetime by the time 30 of them are explored. I find that very interesting."
He continued, "When I look back at how people used to look at cannabis, like we were just smoking for fun, and seeing what it is doing now, what it's doing today, it has come a long way tremendously. I gotta thank the people and the scientists for bringing this awareness medically. Let's keep going with it."
Redman is the third celebrity cannabis connoisseur to make an appearance at Tulalip's recreational shop this year thanks to a partnership between Tulalip Remedy and local YouTube show, The Dab Roast. Whenever the show brings celebrity guests to the Pacific Northwest, they make sure to line up an appearance at Tulalip Remedy. Previously, The Dab Roast and Tulalip Remedy brought out both Tommy Chong and Ken Shamrock to the reservation to meet the people of the community.
"Our show, The Dab Roast, is ten dabs and ten questions with celebrities," explained Jimmy Bako, Sales and Marketing Manager for The Dab Roast. "Obviously there's a great tie between cannabis and music, so when we bring these stars in, Tulalip Remedy benefits greatly for bringing the name into the store and amplifying their imagery. It's turned into quite a great marketing partnership. We have our cannabis line out during the events, but our main goal is to amplify the show. Getting the opportunity to come out here and participate in the cannabis industry and really be about the culture is a huge lesson. What Tulalip does for us is amazing."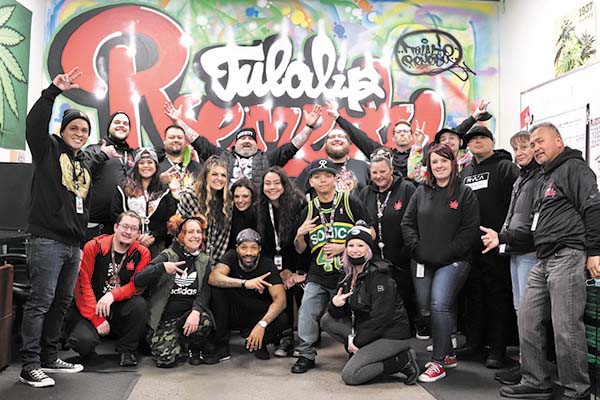 Although he was nothing short of astonished when reflecting on the progress the cannabis culture has made over the years, Redman was also quick to note that there is still a lot of progress to be made going forward. As more states around the country are beginning to decriminalize marijuana, he feels that what is needed most amongst the culture is organization, access to resources and empowerment, and he also stresses the importance of working together. For this reason, Redman co-founded the National Cannabis Party, the first-of-it's-kind non-partisan political party.
He said, "I wanted to be behind the responsibility of the cannabis industry, that's why you've never seen a Redman grow, a Redman vape pen, a Redman anything up to this point. I was saving my brand for the bigger picture. Now I'm the co-founder of the first FEC National Cannabis Party. Meaning, you have the Democratic Party, you have the Republican Party, and now you have the first FEC approved National Cannabis Party. We're about the stability and structure of the cannabis industry. The Democratic Party has people as a unit to state their claims and issues to better their community, in order to create change and opportunity. So does the Republican Party. The cannabis industry is a billion-dollar industry, moving up to a trillion; do we have an umbrella where we can state claims and issues about this cannabis industry? No.
"The cannabis industry is going to make the profit regardless, but we need more purpose. We need to unite more. We need to get involved with expungements and getting everybody out that's been incarcerated because of cannabis. We need to worry about those areas and communities that have been affected by WOD, the war on drugs. We're the guys that's getting our hands dirty to implement these programs and help other dispensaries and other cannabis brands implement more programs for their communities. We were just founded this year, so hopefully we're on the right track. If you want to find out more and do research please hit us up at www.NationalCannabisParty.org and find out what we're doing."
Redman's Remedy appearance was a fun experience for everyone involved and his larger than life personality brought laughter and smiles to all of the local cannabis enthusiasts and hip hop heads alike. In fact, the event was such a success that both parties expressed a desire to build upon this newfound relationship and continue collaborating in the future.
"This was my first time hearing about Tulalip and Remedy, I loved the energy," Redman said. "I loved the attitude of the people. I like helping people and I got the chance to do something different today and service some cannabis to the people, talk to the people and take some pictures and meet the people of the Tribe and community. I want to thank the Tulalip Remedy spot for showing me love. I am going through a transformation with myself and needed to surround myself with good energy and good people, so I am so happy I came here today, it fed my soul."
Tulalip Remedy Manager Jennifer Ashman added, "Redman was an amazing addition to our staff that day. I definitely look forward to working with him on some upcoming projects at our store and in the community. Remedy definitely considers him a part of our family now."