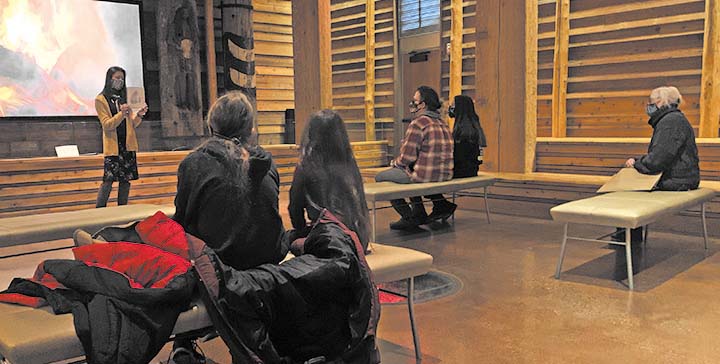 By Shaelyn Hood, Tulalip News
Storytelling is a cultural tradition passed through generations of Native American people. These stories speak of legends, folktales, and fables. They also have the ability to recount the history of our people, rituals, relate to everyday life, and educate children about cultural morals and values.
Luckily today, many traditional stories are now readily available in books, various audio formats, and videos. But before these technological advances, they were carried on through oral communication. Today if you were to find the written records of historical events and stories, they would contain more visual aspects than narration. Every time a story is shared from one generation to another, it is preserving Native culture, cultivating the Native languages, and honoring our ancestors before us.
Language is one of the most important aspects of any culture. Language paves the way so that people can communicate with one another, build relationships, and create a sense of community. Like many other tribes across the nation, our language and having the freedom to use it is a privilege that our ancestors fought so desperately to keep.
Tribal stories often reflected the land they were on at the time, like hunting routes, local plants, how tribes came to be, family lineage, their spiritual leaders and elders, etc. Therefore, if you listen to stories told by the Inuit of Alaska, their stories may differ from the Seminole of Florida.
In other ways, storytelling acted as a tool. It is how Native Americans maintained their symbiotic connection to the earth and relationships with animals. As they explored various parts of their land, the language and verbal use of storytelling helped them to live off the land, survive their environment, and how to best utilize the natural resources around them. Some of the themes surrounding storytelling were about creatures, fantasy and realism, places, tricksters, the creator, heroes, society, rites of passage, and disasters.
Most of these stories were shared through talking circles, similar to events that the Hibulb Cultural Center puts on. On January 8th, 2022, a small group gathered to listen to Maria Rios share this tradition. She recited stories both in English and in Lushootseed.
Rios currently works for the Tulalip Tribes Lushootseed Department. But her love for the language goes as far back as when she was three years old. Her older cousin Tony Hatch was her teacher and helped her learn the language. She said, "Storytelling is a part of our culture and who we are. For me, as a kid, it was a way to learn how to behave and the ways of the world without being scolded." She went on to talk about the values of people learning about Tulalip through these stories, "The words, the language, it all comes from the land. We have stories about the animals, because we observed them and picked up on the characteristics of them. Everything you learn, you can find a story related to it."
One of the audience members, Mae Mcgehee said, "We try to come to all of the storytellings. We moved up here a couple of years ago, and it was important that we understand and respect the land and the people on it. Everything is connected, and we knew we needed to come here to listen to these stories."
There is a lot of historical value that comes from people continuing storytelling today. Repeating the stories that were once told is an opportunity to share the mindsets that our ancestors had and continue our cultural values for future generations. Knowing our Native language is an essential aspect for storytelling, but understanding the worth and meaning behind these stories is what will continually shape our people.
If you or someone you know is interested in reading some of these stories, or want to share them with your friends and family, you can find most of them through the Lushootseed Department's website. If you would like to listen to the stories in-person, you can find more information about related events on the Hibulb Cultural Center's website, or call (360) 716-2600 and ask about their upcoming Storytelling event.