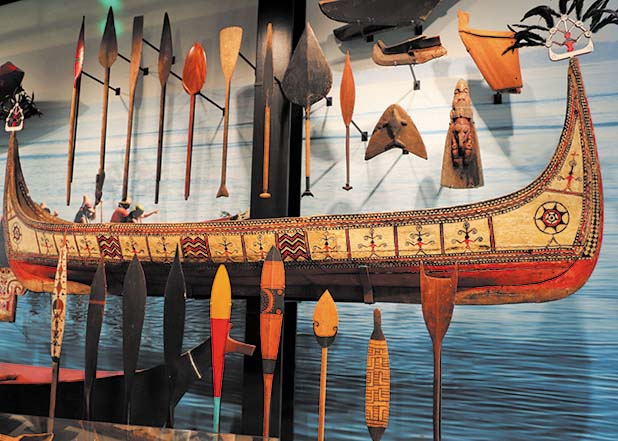 By Micheal Rios, Tulalip News
"The Burke Museum stands on the lands of the Coast Salish peoples, whose ancestors resided here since time immemorial," said Burke executive director Julie Stein to a crowd of 400+ people representing tribal nations from all across the Pacific Northwest. "Many Indigenous peoples thrive in this place. Part of that history is embedded in the museum, allowing us to move forward in a good way.
"You all are the first to be invited to tour and experience the all-new Burke Museum," continued the museum's executive director. "We are truly honored by your presence. The Burke recognizes our colonial legacy, and we promise to dedicate ourselves to learning from communities and building a more ethical and collaborative future together."
Julie's words were direct and heartfelt as she greeted hundreds of Native American visitors who convened for the Burke Museum's Indigenous Preview in late 2019. Only a matter of months after that glorious day, the global landscape would be upended by a coronavirus. The museum, along with countless other establishments worldwide, would soon close out of an abundance of caution.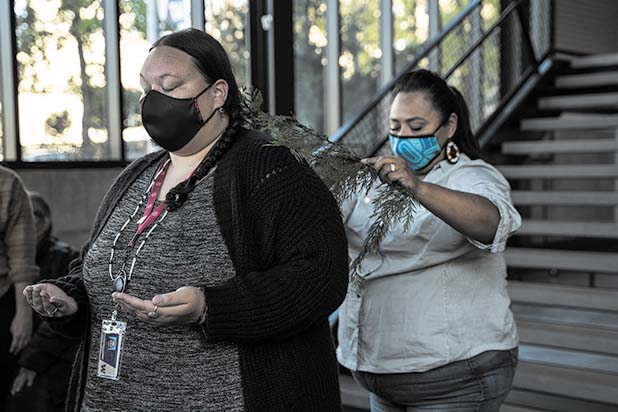 Now, more than two years after the Indigenous Preview that created legendary memories, the Burke has reopened and welcomes Tulalip families to visit. Located on the University of Washington campus, it's a 45-minute drive from the Reservation to the $99 million, 113,000-square-foot facility dedicated to preserving creative, complex knowledge. As a thriving cultural resource officially reopened to the public, the Burke staff are excited to host local Native culture-bearers from the greater Tulalip community.
Among the Burke's staff is Tulalip's own Mary Jane Topash. She spent eight years at the Hibulb Cultural Center before transitioning to the Burke as its Assistant Director for Cultural Education Initiatives. The UW campus is a home away from home for Mary Jane as she earned both her Bachelor's and Master's degrees while dawning the purple and gold.
In honor of the Burke's collaborative spirit with Indigenous communities, Mary Jane invites all Tulalip families to visit the redesigned museum.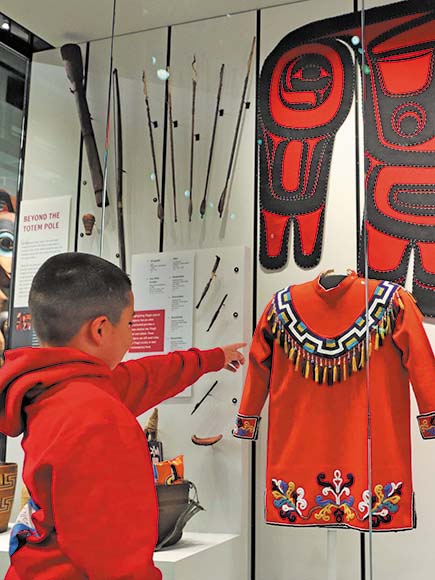 "Tribal members and their families should visit the new Burke because it's our only natural history museum in the state, but if that isn't enough then you should know the Burke isn't a typical museum. It's a place we can actually see ourselves and related tribal cultures represented and showcased in the best kind of way," explained Mary Jane. "It's an opportunity to learn about fun and excited things beyond just our tribal history, too, like the prehistoric era. We have Dinosaurs!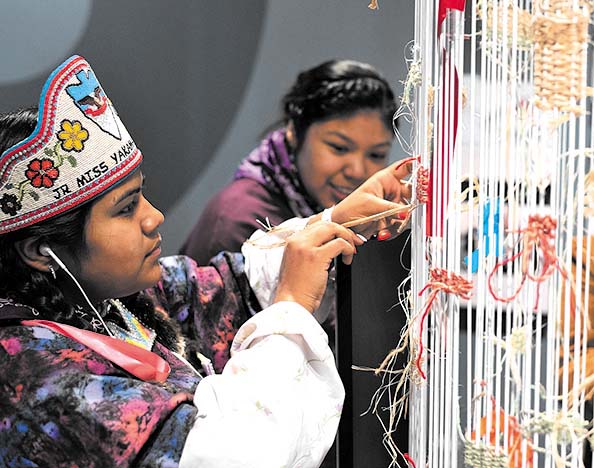 "We're still in a pandemic, so I know circumstances may be difficult for some of our people, especially families with multiples kids in the house asking questions that seem to have no answers, but that's why the Burke is a prime daytrip destination," she continued. "You can escape to the museum and be immersed in imagination. It's a perfect family outing for children because it gives them a different outlet for learning and we can answer so many of their questions. Plus, the Burke offers family-based activities such as interactive crafting and scavenger hunts."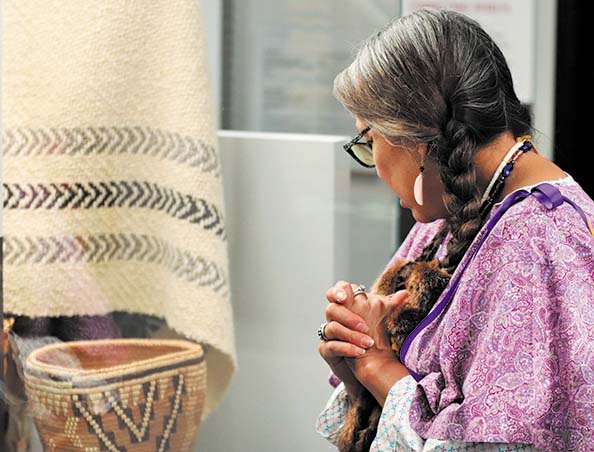 Nearly a decade's worth of planning and consultation went into the unique redesign of the natural history museum that boasts a massive 16 million object collection. An emphasis on transparency and treating Native cultural artifacts with their proper respect, while acknowledging their rightful creators, is sure to be a conversation starter for museum patrons as they peruse the Culture is Living gallery. From intricate weaving creations to generations old traditional regalia to a truly stunning dedication to canoe journey, Northwest Native artistry and craftsmanship is proudly displayed.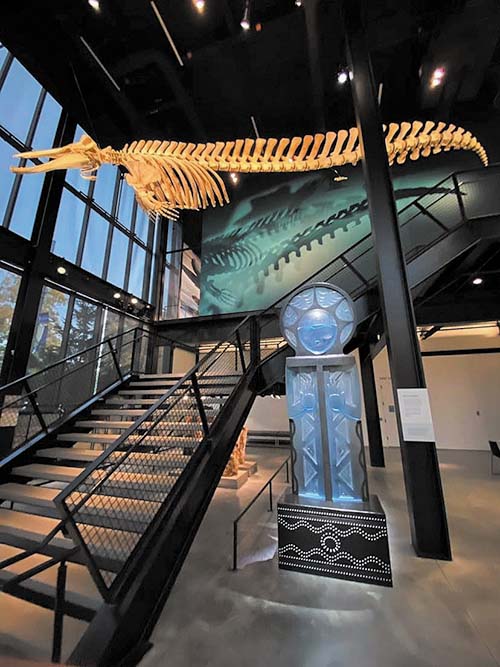 According to the Burke, the Culture is Living gallery breaks down traditional museum authority and brings the expertise and knowledge of communities to the forefront. Cultural objects aren't tucked away on the shelves. They are alive, embodying the knowledge, language, and stores of people and cultures.
"We wanted to share how diverse our Indigenous cultures are and share the fact that we are still here," said Sven Haakanson (Alutiiq), curator for North American anthropology. "To us, the cultural pieces we have on display are living. We are representing a hundred-plus cultures in our Culture is Living gallery and to pay them their proper respects we interwove elements of Earth, air, water, our ancestors, children, and community.
"As a curator, one of the things I'm most proud of is we put the Native languages first on every item. Over the next decade, I'm hoping to work with our local tribes to get more item descriptions written in their languages and to add quotes from those communities telling us what the item's story is from their perspective," continued Sven.
No trip to the Burke is complete without sampling the palette enriching food cooked up at Off the Rez café. Located inside the Burke, Off the Rez is a permanent outpost spawned from Seattle's first and only Native food truck. Menu hits include handmade fry bread with choice toppings, braised bison Indian tacos, and smoked BBQ pulled pork wild rice bowls.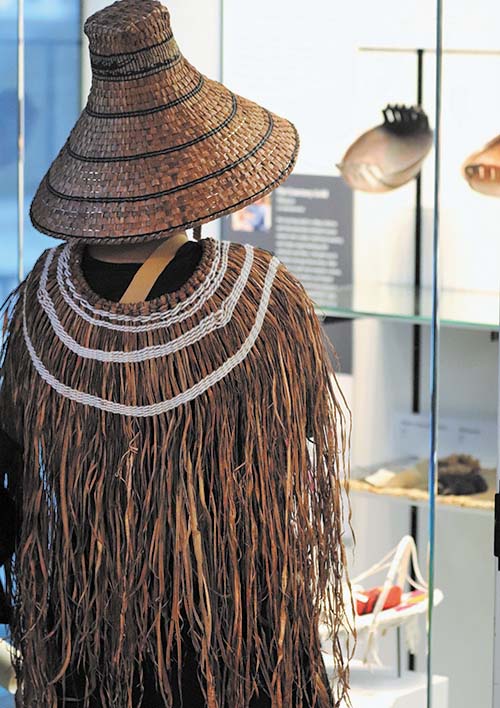 It's a new kind of museum with a whole new way to experience our world. The Burke is located on the UW's Seattle campus and is free to all visitors on the first Thursday of every month. You can expect to be blown away by the attention to detail the dedicated curators used in setting up each and every item in the multiple galleries. And with Native voices prominently featured, there is sure to be an opportunity for learning and reflection.
"The inclusivity is awesome!" shared Stephanie Masterman (Tlingit) of her Burke experience. "Yes, there are artifacts dating back hundreds of years, but there is so much contemporary art, too. So many young Native artists have works included among the galleries. The voice and presence of the future generations we always talk about is definitely represented."
Due to King County restrictions, proof of vaccination for visitors ages 12 and older is required for museum admission. Burke staff also encourage pre-purchasing your museum tickets online at www.burkemuseum.org to make your trip as seamless as possible. Current museum hours are Tuesday – Sunday: 10AM – 5PM (Closed on Mondays). For more information please call (206) 543-7907