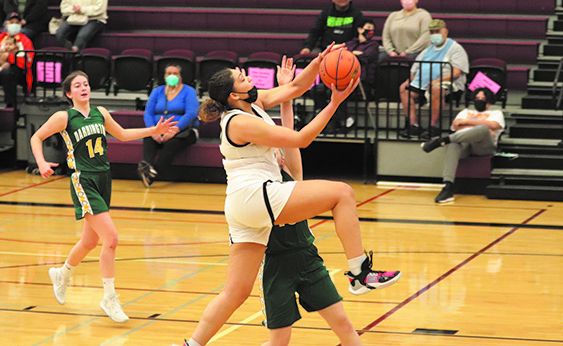 By Micheal Rios, Tulalip News
She's too humble to admit she's a dominating low post player on the basketball court. Yet anyone who has been following Jacynta Myles' high school career knows it's a simple truth. She's too big, too strong…simply too much to handle one-on-one for any Northwest 1B high school program. And now playing for Lummi Nation, she's looking to make one last playoff run before her high school days are over.
During her freshman and sophomore years, Jacynta was a foundational player for Tulalip's Heritage High School. She was a walking double-double even while still adjusting to her still growing, powerful physique. Then the pandemic hit. She managed to still dazzle her opponents with monster stat lines in her junior year while wearing a Heritage Hawks jersey. But going into her senior season, she was forced to make a change.
A combination of factors, largely due to the ongoing pandemic, led to Heritage sports being temporarily disbanded. The athletes were granted permission to continue playing sports at other high schools. Most chose programs in Marysville, but not Jacynta. The 18-year-old culture bearer refused to play for a non-Native basketball team. So what did she do? Routinely drive herself from Tulalip, all the way up to Lummi, in order to gain eligibility, that's what.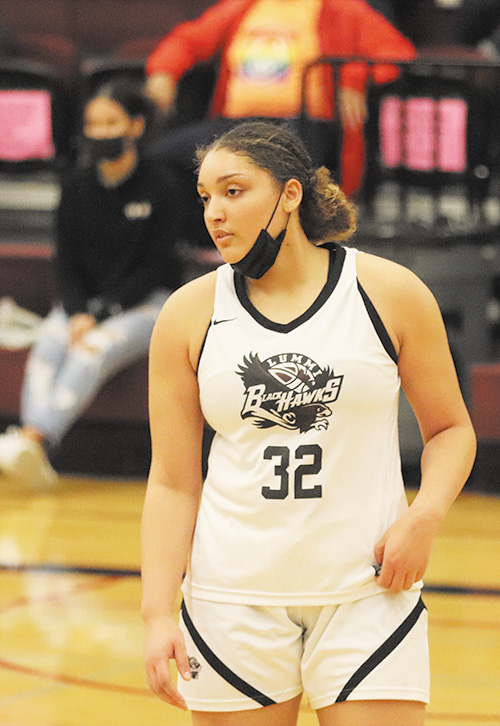 "I really hoped we could've had a basketball season at Heritage for my senior year, but it wasn't meant to be," reflected Jacynta. "I love being Native American and representing our culture through sports, especially basketball. Our crowds are always so passionate and really enjoy seeing us play. So when that all got cancelled, my choices were to play for a school that doesn't really represent us or play for our on-court rival, Lummi. It was a no brainer for me. I chose the culture."
Long-time rivals, on the court anyway, Lummi Nation hoops welcomed the towering Jacynta with open arms. Sure, there was an adjustment period, more so because the guard heavy BlackHawks weren't used to playing with a truly talented post player before. However, once both player and team got used to one anther the results spoke for themselves.
Fueled by Jacynta's presence in the paint anchoring their defense and her low post dominance on offense, Lummi reeled off one W after another. Coach Krista Mahle explained by adding Jacynta to the team, her guards were able to play a much more up-tempo style. Four wings who can all dribble, pass and shoot typically share the court with Jacynta.
"Jacynta has been a game changer for us," said Coach Krista. "She's been a leader for my girls and helped them develop really develop their games. We've been so happy to have a player of her caliber on our team."
Lummi's new style of play with Jacynta at the center spot created havoc for their opponent's coaches. Do they sell out to slow down the biggest girl on the court or focus on the perimeter ball handlers and let Jacynta have her way in the post? Neither strategy worked particularly well.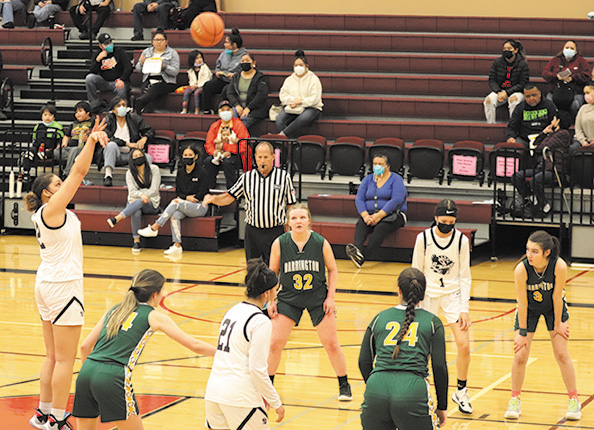 The BlackHawks dominated the regular season with a league best 7-1 record. After getting a first round bye, they hosted the Darrington Loggers in a second round playoff matchup on February 5th. The game was the first home game all season that Lummi Nation allowed fans in the stands. A decent sized crowd showed up, including a handful of Tulalip families, to cheer on the all-Native BlackHawks team.
They made quick work of the Loggers who were clearly outmatched in all facets of the game. Jacynta barely broke a sweat while filling the box score. Lummi gave their excited crowd what they came to see, a 54-39 W.
"It's been a really fun season, especially having teammates who help me be the best post player I can be, which just makes the wins that much sweeter," said Jacynta post-game. "My teammates and coach have really embraced me. Now, together, we hope to make a deep playoff run. Personally, I've never been to State before, so that's my goal. How amazing would that be to finally make it happen in my senior year?"
Next up for Jacynta and her Lummi BlackHawks is a matchup with Grace Academy on Thursday, February 10, with a 6:00 p.m. tipoff.