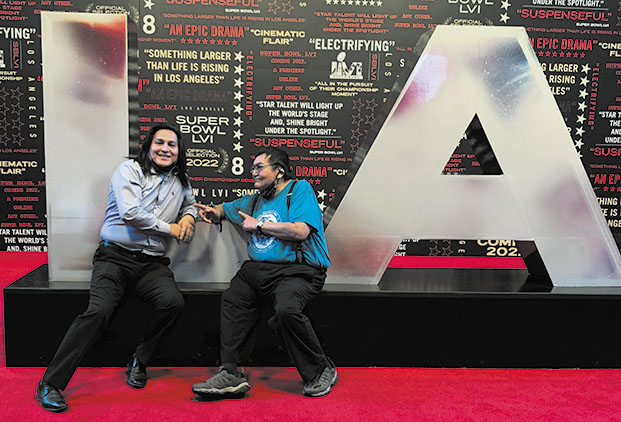 By Micheal Rios; Photos by Malory Simpson
Over 112 million viewers tuned in to watch this year's Super Bowl clash between the Los Angeles Rams and Cincinnati Bengals. Among the sold-out 70,240 person crowd that travelled to L.A. to witness the big game in person was a very lucky group of Tulalip tribal members.
Made possible by a recently announced partnership with DraftKings, Tulalip leadership raffled off exclusive suite tickets to tribal elders and veterans. The lucky benefactors were Maurice "Hammer" Alexander, Rocky Renecker, John Ancheta, Nancy Koehler, Sara Andres and Patricia Balderson. Plus their official escort, events manager Malory Simpson.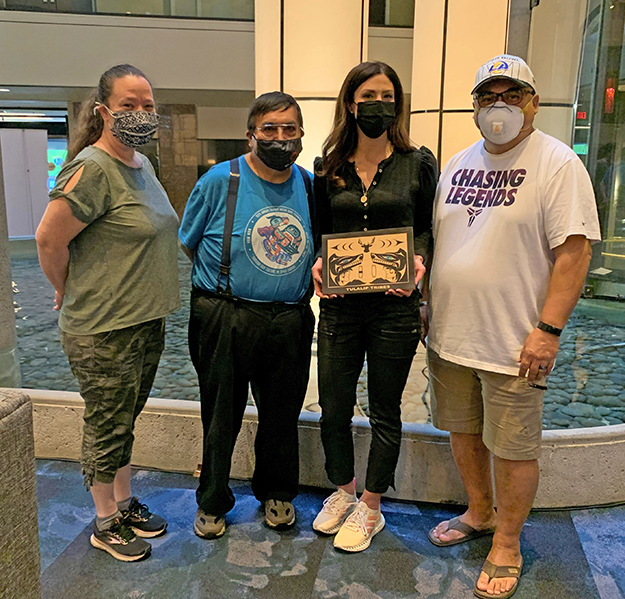 "The experience was definitely once in a lifetime!" shared Malory. "We were able to attend some events hosted by DraftKings, one on Saturday night and a tailgate party the day of the Super Bowl game. There was tons of free food and drinks, as well as a concert by Wyclef Jean, which was absolutely amazing. It was great to hear live music after COVID, you know?!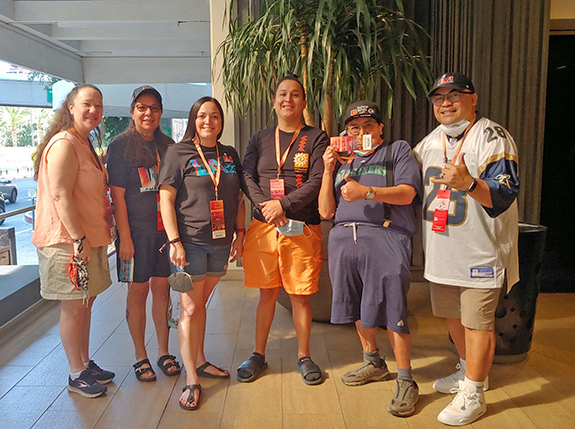 "The suite was immaculate and filled with lots of food, drinks and hospitality," she added. "The group of elders and veterans made my job easy. I am so grateful for the time I got to spend with each of them. Big thank you to the Board of Directors for the tickets, to our Travel Department for booking our flights and shuttles, and the CEO staff for thinking of me to escort our elders to Super Bowl LVI."
Local artist Walter Moses created a special piece for the occasion that was gifted to the DraftKings representative by the group at the stadium. "I can tell you she was grateful to be gifted such a stunning piece of artwork. She mentioned to us that she's never been gifted a piece of art from her clients before," said Malory.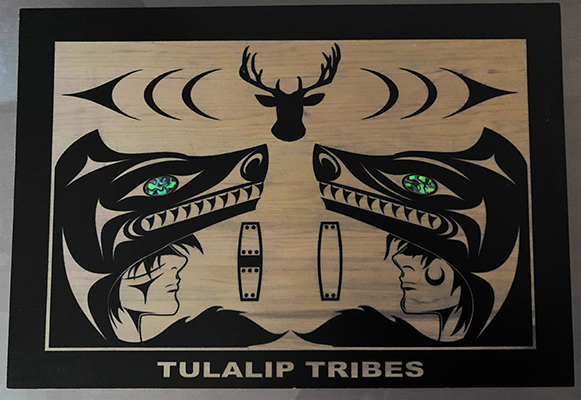 The football event watched around the world featured a thrilling game that went down to the wire, an exciting halftime show starring hip hop legends, and a $5 billion SoFi Stadium venue in Los Angeles that added a uniquely Hollywood flare. For the Tulalips in attendance, memories were made and experiences had that are sure to last a lifetime.
"I had an amazing time," shared Tulalip veteran Sara Andres. "I was super happy to be given this once in a lifetime experience and to be able to share it with the others. I am so thankful the Board of Directors offered the tickets to Tulalip elders and veterans. Having been the third alternate called, I didn't think I would be going. I am very grateful for the winners that gave up their opportunity for me to be able to attend. I will never forget Super Bowl LVI. GO Rams!"