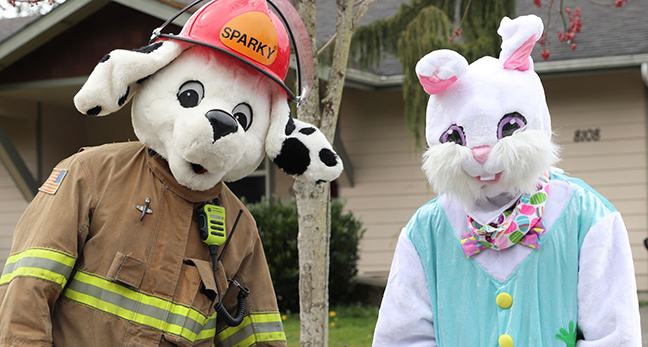 By Kalvin Valdillez, Tulalip News
Attention all kids! Attention all kids! The Easter Bunny is returning to the Tulalip reservation and will be visiting a neighborhood near you on April 10th of this year. That's right, the bunny will arrive the weekend before the holiday, with a basket of Easter eggs filled with candy and toys, and other fun goodies!
Tulalip officially became a stop on the bunny trail last Spring, when the community-led non-profit organization, Together We're Better, teamed up with the Tulalip Bay Fire Department and brought an unforgettable Easter celebration to the children living on the reservation during the pandemic. And now, the local group known as Aunties in Action are joining this year's celebration as our fuzzy and colorfully-dressed pal makes his return to the reservation.
Last year, kids and elders alike waited on their porches and in their driveways for a chance to meet the Easter Bunny, and also Sparky the Fire Dog, while they hand-delivered treats and a bit of normalcy during trying times to the residents of the tribal community.
The Easter Bunny and Sparky will start their journey at 1:00 p.m. on April 10th and will be walking through the following neighborhoods throughout the day: Silver Village, Mission Highlands, Larry Price Loop/Ezra Hatch, Walter Moses Jr. Dr., Battlecreek and the Y-Site.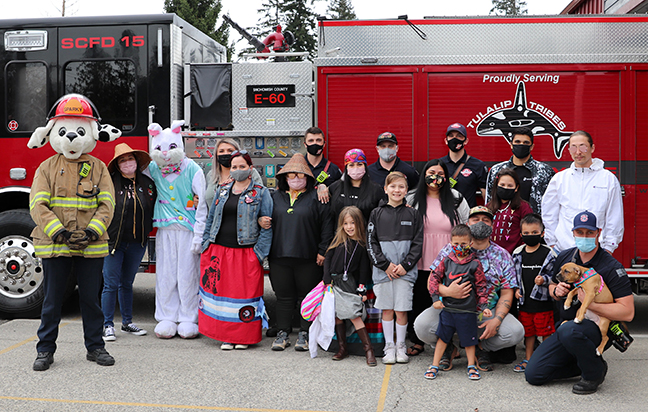 So to all the local youth, when you hear the sirens of the Tulalip Bay Fire engine, be sure to grab your Easter baskets and head outside for your opportunity to meet the Easter Bunny in-person. And parents, bring your cameras and/or cell phones to capture a photo with your kiddos and the beloved characters.
"Because we are still coming out of COVID times, and for the safety of all, Together We're Better and Aunties in Action will be hosting our second annual Easter Bunny Run with the Tulalip Bay Fire Department and Sparky of course," exclaimed Together We're Better Founder, Malory Simpson. "It's important for us to do an event. Normally we do a huge Easter egg hunt and multiple communities come out to celebrate, we wanted to do something for the kids and bring Easter to the community."
She continued, "If you're not within the service area of the Tulalip Bay Fire Department, please link up with friends and family and plan to join-in the fun. We look forward to seeing you soon!"
If you are looking to get more involved with the community, Together We're Better is always accepting donations, whether that is goods, funds or your personal volunteered time. For more information, please contact Malory at (360) 913-1424.