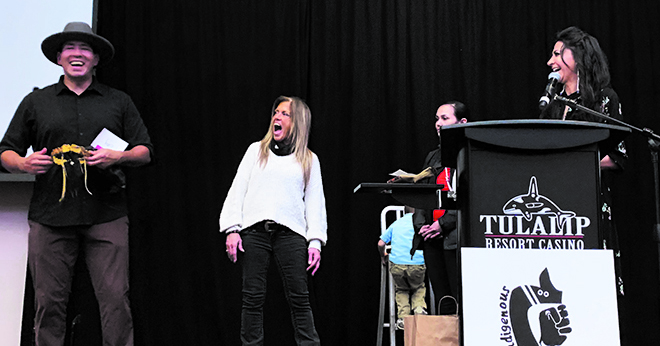 By Shaelyn Hood, Tulalip News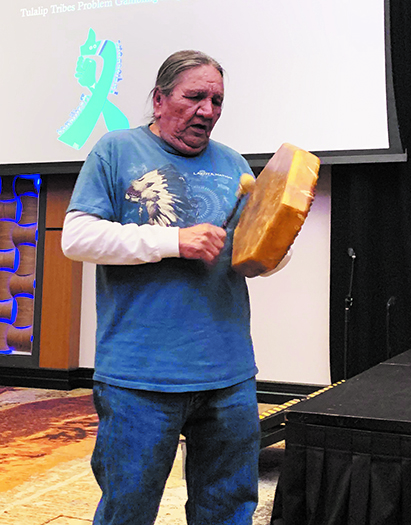 On Saturday, March 26th, the Problem Gambling Program put on a special dinner event, Reclaiming Our Connections. It was a night of celebration for the tribal recovery community and those in recovery from gambling addiction.
The night consisted of drums and ceremonial songs, prayers, speakers that are in recovery, speeches from recovery coaches, and a special guest comedian. Sarah Sense-Wilson, Problem Gambling Coordinator, said "it's important for us to take a lighthearted look at our lives. Addicts have been through a lot but it's important for us to remember to laugh and celebrate life."
The event brought forth a positive environment for a topic that can often be so dark. It was informational, helped spread awareness about addiction, celebrated how far the people in recovery have come, and paid tribute to the staff who work diligently at the Problem Gambling program.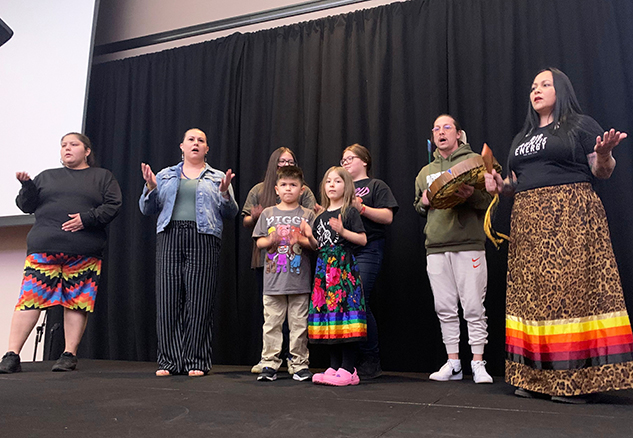 Sarah gave a special thanks to Natosha Gobin for her tireless efforts with the program and helping other members in the community with their addictions. Natosha shared how she classifies as living a sober life. She spoke about how she could see what addiction has done to people around her, and she didn't want to risk walking down that same path. One of the major vices she has cut out of her life is alcohol. Using an app to help keep a record of her sobriety has helped keep her on track, and she is now is over 2,000 days sober.
Participants spoke of how addiction can stem from a traumatic moment in your life, an abusive relationship, or even just small moments over time. How you don't just have one experience, and suddenly you're an addict. That it isn't just about an uncontrollable behavior, but also about the evolution of your own brain chemistry.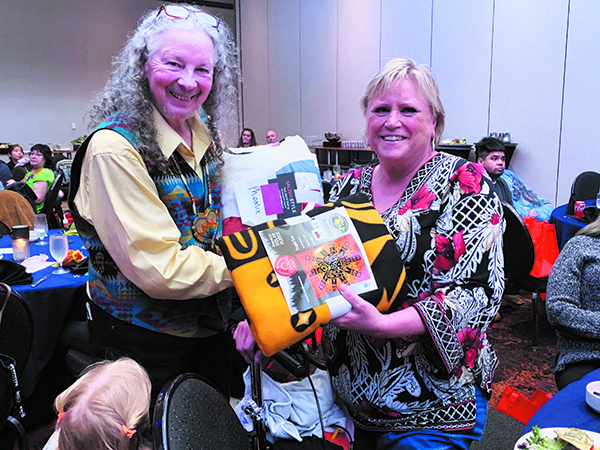 After which, some of the recovery coaches who were in attendance spoke about their own recovery, how they have helped others, and some of the goals that they have. They are currently looking forward to opening a Recovery Café. They have been working diligently with Tulalip Tribes in finding a building, looking for volunteers, and establishing bylaws. They spoke about the goals for the café saying, "this is for any type of addiction. We want to outreach to everyone and have a place where people can come and visit. A sanctuary for people to hang out, have food and drinks supplied. We want to be able to provide additional counseling, crafting and art opportunities, etc."
Comedian, Kasey Nicholson wrapped up the event with light-hearted jokes. The roomed filled with laughter as Kasey talked about how Native Americans are often stereotyped, how singing Native ancestral songs has helped him get girlfriends, and how he used to get in trouble growing up on a reservation.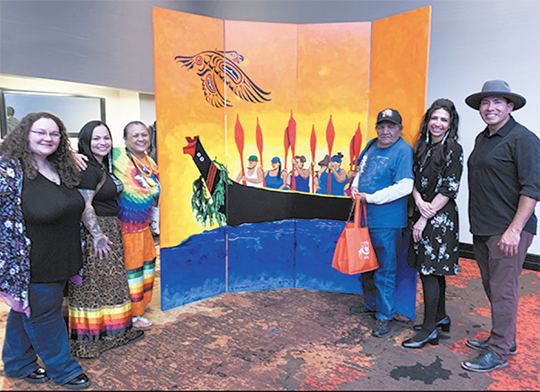 Once the evening concluded, gifts were distributed to supporters of the program, and to the speakers.
It was an important night for the Problem Gambling program. As they continue to grow and develop further, and outreach to more people, they rejoiced in all their efforts and accomplishments. It was an evening filled with compassion, support, and laughter.
If you are in need of counseling services, are wanting to volunteer, or just have questions about the Problem Gambling program, please contact (360) 716-4304.