May 23, 1977 – May 12, 2022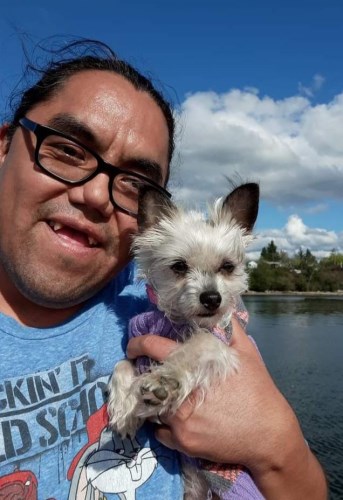 John Eaglefeather Enick(JJ) was born May 23,1977 to G.John Enick Jr and Janice Elaine Bill, he went to be with the lord on May 12th, 2022. He was 44 years old. While he was here he loved to watch wrestling, he was a die hard Seahawks fan, some things he loved was to collect and attend movies, travel to summer and winter Pow wows, barbecues, cook and bake with his loved ones, long drives and walking on the beach with his fur baby, bowling, he loved to joke around and have a good laugh. He worked for TRC as a table games dealer also he was a dishwasher, He leaves behind his mate Jodie Brown, his children fur babie Millie Enick, sons, Dennis Enick/Billy, Nelson Billy, Daughter Tayla Enick/ Billy, sisters Alisa Youcton (Anthony), Karlene Bill (Francis Sr.) Maggie Finkbonner, brothers C. Kurtis Enick, Roman Enick (Teresa), John George IV, Travis Rodriguez, nieces and nephews Sarah,Tela, Mckenze,Tyron & Emma Youcton, Sophelia, Marilyn,Thomas and Francis Williams Jr. Clinton Kurtis Jr., Bobbie Jones, Taleen Enick, Addison Enick & Dylan Enick/ Horne, he was preceded in death by sister Leanne Enick, Nephew Raymeanus Williams, niece Theresa Williams and uncle Michael Enick, first cousin Isaac Bill. He loved all of his nieces and nephews as if they were his own.
A celebration of his life will be held Thursday, May 19, 2022 at 10:00 am at the Tulalip Gathering Hall with burial to follow at Mission Beach Cemetery. Arrangements entrusted to Schaefer-Shipman Funeral Home.