By Micheal Rios, Tulalip News
Every time a Native American graduates from a university, community college or vocational school, they become the living embodiment of what it means to reclaim a narrative. For so long Native students were shut out of academic environments where they could tell their own stories and advocate for their teachings, traditions and thriving cultures.
When it comes to Native Americans and education, the dominant narrative is we can't succeed in a westernized education system. United States census data supports this notion by showing that while more than 65% of American high school students go to college, just 19% of Native students continue their education after high school. In an age where education is an important cornerstone for self-sufficiency and quality of life, only 13% of tribal citizens age 25 and older hold a college degree.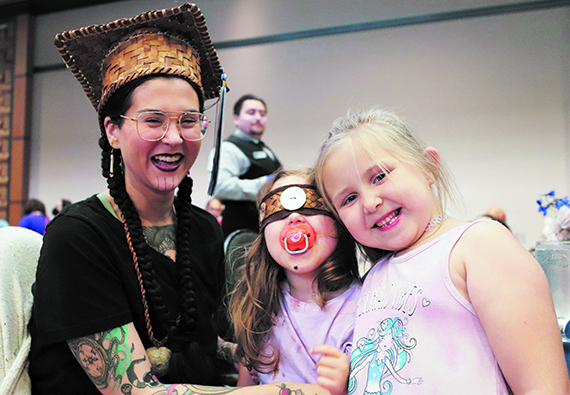 That narrative is being reclaimed and rewritten by present day Indigenous scholars who are actively working to decolonize education pathways, not just for themselves but for future generations as well. On the evening of July 12, thirty-nine such proud Tulalip scholars were celebrated for their commitment to higher education and, in the process, breaking the erroneous, often-cited stereotype that Natives don't succeed on the collegiate level.
"You've all put in so much hard work and countless hours of studying to earn your degrees. We are so proud of you for choosing to better yourself, your family and your future through education," said Chairwoman Teri Gobin during the Higher Ed graduation banquet. "As a Tribe, we know we need to be better at utilizing your brilliant minds and supports our college graduates. As we continue to grow our business operations and evolve as a tribal government, we want you to feel welcomed to build a career with us."
It was a powerful moment as the words washed over the graduates as they sat with their support system of family and friends in the Tulalip Resort's orca ballroom. Hopefully many of the graduates will consider finding their place within Tulalip's vast enterprise that continues to grow larger every year.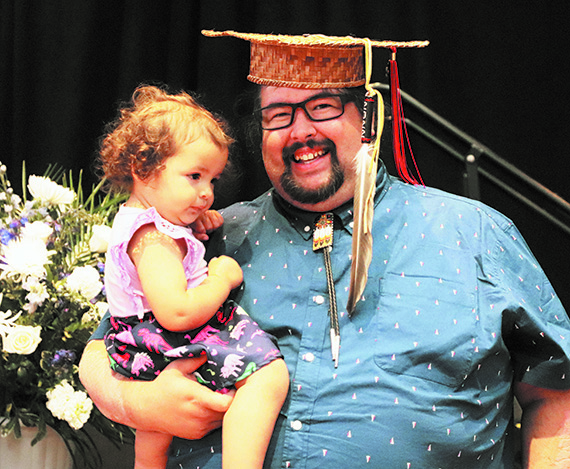 For some of the graduates, they are already working diligently to carve out a meaningful role on their traditional homelands. Two such examples are homegrown products Joseph Boon and Angela Davis. Both managed to balance a busy home life with multiple kid and a fulltime job with their tribe (Joseph with Youth Services and Angela with Tulalip Police), with a steady diet of college course work. For their immense efforts, Joseph received an associate's degree from Northwest Indian College, while Angela earned a master's degree from Grand Canyon University.
Another shining example is 22-year-old Ruth Pablo. She has overcome so many obstacles and barriers, while remaining steadfast in her commitment to better self and community. In fact, her passion for instilling positive change amongst today's youth can be traced back to 2015 when she was elected secretary of Tulalip's very first Youth Council. Now, she's a graduate of Northwest Indian College and intends to find her role in empowering the next generation of young leaders.
"I'd like to have a long and fulfilling career working with tribal youth," said Ruth. "It's so important to elevate their voices because they have so much to say, but unfortunately they aren't given much of a platform. They tribe has done a lot for our youth, but still lack in some areas. One such area is providing a space for our kids to be comfortable speaking their truth about the most difficult aspects of being a tribal member in our community. I'd love to be given an opportunity to use my education to help create that space and give our kids the opportunity to speak in a way they truly deserve."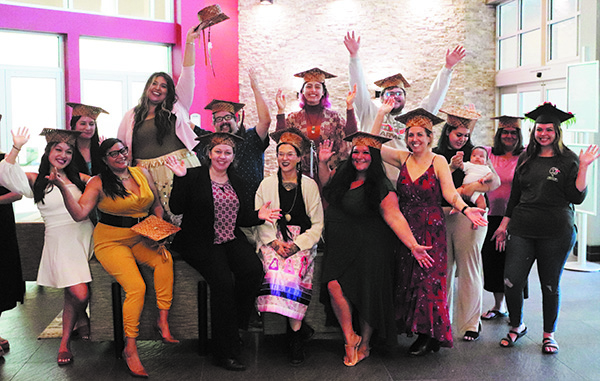 While the vast majority of the higher ed graduates wore stunning cedar caps, made by Carmen Burke and gifted to them by the Tribe, Ruth pivoted in another direction. She made her own cap for this special occasion. Adorned with evergreen fern, an assortment of roses, and a prominent butterfly in its center, Ruth explained that her cap was meant to express one of her favorite quotes: "Bloom where you are planted."
The higher education class of 2022 included 6 Associate's degrees, 11 Bachelor's degrees, 5 Master's degrees and one very impressive PhD courtesy of newly minted doctor of philosophy, Dana Krsnada. Seven vocational diplomas and 9 high school diplomas rounded out the 39 Tulalip honorees.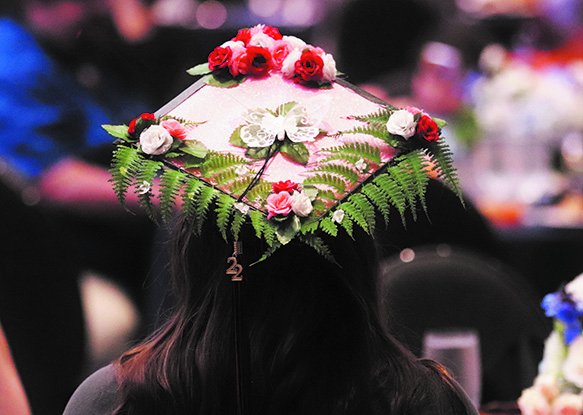 "There is such a sense of pride and accomplishment with this group because many of our graduates are the first in their family to graduate college," explained Jeanne Steffener, higher education specialist. "We love to see so many choosing to continue their education in pursuit of a master's degree or PhD. Their continued success motivates us as a department to do more outreach because we're seeing more and more excel at the next level. Our graduates' accomplishments are so superb and worth celebrating."
The importance of recapturing the story about Natives and education requires telling it anew with bold new characters and captivating subplots. Unquestionably, it will take a new generation of Native storytellers who have the ancestral knowledge and progressive savviness to unapologetically express our shared cultural values in all new ways. They must become trailblazers for those who came before them and those yet to come.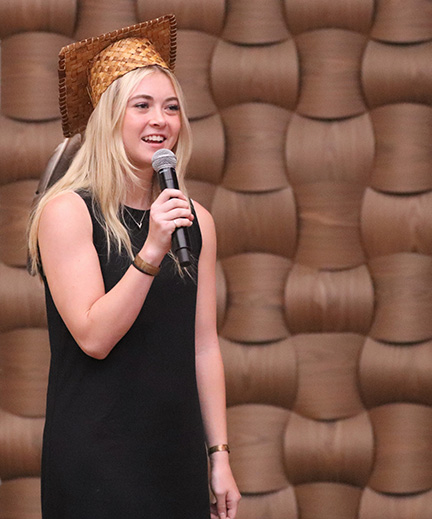 Armed with a master's of science degree in art therapy, Tulalip citizen Antonia Ramos is such a trailblazer. For her incredible courage to leave the friendly confines of Salish territory and tend to her undergraduate studies in Utah at Brigham Young University before moving on to Florida State, Antonia was chosen as a student speaker.
"My educational journey took me from Washington to Utah then to Florida. It's difficult to express what it's like being an Indigenous scholar in such a non-Indigenous environment. But at the end of the day, I love my education, I love the field I went into, and I love that now I'm home putting my education to good use," beamed Antonia, who works as mental wellness therapist for her Tulalip community.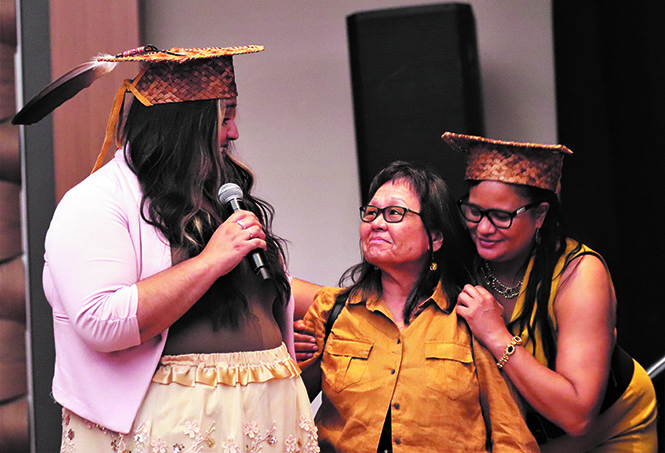 "Art is so strong, so powerful. It's so much more than even the word medicine can describe," she added. "For Indigenous people art is so innate. We are drawn to art when we are celebrating, praying, gathering and healing. And it only made sense for me to heal generational trauma, to heal the mind and spirit in the same ways we've always done. In my striving to make therapy Indigenous and welcoming to our people, it only made sense to bring art into that."
Native graduate stories are as complex and diverse as the students themselves. It's often a longer, tougher road for Tulalip adults pursuing their education, which is all the more reason to celebrate their accomplishments. Such is the case with 54-year-old Tracie Stevens who managed to balance her mother role, path of sobriety and discovering her career pathway in management consulting with her ambition to become as educated as possible. Her fellow tribal members listened intently as she detailed her long and arduous journey to receiving an Executive Master of Public Administration degree from the University of Washington.
"What an extraordinary experience to share this space with all my fellow graduates as we are celebrated for our collective and individual academic achievements," shared Tracie as one of the two keynote, student speakers. "Our people's history is filled with the U.S. government's perverse interpretation of the education provision in our treaties. Concepts like boarding schools, the doctrine of discovery and manifest destiny were used to justify the governments by all means necessary approach to eradicate or assimilate our ancestors.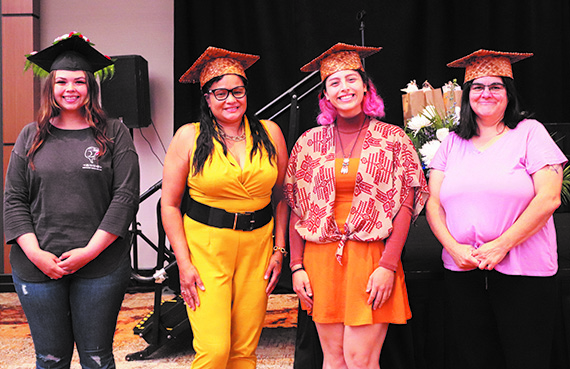 "Yet, here we are today in defiance of the U.S. government's effort to diminish us, to assimilate us, and to eradicate us," she continued. "Not only have we survived, but more importantly, we are thriving. In our own communities, we are supported by education while actively preserving our culture, our traditions and our ways of life."
After honoring the latest cohort of college graduates, Tulalip Higher Education staff are eager to help new and returning students find their path to academic success. They can assist with FAFSA applications and finding scholarship opportunities, as well as simply reviewing the Tribe's current policies regarding paying for college and other educational programs. For those Tulalip citizens feeling empowered to help reclaim our education narrative, please contact Higher Education at (360) 716-4888 or email highered@tulaliptribes-nsn.gov