Next party happening August 1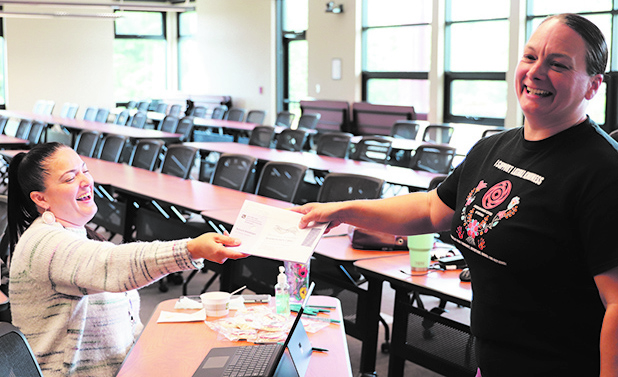 By Kalvin Valdillez, Tulalip News
If you happened to visit the Tulalip Administration Building on July 18, you may have heard the unmistakable sound of laughter, that only Indigenous aunties and cousins can seem to produce, erupting from the first-floor conference room. For some much-needed relief from the everyday grind, about thirty Tulalip tribal members and employees trickled into room 162 during their respective breaks throughout the day to see a few familiar faces, have a few laughs, and to cast their ballots for the 2022 political races.
"I love Tulalip's ballot parties," exclaimed Theresa Sheldon, Tulalip tribal member and former Native American Political Director for the Democratic Party. "As soon as people get their ballots, they start asking where's the ballot party and when is it? Tulalip constantly doing ballot parties is empowering our citizens and saying that your voice actually does matter, and that individual vote does count, as well as removing all the barriers to make it as easy as possible."
During election season, Tulalip regularly holds ballot parties for not only their membership, but also their citizenship and employees. By taking something like voting, that may otherwise seem like a chore to some, the Tribe turns it into a social gathering where people can drop in, have a snack, and share a few 'ayyyees' with their relatives and community.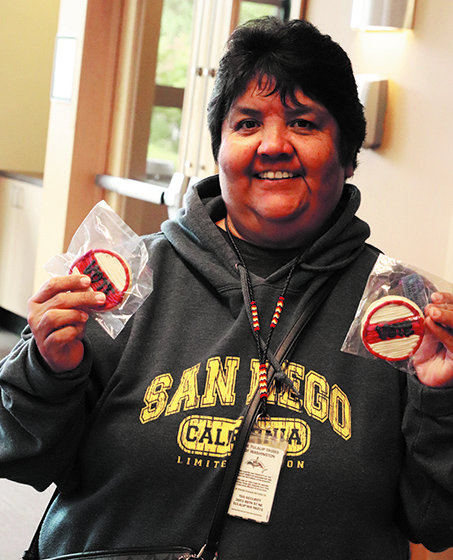 Although it is a party, and good times are had all around, some very important work is also happening during the ballot parties. With laptops, tablets and printers at the ready, the crew working the event, which includes the Tribe's Events Coordinator Malory Simpson and the Tribe's Director of Treaty Rights and Government Affairs Ryan Miller, takes the time to assist individuals with voting registration and online voting. And if somebody requests additional information regarding the voting process or has general inquiries about the election, they are always willing to share their expertise. This thereby creates and increases well-informed votership at Tulalip.
The hope is that in turn, those voters will tell their people about the next ballot party and the votership and Native voice will continue to amplify each election season. And that is important if we want to impact change and bring attention to some of the topics and issues that are taking place on tribal lands in both the Northwest region and throughout the nation.
"Every election they say it's the most important time to vote. But right now, when you see white nationalists running for office, it's so important that we use our voice by voting," said Theresa.
In 2018, a NCAI voting movement called Native Vote came to Indian Country and toured reservations throughout the states. Their mission was to increase the Native votership overall by providing voting access to the Native American population, so that tribal members nationwide could easily place their votes. Many states do not allow voting by mail or online and require you to visit the nearest polling station during elections. And more often than not, those polling stations are located miles away from the reservation. Another issue that effects the Native votership are bogus laws stating that tribal-IDs are not an acceptable form of identification, or that you must have a permanent address and cannot list a P.O. Box in order to register to vote. Never mind the fact that most reservations utilize the post office box system as their primary option to send and receive mail, and that USPS or even companies like Amazon do not deliver to the residence of those tribal members because their home may not even have a physical address.
The Native Vote movement, and recurring local ballot parties such as Tulalip's, helps many Indigenous citizens by assisting them through the registration process during each of their gatherings. According to the most recent study that the Native Vote included in their 2018 brochure, 34% of the Native population who were eligible to vote at the time, were not registered. Of course, that number may have changed throughout the past four years but the problem of voter suppression in Native America still remains a problem.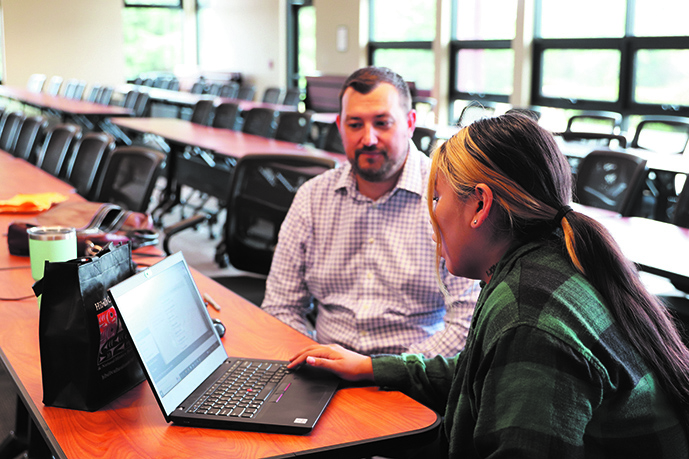 With the knowledge that the Native vote has one of the lowest turnouts in mind, the ballot party team offers to check to see if the people who attend the party are currently registered to vote. If an individual is not registered, the crew makes sure to walk them through that process. Many people arrive with their ballots already filled out and sealed, and after the event, the crew turns the ballots in for those voters. If somebody is registered to vote and they do not have their ballot on-hand or did not receive their ballot at all, the ballot party crew offers them a laptop or a tablet so they can log on and place their vote through the wonders of technology.
Ryan stated, "We want to get people registered to vote, we're not here to tell people how to vote. They can vote however they want. But a big part of our push is that the Tribe wants not just it's members, but it's employees and all the people in our community to exercise their right to vote. We're lucky that we live in a state where you can register to vote in multiple different ways – you can register in person at most government buildings, you can register by mail, you can also register online as long as you have a driver's license.
"There was a law passed a couple years ago, that said that you're supposed to be able to register to vote online with a tribal-ID. But there's been some problems with implementation. So, we're in the process with the Secretary of State, whose position is up for election right now, to make that a reality so that our tribal members who don't have driver's licenses can still register to vote online without having to go do it in person or do it by mail, which takes more time and that usually means that people are less likely to do it. All we're trying to do is just make voting as accessible as possible and give people as much information as we can so they can make educated decisions for themselves."
As we covered a few paragraphs ago, Native American voter suppression is an obstacle that we are trying to get through, and since that 2018 study it would appear that we are beginning to show up when it matters most. Over the past couple years, we have seen several Indigenous leaders rise to positions where they can affect change on a congressional level and our voice can be heard on issues that are important to our people such as defending tribal sovereignty, protecting Mother Earth, and ensuring that all the MMIWP victims and survivors receive justice. US Secretary of Interior Deb Haaland recently vowed to uncover all the unmarked graves of the children from the boarding school era, and she also created a Missing and Murdered Unit within the BIA to help find and bring home all of our missing relatives. Ryan shared that the Native vote actually played a big role in the last presidential election.
He said, "There's a lot of really recent evidence that shows that the Native vote is super important, including the presidential election in 2020. The swing states that went for Biden and made sure that Trump wasn't going to be reelected, were really won by the Native communities and the Black communities in those states. Like Arizona for example, there was a huge Native population there. And if you look at the numbers, they voted overwhelmingly for Joe Biden. Georgia – same thing, the Black and Native population there, and in Michigan, Minnesota, tons and tons of Native people over there, and they made a huge difference. Those are the kinds of examples that show us how much power we actually have."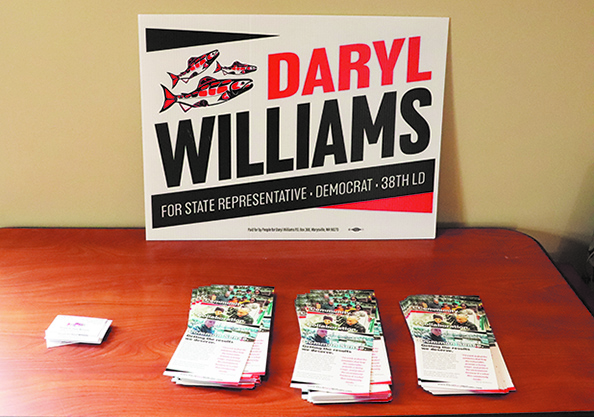 Here at home, if the Native vote shows out at Tulalip like it has within other Indigenous territories, we have a chance to send in another one of our heavy hitters to the political equivalent of the big leagues. If you live within the 38th District, which encompasses the Tulalip reservation as well as parts of Everett and Marysville, you may recognize a name on this year's ballot. Tulalip tribal member, treaty defender and environmental icon, Daryl Williams, is running for Washington State representative. Daryl has decades of experience under his belt, working in the Tulalip Natural Resource's Treaty Rights Office for over forty years. In that position, he was instrumental in making sure that bill proposals did not violate treaty rights before they hit the senate floor. Daryl's vast amount of knowledge and hands-on experience makes him the perfect candidate to follow the blueprint which John McCoy left behind upon his recent retirement.
"On a local level, the tribal members who live in the 38th (district) have an opportunity this year to vote for a Tulalip tribal member to represent them in the state legislature," explained Ryan. "That is something that we had for many years in John McCoy, first as our representative and then as our State Senator. I think we took for granted having someone there who can speak about tribal values and represent us in that way. We now have an opportunity to have that again. John retired a few years ago, and we haven't really had that in the state legislature since."
He continued, "Representation matters. Not just for getting the policies done that help protect tribal sovereignty and tribal treaty rights, and all the social services that the tribes provide, but also for our youth to look and see that this is something that they can do in the future. When I was a kid, we never saw a Native person elected to anything. It never even crossed my mind that that was a possibility. And then, of course, John gets elected, and I think that was the first time, for a lot of Native kids, that they saw somebody who looked like them and who was elected to something. I think there's so many reasons why that representation is important, and we have to take those opportunities where we can."
The Tulalip Tribes will be hosting one more ballot party on August 1st, the day before the primary election, from 10:00 a.m. to 2:00 p.m. If you are planning to vote online, be sure to bring your driver's license to the party. And as always, there will be some fun door prizes and a raffle for those who simply drop by and say hi. So be sure to visit Malory and Ryan in Admin Room 162 and get your vote on.
After delivering her ballot, Theresa shared, "It was great to be able to vote for Daryl Williams today. It's beautiful to be able to be a part of that and to support him. And hopefully seeing a candidate who's representing Tulalip and running for state legislature, inspires everyone to turnout, fill out their ballots, turn in their votes, and get out there and support him."