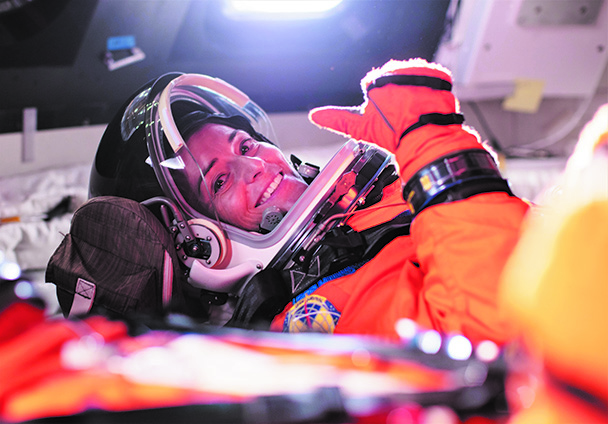 By Micheal Rios, Tulalip News; photos courtesy of NASA
The sky's the limit. A popular saying largely attributed to the early 1900s after the invention of flight, and one that hasn't aged particularly well. After all, there was the legendary space race of the '60s that resulted in NASA sending Apollo 11 to the Moon on July 16, 1969. Then hundreds of millions of Earthlings sat glued to their television sets in pure amazement as four days later, Neil Armstrong and Buzz Aldrin hopped around the Moon's near zero-gravity surface, before ultimately planting the red, white and blue colors of the United States flag.
That singular moment changed the course of human imagination. In a manner of speaking the sky's the limit was forced into early retirement that day. Young Earthlings no longer capped their imagination to the sky held within our planet's atmosphere. Instead, they now thought of space as the new frontier. Such was the case for Chickasaw Nation tribal member John Herrington. He imagined himself as a crew member on voyages of the starship Enterprise, exploring strange new words, seeking out new life and new civilizations…to boldly go where no Native American has gone before.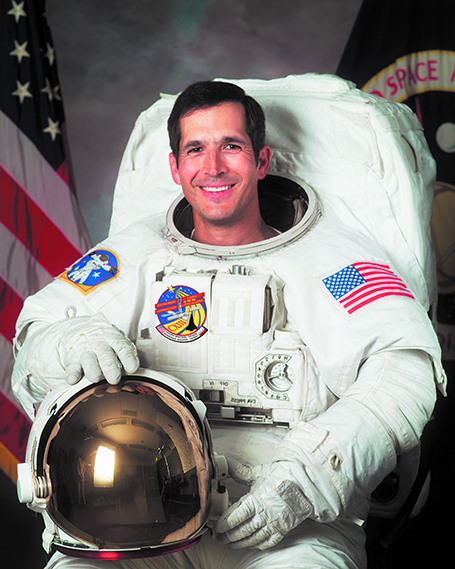 Like a true navigator, Herrington plotted his course and set out to make history. First was acquiring the education necessary. He graduated from his Texas high school in 1976, received a bachelor's of science degree in applied mathematics in 1983, and then a master's of science degree in aeronautical engineering in 1995. His stellar record in the classroom and as an officer in the U.S. Navy helped punch his ticket into NASA's astronaut program in April 1996.
After logging over 3,800 flight hours in over 30 different types of aircraft, Herrington made history as the first ever Native American to accomplish space flight on November, 23 2002. He served as a mission specialist aboard space shuttle Endeavour on its 14-day mission to the International Space Station where Herrington was integral in completely station upgrades, equipment transfers, and the universally cool spacewalk. 
In an interview with Indian Country Today, Herrington reflected on his 330 hours in space. "I got to do everything I would ever do as an astronaut on my one mission," he said. "I was very fortunate. I flew some sage. I flew some sweet grass. I flew regalia for a friend of mine. Being able to take the flute and the feather out and actually float those in the International Space Station really meant a lot to my family."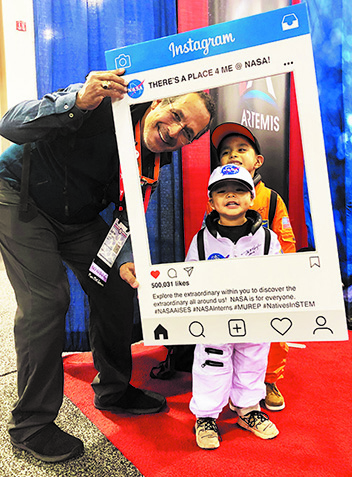 On his Endeavor journey, mission specialist John Herrington carried a flute made by Cherokee tribal member Jim Gilliland, a decorated eagle feather beaded by a Yankton Sioux citizen Philip Lane, and a Chickasaw Nation flag. Both significant cultural items, the flute and eagle feather, remained in his possession as he transferred from his crew's shuttle into the space station. Soon after entering the International Space Station, he placed both items within the airlock where they floated together in the zero-gravity environment.
This once-in-a-lifetime moment is memorialized at the National Museum of the American Indian in Washington D.C. within an exhibit holding the same flute and feather suspended midair as if they were still in space.
Herrington performed three spacewalks totaling 19 hours and 55 minutes. The Chickasaw legend's historic achievement is commemorated on the reverse of the 2019 Sacagawea dollar coin. In 2017, he was also inducted into the International Air & Space Hall of Fame. Herrington continues to speak across the country on the topics of STEM, space aviation and the Chickasaw Nation.
When asked by The Oklahoman why he is compelled to combine his oral storytelling traditions with his love for science, Herrington said "Our ancestors survived so we can be here; they were natural problem solvers and engineers. The structures they built and the decisions our ancestors made speaks volumes to me, as an engineer and from a leadership perspective."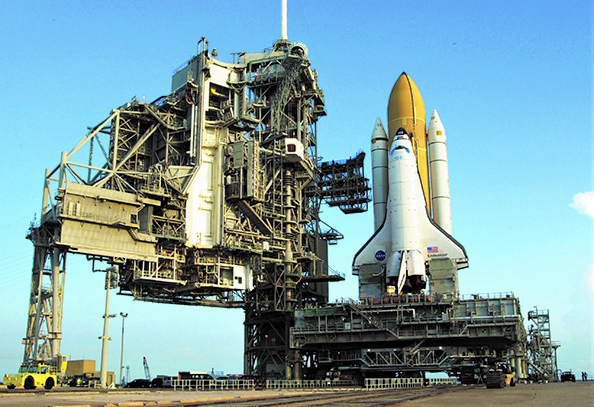 It's been nearly twenty years since the first Native American soared above our planet's stratosphere and space walked 254 miles above Earth's surface. Now, the time has come for another history making cosmic event for Native culture, especially for little girls everywhere with a scientific mind and dreams of being amongst the stars.
In a few short weeks, NASA astronaut Nicole Mann, enrolled in Wailacki of the Round Valley Indian Tribes in northern California, will serve as spacecraft commander over the next generation SpaceX rocket ship, Dragon Endurance. NASA's SpaceX Crew-5 mission is targeted to launch around September 29 from Kennedy Space Center in Florida to the internationally shared microgravity laboratory in space.
This will be Nicole' first spaceflight since becoming an astronaut in 2013. As mission commander, she will be responsible for all phases of flight, from launch to re-entry. She will also serve as an Expedition 68 flight engineer aboard the station. Like Herrington before her, Nicole was an exemplary student who took her education seriously. In fact, she earned a bachelor's degree in mechanical engineering from the U.S. Naval Academy and a master's degree in mechanical engineering with a specialty in fluid mechanics from Stanford University.
"It's very exciting," she told Indian Country Today, referring to being the first Native woman in space. "I think it's important that we communicate this to our community, so that other Native kids, if they thought maybe that this was not a possibility or to realize that some of those barriers that used to be there are really starting to get broken down."
Besides the other crew members, Nicole will also be accompanied by several significant cultural items aboard the Dragon spacecraft.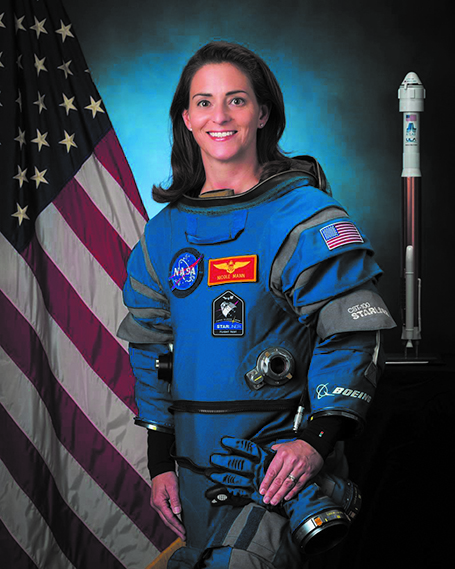 "I have some special gifts for my family, which I can't say because they're a surprise. Definitely taking my wedding rings, and I have this dream catcher that my mother gave me when I was very young," she said. "It's kind of always stayed with me throughout my time."
Back in December 2020, NASA announced Nicole as part of the initial 18-member Artemis Team intended to return U.S. astronauts back to the moon in 2025 or 2026. Artemis will be the first crewed lunar landing since the Apollo 17 mission in 1972.
"There is so much exciting work ahead of us as we return to the moon, and it will take the entire astronaut corps to make that happen," stated Chief Astronaut Pat Forrester in a 2020 press release. "Walking on the lunar surface would be a dream come true for any one of us, and any part we can play in making that happen is an honor. I am proud of this particular group of men and women and know that any of them would do an outstanding job representing NASA and the United States on a future Artemis mission."
The Artemis mission plans to send two of the 18 astronauts to land on the lunar surface, specifically designated to be the first woman and first person of color. If Nicole is selected with that honor, then she would become not just the first Native American, but the first woman as well, to walk on the moon.
"It's just this really overwhelming sense of emotion in the best of ways that I can describe," she told Inverse. "Yes, you want to be the first person to walk on the Moon, you want to fulfill that role, but really it's not about you … It's about the bigger mission, so you're just excited to support in whatever role you can."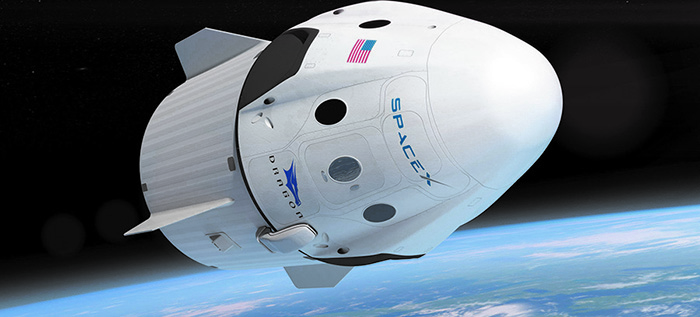 While the history books continue to be updated in real-time with Nicole's tremendous story, the Native astronaut will continue to train and prepare intensively for her International Space Station mission in just a few weeks' time. She's also taking the time out of her busy schedule to share her message of self-belief and the possibilities that arise from chasing dreams.
"It's so fun, I think, in our lifetime when you have firsts," she shared recently with NPR. "And I think it's really great to celebrate those and to communicate that, especially to the younger generation, right? These young women, maybe Native, maybe people from different backgrounds that realize that they have these opportunities. And so hopefully that will inspire that younger generation.
"[My advice to young Native women] is never discount yourself. If you don't go after a dream or a goal and if you don't try, you're never going to make it. Pursue your passions in school, ask for help, meet people that have done that job to learn more about it. You'll grow so much as a child into an adult, and your interests will vary quite a bit. It's exciting to take this opportunity to just chase down all of those dreams."