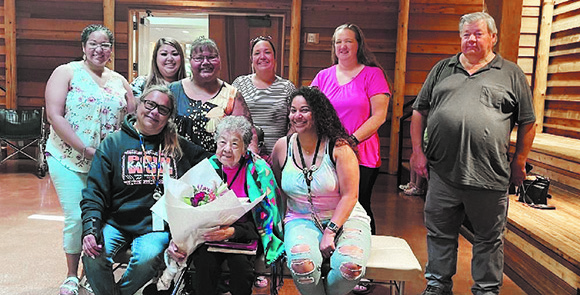 By Shaelyn Smead, Tulalip News; photos submitted by Rosie Taupum 
On July 12, friends, family, and coworkers gathered for a farewell party to honor Lavinia Carpenter's time and dedication to the Tulalip Tribes. Her almost 44 years of work touched the lives around her and impacted policies that the tribe continues to use. Like many Tulalip elders, Lavinia worked within the tribe for most of her life. It is that level of effort and commitment from tribal members that keeps our tribe strong and steadfast for the future.
Unfortunately, because of the Covid-19 pandemic and the number of layoffs from an economic crisis that our tribe was facing, many other dedicated tribal employees departed and were no longer able to keep their positions. Being quarantined at home, many employees weren't able to receive the farewell that they would've hoped for. And in addition to that, with the amount of deaths that our community faces every year, Enrollment Director Rosie Topaum began to understand the importance of honoring our elders while we still have them with us.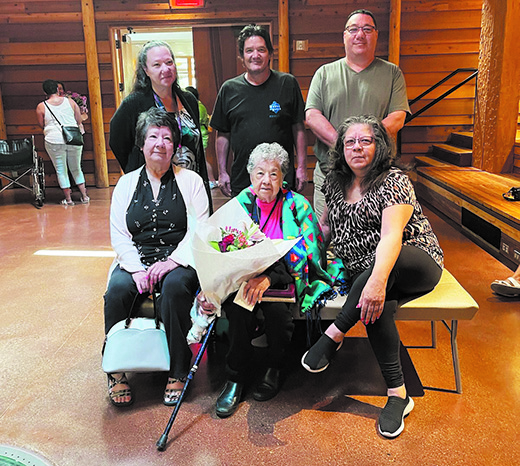 Lavinia originally had worked for the Tulalip Finance department for 37 years, and shortly after joined the Enrollment Committee for another 7 years. With Lavinia's prior experience and ability to enforce policy, she provided a sound and unbiased voice for the Enrollment Committee to follow. Her finance background made it easy to carry a lot of precision in her work. She was extremely detail oriented and has been known for her admiration for compliance, all of which made for a true professional and added value to everything she was a part of.
"It is important and valuable for tribal members to work for our tribe and find ways to give back to the community, as long as people have pure intent and sincerity in their work," Lavinia said.
The Enrollment Committee prides themselves on being a well-rounded group as they provide a variety of opinions, values, beliefs and understanding of our tribe and policies. The committee strives to have representation from multiple families, that can represent our people and leave out any possibility of favoritism or nepotism. The committee also has a variety of ages in their group, to ensure a more balanced understanding of the older generations that live with us, and the new families that are being created.
Tulalip Enrollment Committee Chair, Carrie Ann Fryberg, spoke of her time with Lavinia, "I want to thank her for her lifetime commitment and service to our tribe, and her years of service on the Tulalip Enrollment Committee. Elders are our most precious commodity as a tribe. All of her knowledge, and the way she was a stickler for codes and policies will be missed by all of us."
Being an elder within the Tulalip community, Lavinia brought a lot of knowledge about the history of the different families that have lived on the reservation. After the enrollment committee obtain the required documents from each applicant, Lavinia was also able to adhere and vouch for the different familial connections and establishments within the tribe. All of which takes an important role when deciding to accept an applicant, and enroll them into Tulalip.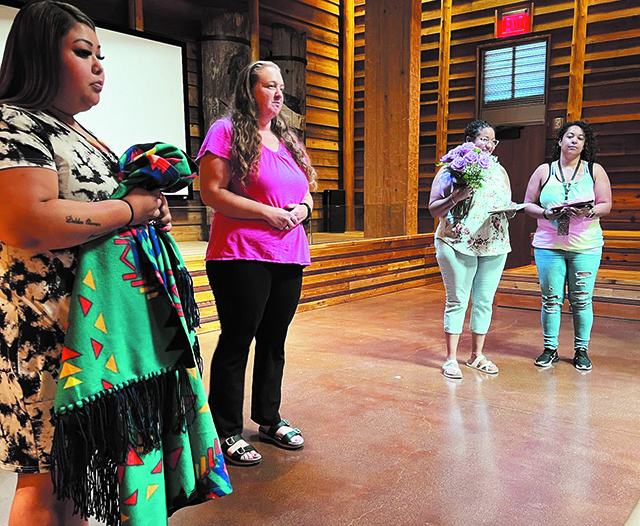 Rosie spoke of the significance of our elders in our community and the value that Lavinia brought to the enrollment committee, "It's important that our elders know that we cherish our time with them, and let them know that they are appreciated. We need to take the time to honor them while they are still here with us. Lavinia carried her work with a lot of dignity, and her knowledge helped make so many clear and important decisions. She treated everyone the same, and she had an overall kindness that rubbed off on people. I admire the time and connection I was able to make with her."
Surrounded by some of her friends, family, and coworkers, the farewell party was a chance for people to speak about Lavinia, her time within the tribe, and thank her for her efforts. Lavinia was gifted with flowers, a blanket, and a plaque. A joyous event to commemorate all of her work.