Visit Tomahawk Axe in Smokey Point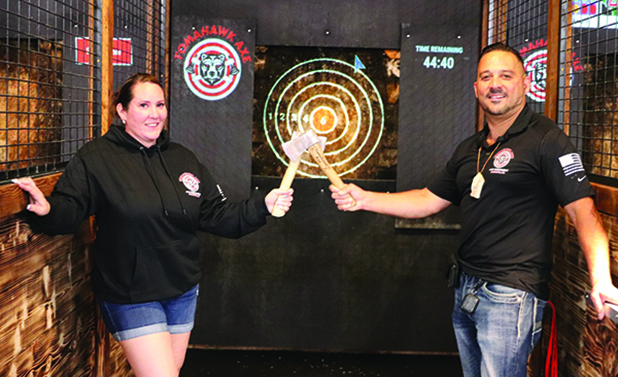 By Kalvin Valdillez, Tulalip News
If you recently made a trip up north to Smokey Point, you may have noticed that the small district of Arlington is going through some major changes. A behemoth building was constructed at the lot adjacent to the Walmart Supercenter that will soon become the home of a new Amazon facility. And it seems that once the news broke that Amazon was coming to the area, several other companies gained interest in opening up shop in the vicinity.
"This area is really growing a lot," said Tulalip tribal member and local business owner, Marvin Velazquez. "Amazon is about to open up with 10,000 employees. Microsoft, Google, Space X are all building up here. Smokey Point is about to really boom, and so we're in a great location."
Across the way from Safeway, and visible from the drive-thru line of McDonalds, is a 7,000 sq. ft. commercial space where bonds between colleagues will flourish, romantic relationships between lovers young and old are sure to strengthen, everlasting memories will be made amongst family members, and fun will be shared amongst friends while taking part in an exhilarating and competitive activity.
"We held our ribbon cutting ceremony on March 12th, and our grand opening was St. Patrick's Day, March 17th," said Marvin about his latest venture, Tomahawk Axe. "It's been pretty amazing. We've been open five months and had over 5,000 people come in and throw axes. I'm really proud of what we built here. I think we have a lot of potential to grow."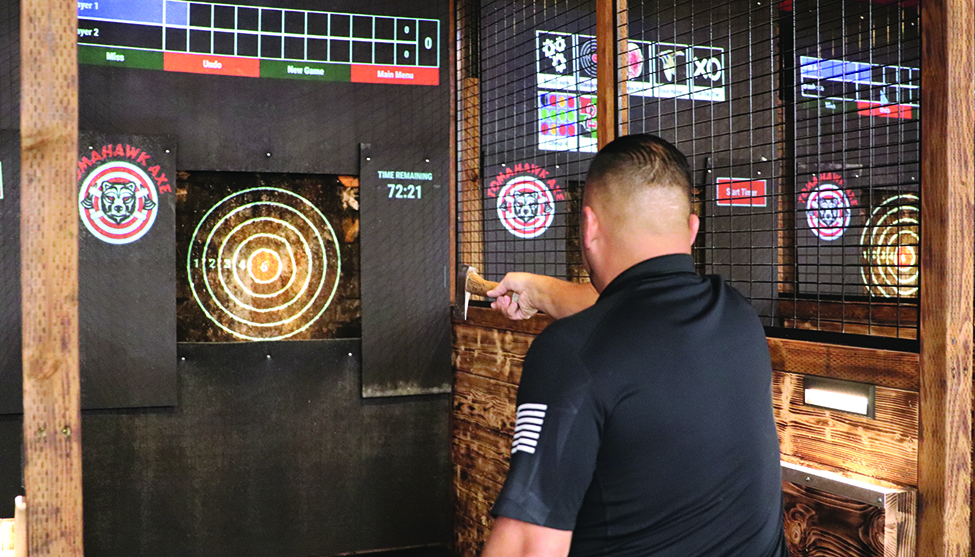 Upon entry to Tomahawk Axe, there are a number of throwback arcade games including Mortal Kombat, Batman, Ms. Pacman, Galaga, and Big Buck Hunter. A quick survey of the place will prove that the business is jampacked with fun as two pool tables, a foosball table, and dart machines are scattered throughout the outer perimeter of the space. All that fun entertainment, and we have yet to mention their main attraction.
Twelve impressive throwing stations line the back wall of the facility, all personally built by Marvin who also owns the well-known local business, Affordable General Contractor LLC.
"I built all these lanes," he proudly exclaimed. "The lanes are 6×15 feet long and we have an anti-bounce curtain. If you throw the axe at the end grain target and miss, and hit the black curtain, the axe will fall to the ground. We spray all of our targets to help the axe stick, and it also maintains the target."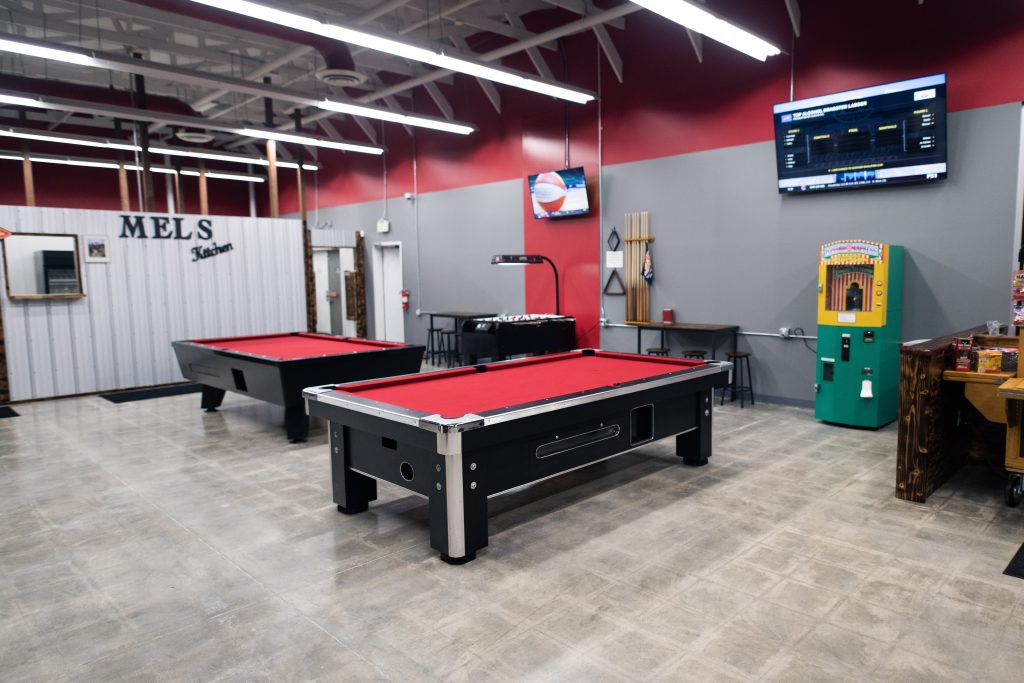 The end grain targets are a big difference between Tomahawk Axe and other axe throwing businesses around the country. Most axe throwing targets are constructed of 2×12 planks. And after building those targets, the business owners will typically paint bullseye vectors for their patronage to take aim. Those targets are then utilized until they are completely destroyed, which doesn't take very long, and owners find themselves going through many targets on a weekly basis. Marvin's targets however last months on end.
And at Tomahawk Axe, there's not a painted target in sight. Instead of taking aim at a fixed bullseye each turn, customers are treated to fun and challenging targets that change position every time a thrower approaches the lane. The targets are computer generated and casted onto the end grain wood via an overhead projector. You also have the opportunity to switch it up from the traditional vector bullseye and play several other games such as blackjack, tic tac toe, connect four, as well as zombie and duck hunt.
Marvin is quick to mention that he did not build the axe throwing business by himself. He credits his life and business partner, Dana Higgins, for a lot of the behind the scenes work and day-to-day operations. 
"I always say that I do everything you can't see, and he does everything you can see," Dana said. "That's what makes us a good team because we bring-in two different skillsets."
Marvin added, "Her and I built this on our own. She runs a lot of the ins-and-outs as far as the software, booking, website, and advertisement."
The duo decided that they wanted to create something interactive that would engage the people of their community. They were inspired to take on the endeavor when visiting other axe throwing locations, but their goal was to take the up-and-coming sport to the next level in a way that everybody could enjoy throughout the course of an evening.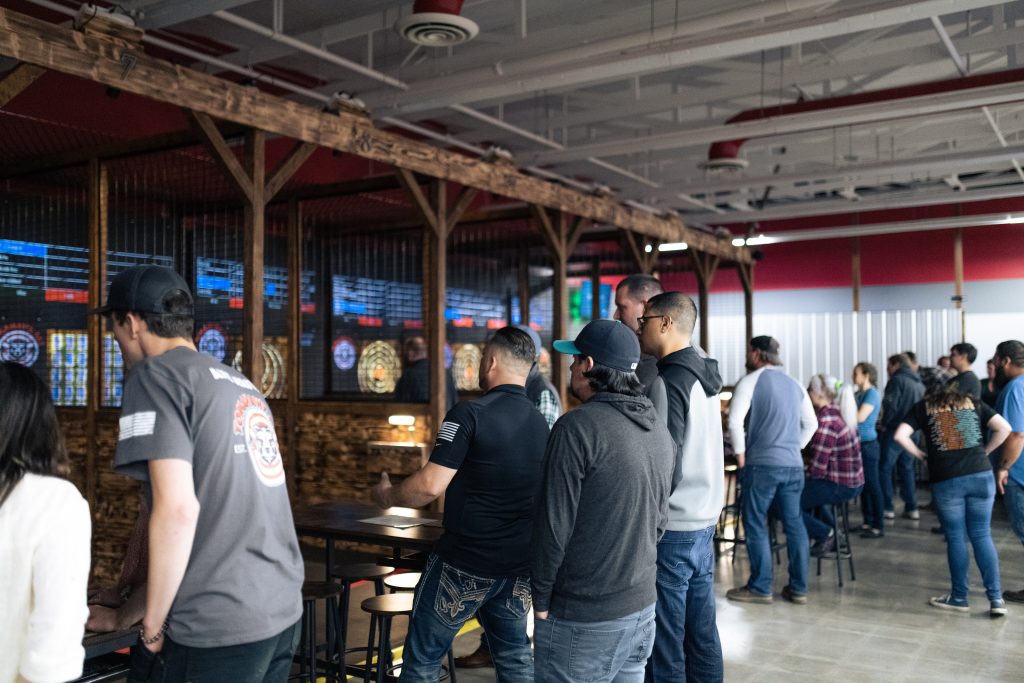 "We were throwing axes at other places. And they all draw their targets on their boards," Dana explained. "It's something that we'd spend twenty-five minutes on, and we'd be done because it wasn't something that kept us entertained and interactive with everybody else. Here, we provide something different and something more for our customers. So, when people come in and play, they stay longer because they have different choices of games to play. Right now, there are six different games, and we'll release another one here in the next couple of weeks. It's nice to have something different and to bring-in something new every four to five months, so when people come in it's not always the same thing."
Marvin agreed, "Our idea was to bring in something that ties in technology with physical activity. We wanted to get those kids to be interactive. We allow kids 8-years and older, and that makes it a great family activity. And we can show 8-year old's how to throw axes all day."
Not only does Marvin, Dana, and their staff teach kids how to throw, but they also offer their expertise to all ages. Each session that is booked at Tomahawk Axe comes with an axe throwing coach who will provide you with the proper technique and necessary training, with safety as priority, to begin throwing axes and hitting targets on your first visit. So, rest assured, you will learn all the basics if you are a newcomer to the sport.
"Our axe coaches will show you how to hold the axe, show you how to stand, how to throw the axe, and we'll coach you until you stick that axe. We'll be on standby and give you some pointers as you go on, if we see that you're struggling. That's crucial to having clientele because it's not about throwing axes; it's about sticking axes. If you can stick that axe and have a great time, you're going to come back. If you're throwing bricks all night, you're not going to have any fun," stated Marvin.
After taking time to demonstrate the proper way to throw an axe, Marvin smiled and said, "once you get a little bit better at throwing axes, you can do all kinds of stuff," before showcasing a few trick shots including underhanded, two-handed, through the legs, and even a no-looker.
Coming from Tulalip, Marvin wanted to incorporate his heritage and culture into the new business. He called upon cultural leader Tony Hatch to bless the facility during the ribbon cutting ceremony. And as the business grows, Marvin has a strong desire to hire tribal members onto his team. He also asked Lower Elwha artist, Al Charles Jr., to design the logo for the company.
"Isn't that badass?" exclaimed Marvin. "Al Charles did an amazing job on the logo, the Tomahawk bear. I graduated from Marysville Pilchuck, so I've always been a Tomahawk. Tomahawks are a traditional Native hunting type weapon and being a tribal member, we wanted to have a Native theme. We thought tomahawk would fit really well up here. This is a lumberjack community here in Arlington and there's a lot of Native Americans who log or use the axe seasonally, cutting firewood and whatnot. This used to be our hunting ground here and we lost it over time. Tony made a very good point – he said this is the first tribal member owned business back on our land."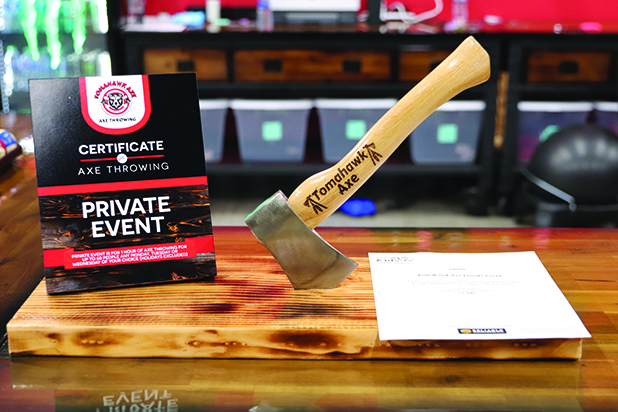 Marvin and Dana have big plans on the horizon in addition to bringing on new target games for local axe throwers. Such plans include a sports bar, outdoor beer garden, darts and cornhole tournaments, an official axe throwing league, individual tomahawks for purchase, and a restaurant.
"We'll open up the sports bar and the restaurant by the first of the year, that's a nice goal," said Marvin. "We named the restaurant Mel's Kitchen – my dad died during COVID. He was retired state patrol and a chef. He had many restaurants in California, the Bay Area. So, we decided to keep it cooking for him up here by naming it Mel's Kitchen. I'm stoked to get it up and running."
Tomahawk Axe also hosts private events outside of normal business hours. And as their flyer states, axe throwing is perfect for all occasions including date night, birthday parties, bachelor and bachelorette parties, engagement and wedding parties, employee appreciation parties, corporate events, and team building events.
Tomahawk Axe has already held private events for the Stillaguamish Youth Center and the Tulalip Education Division. And with the rainy season coming up, they will be extending their hours so that locals can enjoy some great indoor fun. For more information, including their pricing, hours of operation, or to book a lane online, please visit their website at www.TomahawkAxeThrow.com
Said Dana, "People think that they're just coming in to throw an axe, but it's great to see their reaction when they walk in and see our technology that goes with it. It's more interactive and a fun family activity."
"We consider ourselves to be the Top Golf of axe throwing," Marvin stated. "With twelve lanes, we are the largest facility in the state. Most people don't realize how fun axe throwing is and are intimidated, but it's a really safe sport. Axe throwing is a stress reliver and we consider it to be axe counseling. We all have built-up frustration or rage and stuff, and we need to get out. You come here and throw out all your frustration and take it out on this target. It's good to get it out physically, so you can release it mentally."