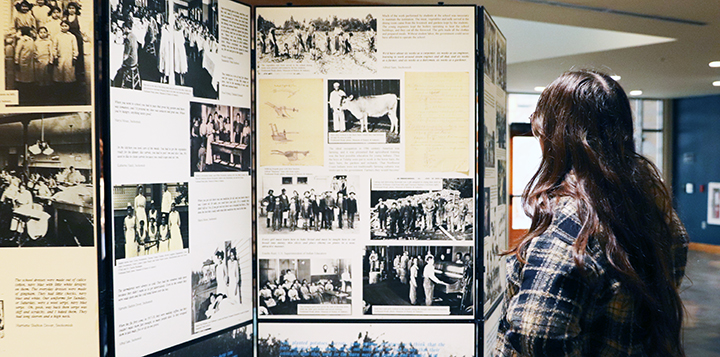 By Kalvin Valdillez
In recognition of Residential Boarding School Awareness Day, the Hibulb Cultural Center held a pop-up exhibit on Friday September 30 to help their visitors gain an understanding about the Indian Boarding Schools. The exhibit gave insight to what occurred at the terrible institutes of assimilation from the point of view of the Indigenous children who attended the Tulalip boarding school.
A heart-wrenching and tear-jerking screening of 'The Faces of the Tulalip Boarding School' played on a loop throughout the day inside the cultural center's longhouse. The HCC giftshop also had a handful of orange t-shirts available for purchase in honor of the day of awareness. And a large double-sided panel was stationed at the center of the museum, which depicted black and white photos of the Tulalip boarding school and its students. Through letters sent home and a number of recorded interviews, the Hibulb Cultural Center compiled several testimonies from the Tulalip boarding school students, which painfully details what they experienced at the school.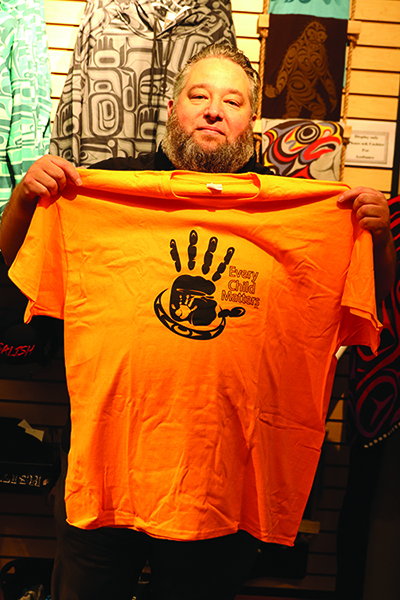 Those dreadful recountings are positioned throughout the panel as captions to various photos. Below are some of those statements.
"The first night away from home seemed like a long, long night. At home, my mother would always go to the bedroom with me and lift me up. Sometimes my father would come to the door and tell me that I was a good girl. At school everyone put themselves to bed. The dormitories were always so cold. They had the windows wide open because they didn't want us to get tuberculosis. Even in the winter they were wide open, and the cold wind blows over the bay." 

   – Harriette Shelton-Dover, Snohomish

"I remember one of those majors, when there was an infraction of the rules, made the girls who went outside the boundaries line up and march in front of everyone in all three companies and get the back of their legs slapped with a ruler. And those girls couldn't walk. It put scars on them."

    – Vi Hilbert, Upper Skagit

"At Tulalip you had to wear uniforms. They had a celluloid collar. I have a short neck and that thing would stick into my neck, so I'd always have to hold my head way up." 

   – Ronomous 'Toddy' Lear, Lummi

"It was always meat and potatoes and ugly gravy. One doctor came along, and he changed things. He seen that a lot of us were getting sores around the neck, and he thought it was the diet." 

   – Marya Moses, Snohomish

"We had to march from our rooms to the kitchen to eat and back again to get ready for school. And we'd march to the school building. Everywhere we went we'd march, march, march." 

   – Ham Green, Makah

"I went to Tulalip. I was six years old. Mother didn't like it very well, but she said it just had to be done. I felt bad when we was going., heck, along come a boat, a big motorboat, and picked us up. Like little cows, we got in and away we went. We didn't even know where Tulalip was." 

   – Woody Loughtey, Suquamish

"When the flu first came in 1917-1918m they were making coffins, but they couldn't make them fast enough, so many people died. So, they wrapped them in tule mats, five or six in one grave."

    – Alfred Sam, Snohomish
The cultural center's pop-up exhibit was a great introductory for those who wished to learn more about the boarding school era. Upon sharing the news about the exhibit on social media, many people who live out of the vicinity of Tulalip requested another pop-up so they can plan a visit in the near future. Several of those individuals expressed that they actually had relatives who attended the Tulalip boarding school and inquired how they could receive additional information and/or photos of their loved ones.
The Hibulb Cultural Center is open Tuesday – Friday 10:00 a.m. to 5:00 p.m. and Saturday – Sunday Noon to 5:00 p.m. For more information, including their exhibits and events, please visit their website www.HibulbCulturalCenter.org or contact (360) 716-2600.