LOH and TPD team up to bring safety tactics to the community during DV Awareness Month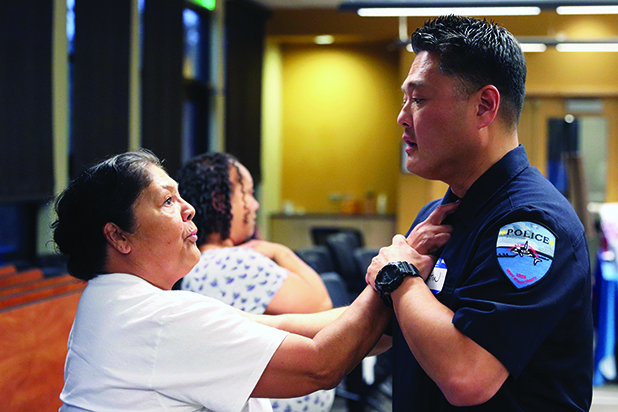 By Kalvin Valdillez, Tulalip News
"I feel confident now. A lot more confident," reflected Tulalip tribal member, Carlotta Davis. "I feel like if somebody came at me, I'd be able to not freak out and apply what I learned in this class tonight. There's a lot of weirdos out there. Even going to the grocery store, we have to be alert and be able to protect ourselves." 
Empowered is the word that best describes a group of ten ladies, all hailing from the Tulalip community, who attended the Legacy of Healing's (LOH) self-defense class on the evening of October 13. 
Over the past several years, the LOH has taken part in a national initiative known as Domestic Violence Awareness Month. Through this initiative, the program has brought attention to a problem that plagues Native communities across the nation, while also providing resources, support, information and help to Tulalip tribal members, other tribal members, as well as parents, guardians, and spouses of Tulalip members who are experiencing DV in the household.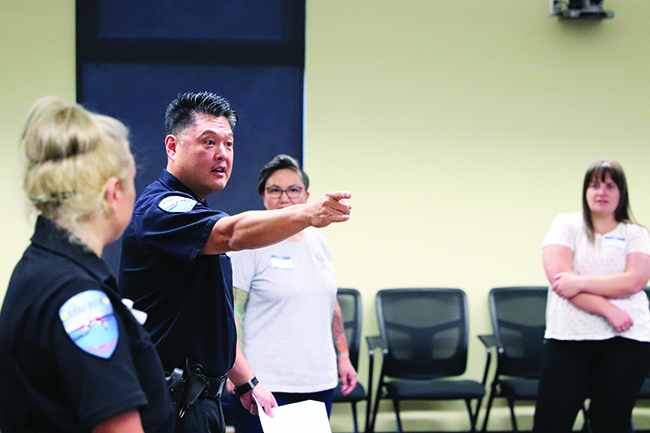 Through a 2016 study conducted by the National Institute of Justice, it is apparent that Indigenous women and men are faced with DV situations more than any other race or community in the U.S. The official statistic shows that 84% of Native women have experienced violence in their lifetime as well as 81% of Native men. That same study stated that more than four in five American Indian and Alaskan Native women and men experienced DV in 2016 alone. 
To say that the LOH is active during DV Awareness Month is an understatement. During each week of October, the LOH team, along with the Child Advocacy Center (CAC) team, can be found out in the community, imparting knowledge to the people about what DV is and how it affects the home and community at large.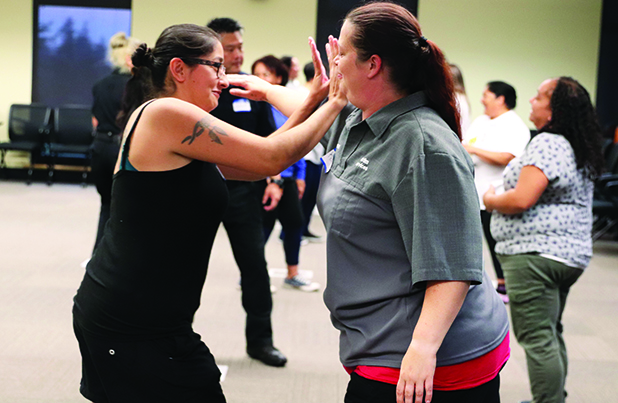 This year, LOH is hosting a total of four classes to raise awareness. The first event was an eye-opening and moving workshop dubbed Resolving Trauma that was taught by Director/Consultant of the Midwest Trauma Services Network, Frank Grijalva MSCC, MSPH. And to follow that event, LOH partnered with the Tulalip Police Department (TPD) for the first self-defense class at Tulalip since the pandemic hit.
"A few years ago, we put together some self-defense classes for one of our awareness months and there was a lot of interest from the community," explained LOH and CAC Director, Jade Carela. "And so, the idea came up within our staff about doing another one. I reached out to TPD Chief of Police, Chris Sutter, to see what he thought about it. The chief is extremely supportive of our two departments and thought it was a great idea. This is so good for our community, and another way of promoting something within our community to teach them ways of protecting themselves."
The hour-and-a-half class was led by TPD Officer Justin Lee, with assistance from Officer Cheyenne Bear and Detective James Cabras. After taking some time to stretch out, the group circled up in room 162 and were taught a variety of techniques including stances, breakaway and blocking maneuvers, as well as kicks, strikes, and punches. The class leaders also spoke about the importance of knowing the vulnerable areas of an attacker and carrying personal protection such as pepper spray, mace, and tasers.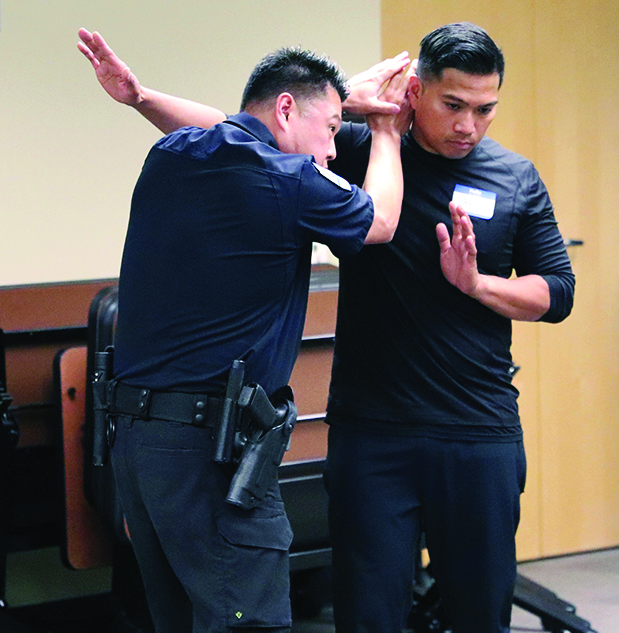 Although the attendees took the lesson very seriously, they still found time to share a few laughs together throughout the beginner's course. The TPD officers showed the ladies each self-defense move at 20% speed, then they walked about the classroom and gave them the opportunity to correctly demonstrate the techniques back on them. Once the class got the moves down pat, they partnered up and tried their newly acquired skill on each other.  
Said Officer Lee, "We all have been affected by domestic violence. We all have experienced it in one way or the other. So that's why it's important for us continue with this training and continue this awareness, so that we as a community can continue to better ourselves, empower ourselves, and not be victims anymore. Having the police department actually teach the class versus hiring a company, which they have done in the past, didn't really work out, because I think the heart is not there. For us, we serve Tulalip, this is our community, this is our police department, this is our people. We want to empower our people, and we want to give them tools and also the confidence."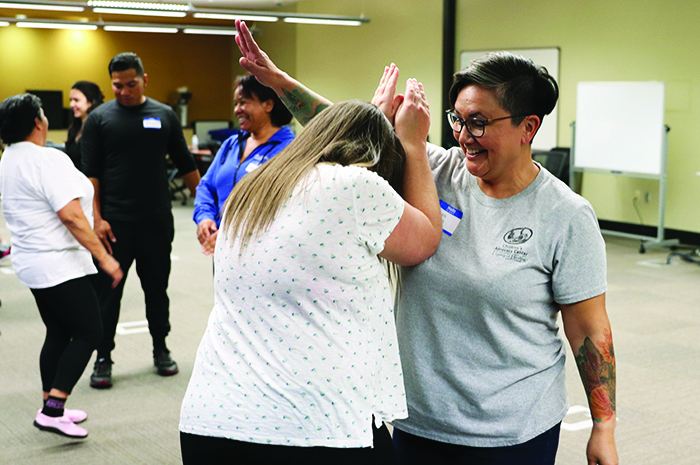 "It was an awesome turnout, everybody was really engaged," added Detective Cabras. "I think the goal of this class was to empower the women of the community to take back their individuality and make connections with other people, and they received it well. We talked about the difference between self-defense and defensive tactics, we spoke on the difference between what law enforcement does as far as defensive tactics and what private citizens can do. We also equipped them with some tools to defend themselves when they're faced with situations, and we talked about the mindset that they should have. We tried to focus on the fact that they're no longer victims; they're strong, independent women who can handle themselves if needed."
Following the self-defense class, attendees were provided a sandwich-spread dinner and learned about the DV Awareness Month raffle. Prizes include a custom-designed hand drum, beaded earrings, tribal member artwork, Under Armor shoes, and much more. Raffle tickets can be purchased at any of the remaining DV Awareness month events or during their pop-ups at the ti kuphihali café at the Tulalip Admin building on Fridays between the hours of 12:00 p.m. and 2:00 p.m. Tickets are $5 each or five for $20. 
 "This event was extremely important," Jade stated. "A lot of people, even people who don't experience DV necessarily, were able to learn different ways of protecting themselves in safe ways, because we never know what is going to happen. You could be put in a dangerous situation at any second of your life. This class provided more tools to keep themselves safe."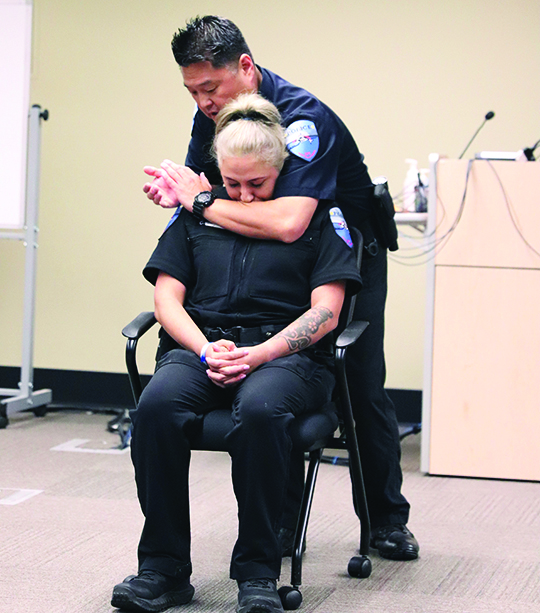 She continued, "I think it was important to have TPD teach the class because it gives the community the opportunity to see them in a different light. It helps them feel safer and learn from them in a different type of space and bond with them. I love seeing that interaction and it makes me so happy to know that we have community members coming together to support these activities. At the end of the day, it shows that we have people supporting our victims and survivors of DV."
DV Awareness Month continues with the last two events held on Thursday October 20 and Tuesday October 25 respectively. The next event is a film screening of the Indigenous film, Sisters Rising, and the last event is a Beading as Healing class. Both events begin at 5:30 in room 162 of the Administration Building. And if you would like to show your support for DV victims and survivors, be sure to wear purple on October 25th. 
 If you or anybody you know is experiencing an abusive relationship, please do not hesitate to call the LOH at (360) 716-4100 for assistance. And if you are in a crisis or an emergency situation, the LOH provided a list of three additional hotline numbers that you can utilize during your time of need: 
The National Domestic Violence Hotline 1-800-799-SAFE (7233)
Strong Hearts Native Helpline: 1-844-762-8483
Domestic Violence Services of Snohomish County 425-25-ABUSE (22873)