January 22, 1945 – February 11, 2023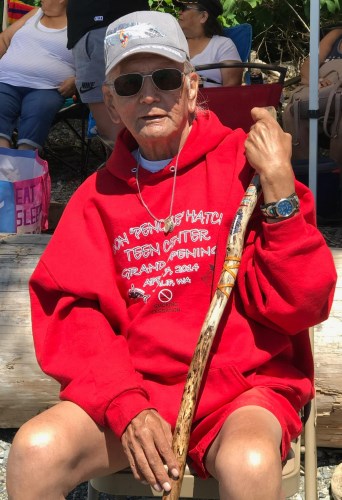 Dean Fryberg Sr. Jee-Leets-Kynum a member of the Tulalip Tribes passed away on February 11, 2023. He was born January 22, 1945 in Everett WA. He lived his life in Tulalip, Washington. 
Dean had a great love for his family, tribal community, and for the lands he was born and raised. He loved walking the beaches and picking up eagle feathers as long as he was able to. 
Dean was a stellar athlete, he was a member of the Tulalip Renegades and Tulalip Chiefs. He excelled at Tulalip hardball as a second baseman, basketball where he was known as "Youngblood" by everyone on the native circuit. He played with precision and great talent, carried a lot of love for the game. Dean also was an avid Seattle Seahawks fan. He traveled to San Francisco with his brother Clarence for boxing.
Dean enjoyed participating in the Paddle to Seattle in 1989 with his brothers, and then to Victoria, BC with his Fryberg family in 1994 for the Commonwealth Games. He continued to pull canoe for as long as he could. His last pull was the 20th anniversary of Paddle to Seattle in Suquamish in 2009. 
Dean was a logger, commercial fisherman, Fish Patrol Officer and a welder at the Tulalip Maintenance shop for many years. He enjoyed pole fishing, pool league, hunting, Sr Bingo, and the Casino with LaDonna. Dean's love for his family was absolute. 
He leaves behind his children: Dean Fryberg Jr, Jimmy Fryberg, Timmy (Lynn) Fryberg, Robert Fryberg, Loris Fryberg, Stephanie Fryberg and special daughter Lahneen Fasthorse. Dean leaves behind his siblings: Billy (Sharleen) Fryberg, Cy (Karen) Fryberg Sr, Jeanette Fryberg, and special brother Pete (Bonnie) Jerry and grandchildren he raised Dereka, LaDwena, William, Chiefy and LaDonna. Along with 23 grandchildren, 37 great-grandchildren. 
Dean is preceded in death by his parents Martin & Josephine Fryberg; Wife LaDonna Fryberg; Brothers Clarence Hatch Sr, Myron Fryberg Sr, Byron Fryberg Sr, LeRoy Fryberg Sr, Gerald Fryberg Sr, Marlin Fryberg Sr and baby sister Josephine Fryberg. Son Hanford James Sr, and grandchildren Jennifer Fryberg and James (J.D.) Fryberg.
A service for Dean will be Friday, February 17, 2023 at 10:00am at the Tulalip Gathering Hall, 7512 Totem Beach Road, Tulalip, WA 98271. Dean will be laid to rest following service at Mission Beach Cemetery in Tulalip.