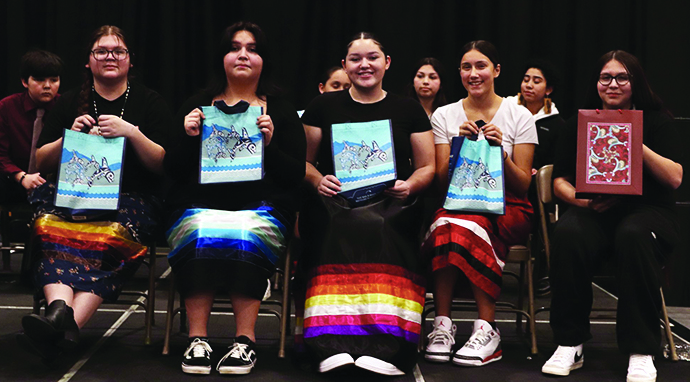 By Kalvin Valdillez, Tulalip News
The aroma of freshly prepared salmon wafted out of the Greg Williams Court on the evening of February 16th. Two days prior, the gym was decorated with hearts a plenty for all the lovers and friends of Tulalip during the Education Division's Valentine's Day Dance. And although there were less people in attendance and a large stage in place of the dancefloor, the love was still immensely felt at this year's Youth Council Candidate Forum. Love for their tribe, peers, community, and the future of Tulalip was on full display by sixteen young adults who are devoted to bring about positive change for both their generation and those yet to come.
"I'm running for Tulalip Youth Council as a sixth grader because I want to bring forward new ideas and change," said Tribal member, Brodie Kane. "I also want to work with other like-minded kids to reach those goals that we set for ourselves – to make our tribe better for now and for the next seven generations."
With the 2022 Tulalip Youth Council term coming to an end, these enthusiastic and optimistic young leaders officially announced their candidacy for the 2023 Youth Council. The youth beamed with Tulalip pride as they gave heartfelt speeches about several issues that the tribe's young population often face while growing up on the reservation, and they displayed a strong desire to remedy concerns such as substance abuse, and the tribal welfare system. Additionally, the teens spoke of ways to uplift their peers through events, conferences, and cultural practices.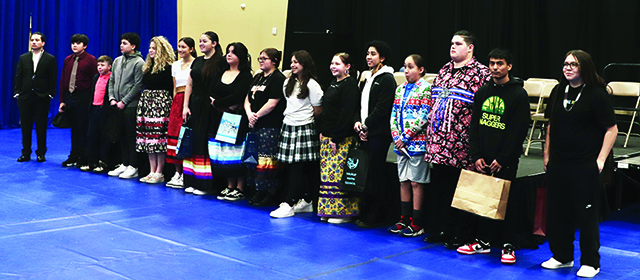 Senior Youth Council candidate Samara Davis shared, "I'm in my senior year and I enjoy playing music, creating art, and spending time with my family. I think I would make a good representative for the Tulalip Youth Council for the following reasons: I value integrity and respect the wisdom of previous generations. I believe it's important to speak up about matters that are of concern in our community and create positive solutions. I come from a family that fought for our people and our country by serving in the military."
She continued, "I participate in community events such as coastal jams, cultural classes, Lushootseed camp, Salmon Ceremony, and the art festival. I've helped the Veterans Committee set up for Veterans Day, Memorial Day, Tulalip Days, and other events. I worked with Youth Employment for the past two years at both TDS and the youth center, I've created flyers, posters, banners, and memorial cards. My goal is to learn and grow to be a better leader because I hope to help and serve my people."
Now in its seventh year since it's revival in 2015, the Tulalip Youth Council provides countless opportunities for its members to gain real-life experience throughout their term as they grow into their roles as leaders of the new school. The Youth Council is comprised of a junior council (sixth through eighth grade) and a senior council (ninth through twelfth grade), as well as two senior advisor positions.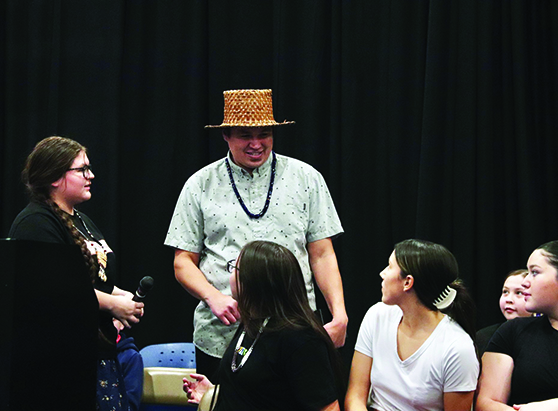 Through the Youth Council, the elected officials serve as the voice of the young people during Tulalip Board meetings. They also address a number of concerns that affect both tribal youth and the tribe as a whole, by organizing events throughout the year such as coastal jams, healing circles, fitness camps, and the Get Drugs Off Our Rez Prevention Walk, to raise awareness and help support their peers in a good and healthy manner.
Not only does the council host events, but they also help plan and actively take part in other community gatherings and culture-based events as well. Most importantly, the Youth Council works side-by-side with the Tulalip Board of Directors during their one-year term, and therefore they have the opportunity to learn first-hand about the ins and outs of the Tribe's governmental operations.
Guest speaker and Tulalip BOD member, Hazen Shopbell, expressed, "I want to thank these kids for stepping up. It is a tough job. There's a lot of responsibility. Making decisions and having passion for your tribe and your people gets tough, but always be honest, have integrity, and bring things to the table. That's some of the most important words I can give you. There can be a lot of pressure and stress at times, but always follow your heart and your dreams. And always remember your ancestors, your elders, and your teachings."
Before the new candidates stepped up to the podium to present their speeches, they paid tribute to the 2022 Youth Council members and the Youth Council Advisor, Shane McLean, for all their hard work over the past year.
Image Enick, current Senior Council Chairman, said, "This is my third year serving on the Youth Council and I learned a lot from my fellow council members, and especially the advocates. I learned a lot about myself. Out of my three terms, one of my favorite moments is when we had the UNITY Conference come here, and we hosted a small conference here in the gym. It was cool to see other kids from different tribes come together."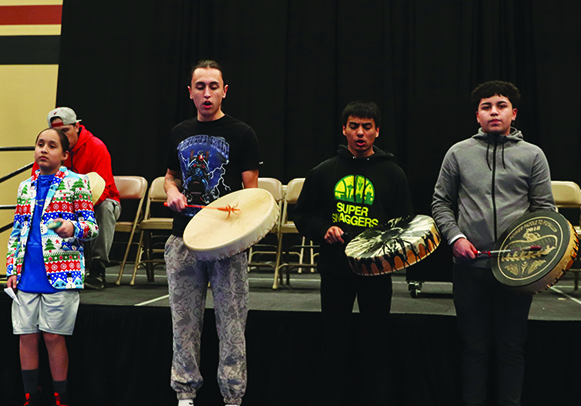 The 2022 Senior Youth Council Treasurer, JD Rinker, added, "It felt really good to be up there to represent our youth. I'm proud of all the candidates who sat behind me because I know they can do something great. I'm glad they took that first step because that's all you need to get started and become a leader in this community. All in all, I think this was a great [forum] for the new candidates."
This year, current council members are taking it upon themselves to develop a more efficient and fair voting system for the yearly Youth Council elections, and they are hoping to create a process similar to the Tribe's BOD elections. And for this reason, the Youth Council and all of the 2023 candidates will be meeting in the next few weeks to brainstorm ideas on how to reach as many Tulalip teens as possible, to ensure they have a voice and an opportunity to cast their vote in the upcoming elections.
When speaking about the Youth Council Candidate Forum, Tulalip Youth Council Advisor, Shane McLean, stated, "It made me really happy and proud. It's sad to see the old Youth Council go, but it's good to see new beginnings. I hope that through the Youth Council, our kids can find their passion and reach their goals, and that they also find their strength as Indigenous People. I hope all of our youth know that they are part of the creation, we're all here on Mother Earth, and they are meant to be here. I want to let everybody know that our youth really need them right now. I think our youth are facing a lot of things and they need as much support as they can get in their lives."
The Youth Council Candidate Forum was a success, and it was a pleasure for many to witness several young leaders take the initiative to inspire change for the youth and future generations of Tulalip. Stay tuned as the Youth Council fine-tunes their election process, and as the new candidates hit the campaign trail before election day.
For more information, please contact Shane McLean at (360) 716-4904.