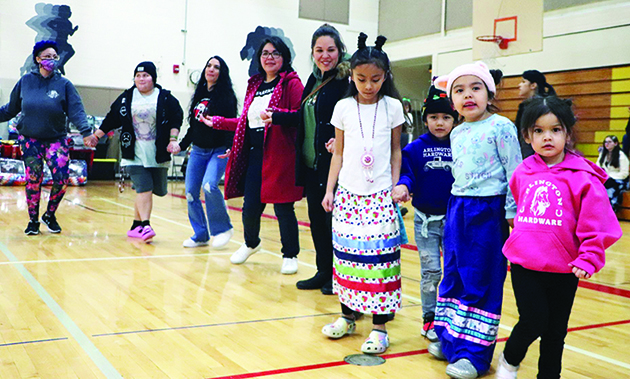 By Shaelyn Smead, Tulalip News
A few things about Natives will always stay the same throughout time. One of the most important, we love to surround ourselves with our loved ones while we eat, sing, dance, and rejoice in our culture.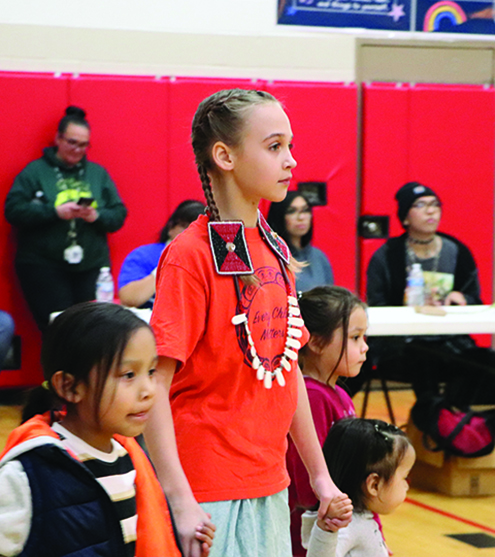 On March 9th, the Marysville School District Indian Education department held its annual round dance. Natives of surrounding tribes joined tribal and community members to embrace the lively cultural evening. The festivities began with a shared meal, followed by singing, dancing, communal conversations, and shopping from local Native vendors and artists selling handmade pieces like ribbon skirts, cedar headbands, and jewelry.
In typical round dance style, drummers and singers gathered in the middle of the room while dancers shuffled clockwise in a circle around them. With many tribes represented that night, traditional tribal songs and regalia from throughout Washington were adorned and admired for people to see and hear.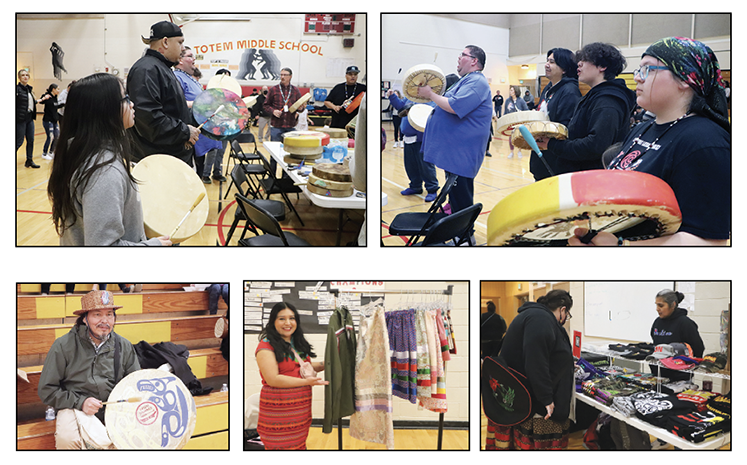 The round dance even had a surprise guest, newly appointed MSD Superintendent Dr. Zachary Robbins. Several people gathered beside him to teach the basic steps and meaning behind the movements. With a smile, Dr. Robbins quickly picked up the moves and danced alongside community members for a few songs.
Other than the many rich cultural elements demonstrated at the event, was pure comradery between the people who attended. MSD Native American Program Coordinator Matt Remle said, "The round dance was a beautiful evening of bringing together our families, youth, elders, community members, and district staff to enjoy and celebrate life. It was good to see the smiling faces, laughter, and sharing in our cultural ways of life."