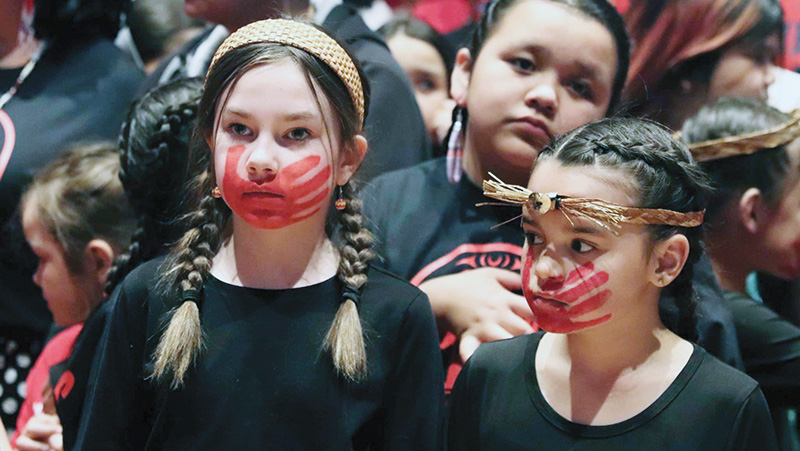 By Kalvin Valdillez, Tulalip News
"When we gather and do this work together, we protect each other," said Tulalip elder, Don 'Penoke' Hatch. "We need to care for each other a little bit more today than we did yesterday. We got to take care of each other, take care of ourselves, take care of our children, and make sure we don't lose anybody again. I want us all to be more dedicated in how we take care of each other. We are a cultured people and we got to carry it on that way, carry on the love that we have for each other. We don't want to lose anyone else, because one is one too many."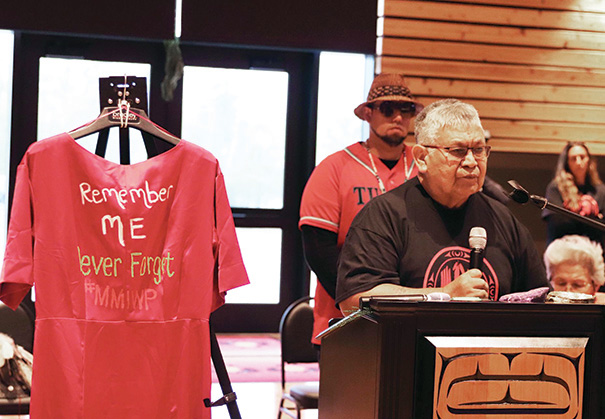 The parking lot of the Tulalip Gathering Hall was packed full on the evening of May 5. So much so, that people were parking along Totem Beach Road and the Tulalip Health Clinic to attend an immensely important gathering. As community members walked into the entrance of the hall, they received a black t-shirt that featured a Native designed logo on the front that read 'Tulalip MMIWP Healing'. The back of the shirts, in large capitalized red font, displayed the message 'SAY THEIR NAMES'.
A collaboration between the Tribe, the Tulalip Police Department (TPD), and the Tulalip Education Division, the MMIWP Day of Recognition and Healing event brought together hundreds of Tulalip citizens, as well as a number of Indigenous people from surrounding tribes including Lummi and Lower Elwha. After collecting their t-shirts, each person received a candle and were invited to indulge in a buffet-style dinner while the open remarks and prayers took place.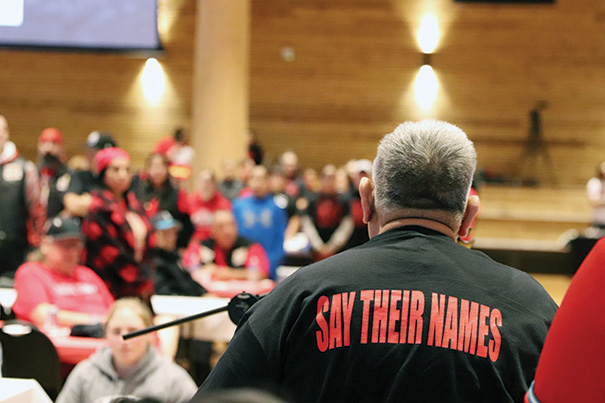 Nationally, May 5 is dedicated to raising awareness about the Missing Indigenous Women and People (MMIW/P) epidemic that continues to spread throughout Native America. Every day, more of our relatives are reported missing, and many of those individuals have yet to be found. Additionally, the rate at which Native people are murdered in the US is higher than any other ethnicity.
Addressing the packed room of the Gathering Hall, TPD Program Manager and local MMIWP Liaison, Anita Matta, shared a few statistics, "Indigenous people make up 17% of missing people in Washington state, but we only are 1.6% of the state's population. At 84.3%, more than 4 out 5 Indigenous women have experienced violence."
Overwhelmed by that information, Anita could not hold back tears as she informed the people she could not continue reading the statistics.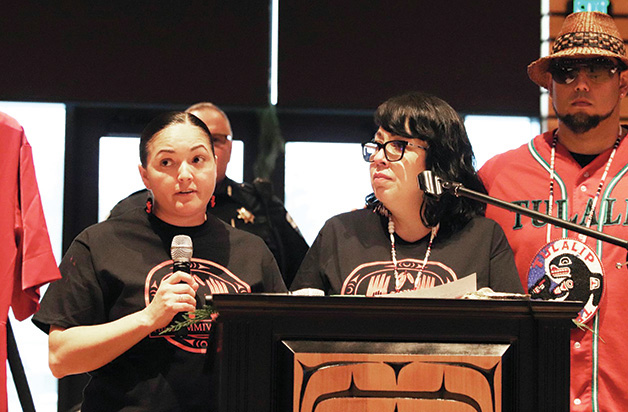 Tulalip Events Manager, Malory Simpson, presented the rest of the statistics while standing by Anita's side. She said, "55.5% of Indigenous women have been physically abused by their intimate partners. 40% of sex trafficking victims are American Indian/Alaskan Native women. 56.1% of Indigenous women experience sexual violence. 48.8% of Indigenous women have been stalked in their lifetime. Murder is the third leading cause of death for Indigenous women – ten times higher than all other ethnicities. As compared to Caucasian women, Indigenous women are 1.7 times more likely to experience violence, two times more likely to be raped, and have a three times higher murder rate. Out of the reported cases [for MMIW], 4,089 were 0-17 years old, and 1,398 were over 18 years old. There have been 5,487 incidences, and 658 cases are still open from the end of 2022. Washington state has one of the highest numbers of reported cases, with 57 open cases."
Seven Tulalip tribal members were recognized throughout the gathering including the one open case of Mary Johnson-Davis, as well as individuals who were murdered, and whose family has yet to receive justice, such as Kyle Van Jones Tran and Cecil Lacy Jr. Family photos of each of those tribal members were highlighted in a slideshow that was displayed on five large projector screens and played on a loop throughout the evening.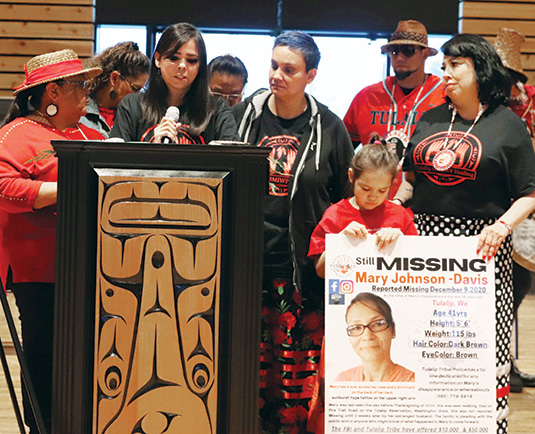 Tribal members Sarah Hart and Monie Ordonia were honored and recognized for their work during the event. Sarah and Monie dedicated their time to raise awareness for the MMIWP epidemic by placing red dresses and shirts in highly visible areas throughout the reservation. Red dresses are used as the national symbol to raise awareness for Missing and Murdered Indigenous Women. Each dress is hung upright to give the illusion that someone is wearing it, but the woman whom it belongs to is missing. Sarah and Monie painted the names of those Tribal members who fell victim to the epidemic on each article of clothing that they hung up.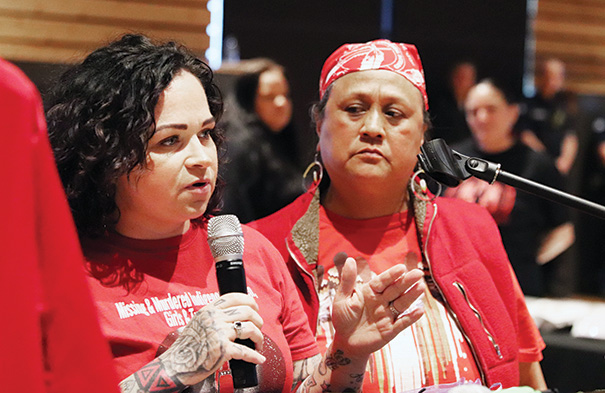 Said Sarah, "It's been a busy, heavy week hanging up dresses. A few years ago, I knew that I had to do something. I felt there wasn't enough being done. I had to get the attention of people. I wanted to advocate for our community and for our families. I wanted to educate. Congratulations Tulalip for making the first step in acknowledging our missing women, brothers, sisters, and our girls. Our next step is being proactive – how do we teach our young girls how to protect themselves? We need to put things in motion to protect our women, our girls, and our young boys. There's a lot of work to be done."
Monie added, "MMIWP is not to just honor our fallen loved ones, but also to be the protectors of them. If one of my cousins, one of my nieces, or one of my nephews are being abused, am I going to be quiet or am I going to be the strength, the voice for them when they have no voice? You have the power and strength to be the change you want to see in this epidemic of losing our loved ones. The more we make people aware, the more they can't get away with it. It takes one person to make a difference."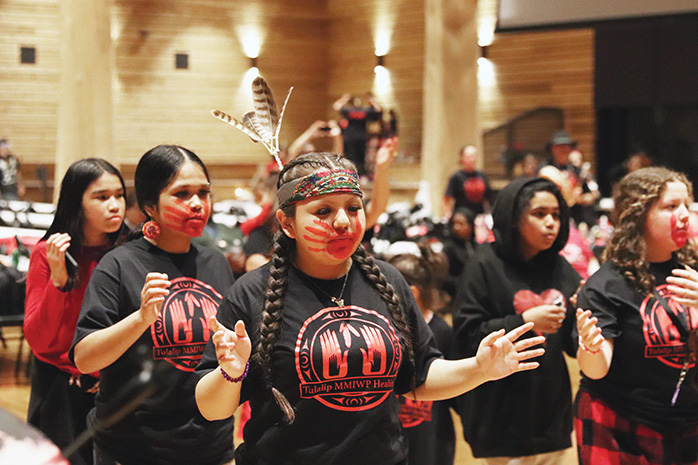 To follow up those powerful messages, Sarah and Monie conjured up another powerful moment by inviting all the ladies in attendance up to the floor. After forming a circle at the center of the Gathering Hall, they sang the Women's Warrior song and on the last verse, they all put a fist in the air to honor those lives lost and those who are missing.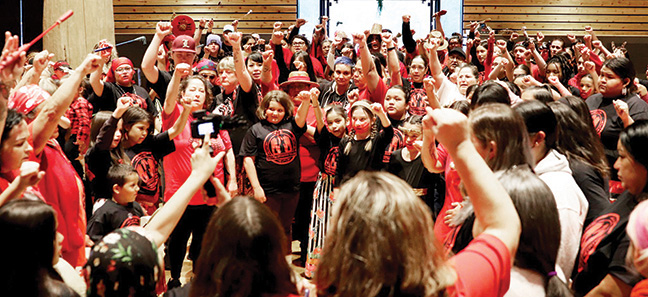 If you follow Tulalip News on Facebook, you may have recently noticed that as soon as person is reported missing from Tulalip, a detailed flyer with that person's picture, age, height, weight and their last known location is immediately posted. That quick response has helped locate several people over the past few months. And the reason for this expediate release of information is thanks to a Tribal Community Response plan, in which Tulalip is the first tribe in the state of Washington to implement into their community.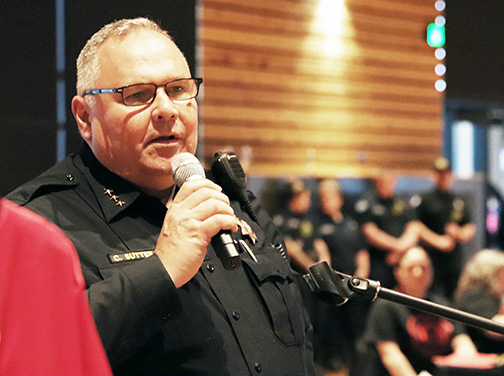 TPD Chief of Police, Chris Sutter, explained, "The purpose of that plan is to bring together, in our coordinated way, all the resources to help families through victim services. To get the word out timely through media, to use community resources effectively, and also to coordinate with law enforcement. We're proud to work with our US Attorney's Office on this important mission of bringing our loved ones and missing and murdered people home. We also want to recognize the FBI, and our partnership in working closely with investigators, analysts, victim services and advocates, we're in this all together. We work very closely with the Attorney General's office in Washington State to coordinate our efforts, we're on a taskforce with them. We want to emphasize that we're working really hard to try to bring justice and to bring in our current open case, Mary Davis-Johnson, home to her loved ones. We won't give up until that job is done, until that mission's complete. Through the coordinated Tribal Community Response plan, when we do have a missing person, I want you to know that we take it very seriously. We activate our team very quickly and we have been highly successful in getting the word out and locating people very quickly."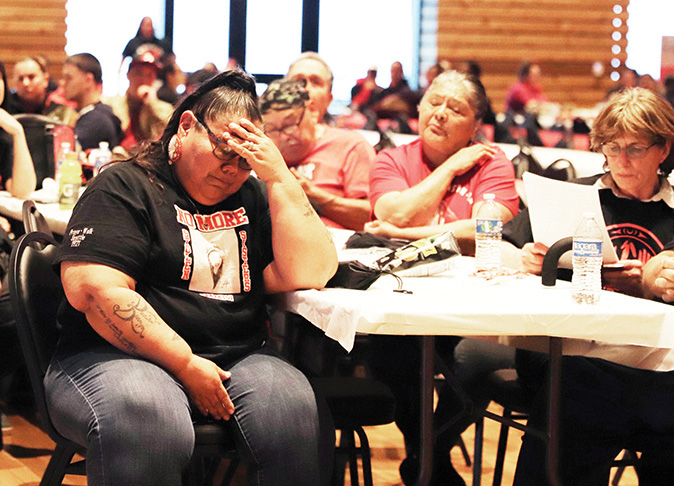 Families of those missing or murdered bravely paid tribute by sharing their loved one's stories and recounting happy memories spent together. The tears were flowing as the people listened and shared the pain, grief, anger, and heartbreak with the families.
Gerry Davis, sister of missing Tribal member Mary Davis-Johnson, shared, "We want to send love to the families of Sophia Solomon, Jessica Jones, Cecil Lacy Jr., Kyle Van Jones Tran, and Bridgette Simpson. You are all our family. We know all of your pain. We accept you as our family because we are going through the same thing. Some may be murdered, but there's a lot of people missing, and our sister is one who is missing. Our hearts go out to all of you. And I wish that everybody out there gets peace. We love you all."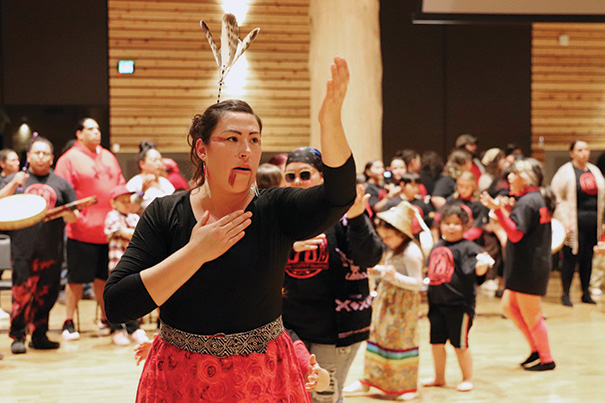 Through tears and sorrow, Nona Davis also shared, "I'm Mary's older sister, we thank you all for coming out here and being with us. It will be three years in November since our sister's been gone. I love seeing all the pictures of Mary, you can see how much she loved her family and loved life. If you have any information at all, please call it in. Our family is hurting really bad."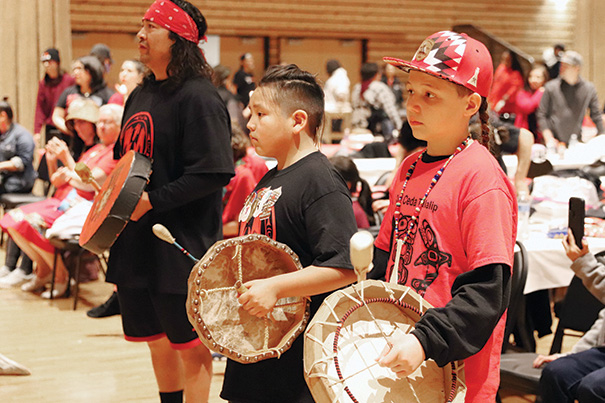 After each family and a number of guest speakers shared a few words, the tables placed at the center of the Gathering Hall were removed. The people created a big circle and were asked to light their candles. As they raised their candles in the air and shared silent prayers, the sound of drums reverberated through the hall as the West Shore Canoe Family led the people in a song dedicated to all the Missing and Murdered Indigenous Women. The song is composed by Antone George (Lummi) and contains the lyrics:
Every night and every day I pray, pray for you, I love and miss you. Sister, come home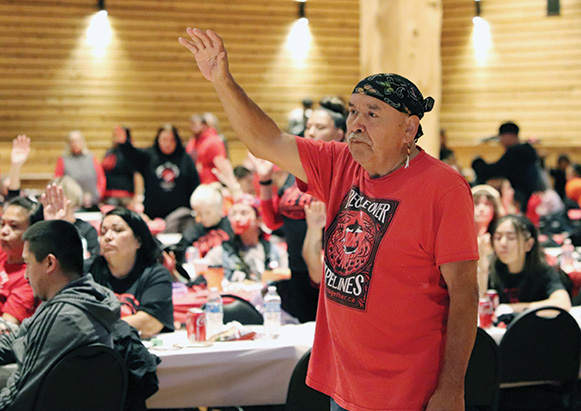 The night ended with a coastal jam as the sduhubš people engaged in song and dance and utilized the medicine of their culture to uplift the people and start the healing process after a heavy night of raw emotion.
TPD has a dedicated tip line for any information on Mary Davis-Johnson's disappearance or whereabouts. That number is (360) 716-5918. The FBI and the Tulalip Tribes have offered a $10,000 and a $50,000 reward for information leading to the arrest and conviction of those responsible for Mary's disappearance.