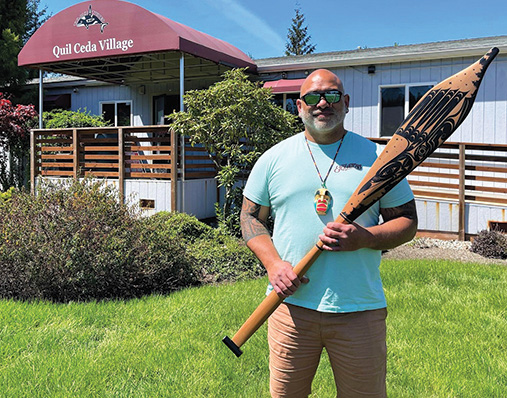 By Micheal Rios, Tulalip News
The longest tenured unofficial mayor in Quil Ceda Village history has retired. After serving his Tulalip community in numerous roles at various tribal entities for 29 years, the last 10 of which were as QCV general manager, Martin Napeahi said farewell to his dedicated staff and elected leaders in an emotional retirement ceremony held on Friday, May 12.
"I've been so blessed to empower my employees to feel like an actual team, each having not just a voice that is heard, but also being equipped with the tools to provide all the services QCV offers to our people. Because at the end of the day, all of this is for our people," said Martin while giving his farewell speech.
In 2001, the Bureau of Indian Affairs approved QCV's status as a tribal municipality. Quil Ceda Village became the first tribal political subdivision in the nation established under the Indian Tribal Governmental Tax Status Act of 1982, and one of only two federal municipalities in the country. The other being Washington, D.C. As the first tribal city of its kind, Quil Ceda Village is an innovative model of tribal economic development.
QCV is widely regarded as an economic powerhouse, located entirely on federal land held in trust by the United States for the benefit of the Tulalip Tribes. The Village contains the Tulalip Resort Casino, Tulalip Bingo, Walmart, Home Depot, Cabela's, the 110 designer store Seattle Premium Outlets, and provides jobs to over 5,000 employees.
During his decade-long reign as QCV general manager, Martin has helped fulfill the vision of past tribal leaders who sought to create a destination marketplace on the Tulalip Reservation.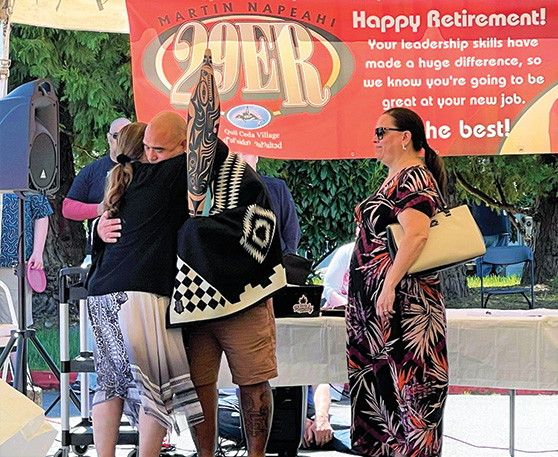 "When I think back to all the business partnerships and significant developments that QCV has helped usher in during my time here, I think of the tax case victory, the Big Water project, and the 116th overpass project. But what I may be most proud of is Remedy," shared Martin. "From all the behind the scenes stuff that went on just to get approval, to creating the infrastructure and building the Remedy team, to what it became now, which is probably the number one dispensary in Snohomish County. The tax revenue that it's provided to the benefit of tribal government and QCV is incredible, and something that I can hang my hat on."
Martin also mentioned this past winter's stunningly successful 'Lights & Ice' event that brought millions of dazzling Christmas lights and an ice-skating rink to the Village as one of his favorite achievements. "To be able to bring our community together with the greater Snohomish County community in that way was amazing. I heard so many joyous stories from families who either got to ice skate for the first time ever or just loved being able to stroll all the light designs with their parents and grandparents," he explained.
Although the 48-year-old Tulalip citizen is now officially retired from the government life, he won't be jobless for long. He shared that he's already accepted a director position with Nakani Native Program. A Native-led nonprofit based in Seattle with the goal to provide programs that are grounded in Indigenous knowledge which brings traditional and western medicine together to transform the way people access healthcare.
"On behalf of Tulalip, I thank Martin for all his hard work and commitment to his tribe and community. He built a team that trusted him, appreciated him, and worked hard to fulfill all the goals he set," said Chairwoman Teri Gobin. "We wish him the best as he starts this new journey, and want to let him know there's always room to come back."