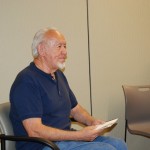 Article and photo by Jeannie Briones
TULALIP, Washington –  The Tulalip Hibulb Cultural Center, known for its artistic and educational series of workshops which highlight storytelling, lectures, culture and film, have added a new series that features poetry.
 Tulalip Tribal elder and author, David Spencer Sr., read a series of poems on October 4th at the Hibulb center, capturing the audience with his ebb and flow of words. Events that he witnessed in his life and the poets and teachers who inspired him to write poetry inspired these poems.
 "I took four courses at the UW from Nelson Bentley. He guided me on how to write poetry, to take one form all the way through the poem," said David. "Poetry is like painting."
  Writing poetry since 1973, he reconnected with his grandparents' first language, and began his writing process anew in 1997 by using the Lushootseed language as a creative outlet. This transformation brought new meaning to his poetry that he had not found while writing in English.
 Poetry helped David through dark periods in his life, especially after his wife passed away. Sylvia Plath and Ted Hues are just a couple of poets he admires. He read their poems over and over to absorb their words and meaning.
 In the poem, "The Sacred Smoke," David describes a traditional memorial burning, the feeling of being on-edge, being reborn, and having no temptation of worldly needs.
David's first memoir, "Lifted to the Edge: the Reflections of a Tulalip Grandson," is a skillfully written exploration of his life. You can find a copy of his book at theTulalipHibulbCulturalCentergiftshop. Visit www.hibulbculturalcenter.org for information and a schedule of events.