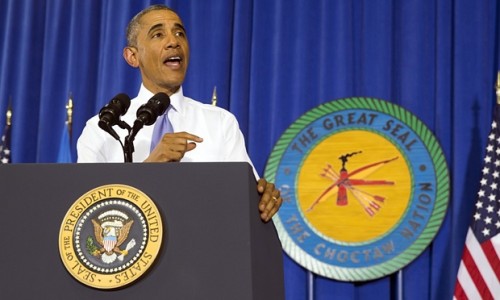 ConnectHome will launch in 27 cities and the Choctaw Nation, from where the president announced the initiative: 'The internet is not a luxury – it's a necessity
By Sabrina Siddiqui, The Guardian 
Barack Obama on Wednesday paid a visit to one of the largest Native American tribes in the United States to emphasize the importance of expanding economic opportunity.
The president chose the Choctaw Nation area, an Indian reservation that spans roughly 11,000 miles across south-eastern Oklahoma, to launch an initiative that would increase access to high-speed internet in low-income households.
"The internet is not a luxury – it's a necessity," Obama said. "You cannot connect to today's economy without having access to the internet."
The pilot program, called ConnectHome, will serve as part of the Obama administration's efforts to bridge the gap that leaves many communities – especially in low-income and rural areas – without broadband access.
The plan will launch in 27 cities, in addition to the Choctaw Nation, and will initially provide internet access to 275,000 low-income households and nearly 200,000 children, the White House said.
Citing an achievement gap, Obama said there were many consequences to not having internet access. It might begin with something as basic as young people not being able to complete their homework, the president said, and translate to a math and science gap and later an economic gap.
"In an increasingly competitive global economy, our whole country will fall behind," Obama said.
The trip marks the second time Obama has directed attention at the Choctaw Nation, the third-largest Native American tribe in the United States. Last year, he included the Choctaw Nation among five so-called Promise Zones – an initiative directed at impoverished areas under which the federal government would partner with businesses and local governments to offer tax incentives and grants as part of a broader effort to reduce poverty.
Following its Promise Zone designation, the Choctaw Nation has received $58m in federal aid that has been used to expand educational opportunities and access to healthcare facilities.
Approximately 23% of individuals residing in the Choctaw Nation live below the poverty line – in some of its communities, the poverty rate is nearly 50%. The national poverty rate was 14.5% in 2013, according to the US census bureau.
"We've got a special obligation to make sure that tribal youth have every opportunity to reach their full potential," Obama said in his remarks on Wednesday. "A child's ability to succeed should not be based on where she lives, how much money her parents make. That's not who we are as a country."
Before his speech, Obama met with youth from the Choctaw Nation, Cherokee Nation, Muscogee (Creek) Nation and Chickasaw Nation.
Obama has stressed the need to improve the conditions of Native Americansbefore, particularly with respect to jobs and education.
"Native Americans face poverty rates far higher than the national average – nearly 60% in some places. And the dropout rate of Native American students is nearly twice the national rate," he wrote in an op-ed last year. "These numbers are a moral call to action."
Obama penned that op-ed ahead of a visit last June to the Standing Rock Sioux Tribe, located in both North and South Dakota. The president characterized the visit as an emotional one that he said left him and first lady Michelle Obama "shaken, because some of these kids were carrying burdens no young person should ever have to carry".
"It was heartbreaking," Obama added at the time.
According to a fact sheet released by the administration, the Obama administration is on track to meet its promise that 99% of K-12 students can use the internet in their classrooms and libraries by 2017.
"There are places where internet access can be a game-changer, but where service has not kept up," Jeff Zients, director at the White House National Economic Council, told reporters ahead of Obama's trip. "That's especially true in schools … Students in every community need fast and reliable internet to get ahead and learn."
According to an analysis by the President's Council of Economic Advisers, released on Wednesday, nearly two-thirds of households among the lowest-income quintile of Americans owns a computer, but less than half have a subscription with an internet service provider.
The report further found a "strong positive association" between median income and use of the web. Minorities were disproportionately affected, according to data compiled in 2013: black and Hispanic households lagged 16 and 11 points behind white households in having internet access, while Native American households were 19 points behind white households.