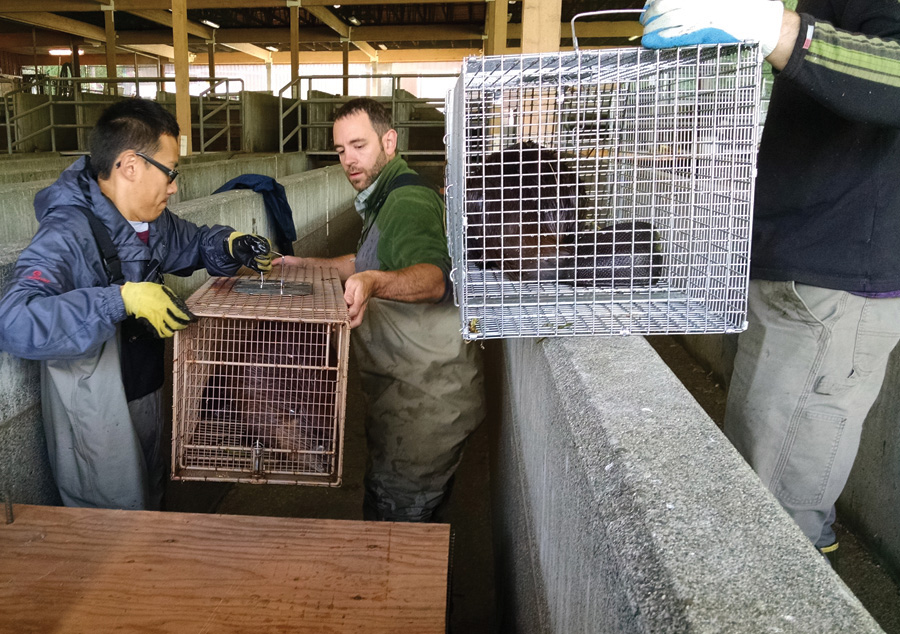 By Niki Cleary, Tulalip News
Beaver are known for their industrious landscaping. They regularly use their skills to rearrange the world around them, much like humans, to build safe places to live and grow the plants they feed upon. Unfortunately, for businesses and homeowners, the beaver's best-known talent is also one of its least charming attributes.
The solution? Move nuisance beaver from urban areas to Forest Service land in the mountains where their construction skills will both build salmon habitat, and mitigate the effects of climate change. A win-win that Tulalip Wildlife Biologist Jason Schilling is excited to share.
"Beavers are marvels of engineering, we're hoping to tap into their ability to store water," he explained. "This was a big vision of Terry Williams [Tulalip Natural Resources], he saw it as a way to restore degraded landscape."
"Benjamin Dittbrenner [of the University of Washingon], is studying how beaver change water quality," Schilling continued. " Particularly he's looking at stream flow before and after beaver relocation and water temperature, those are two very important things for salmon."
Dittbrenner is a former Snohomish County employee. While at the County he worked with landowners to ensure that property was protected from beaver activity.
"Beavers have a lot of really great ecological benefits," he explained. "They take water and slow it down so that it can infiltrate into subsurface soils, increase groundwater and recharge aquifers. This creates backwater habitat for specialist species, and there have been studies to show that beavers and Coho are closely linked, Coho use beaver habitat as juveniles. We suspect that part of the reason Coho numbers are dropping is lack of beaver habitat."
Dittbrenner continued, "The climate shifts that are predicted in the mountains mean that we're going to have a lot less snow. That snow directly provides water to streams in spring and early summer. If there's less water that means there is warmer water, and warmer water means less dissolved oxygen and less successful spawning. We've been looking at solutions to cope with less and warmer water."
The project will work, said Dittbrenner.
"We're modeling the project after other projects, east of the Cascades, where it's legal to relocate beavers. Ranchers who once were against beavers are seeing that when the beavers come in, the groundwater levels increase and their pastures stay greener much longer. We're hoping to see the same great benefits that they're seeing."
In a nutshell, the beaver's dam building creates ponds which helps increase the water table. Beavers slow down water during fast flow times and increase water during the dry season. All of which adds up to more, and better quality water, as well as rearing habitat for salmon. Lastly, as climate change causes the snowpack to decrease, beaver ponds are an effective and natural way to store water for the dry season.
Since it's such a great solution, why isn't everyone doing it? Because in Western Washington it's illegal to transport beaver alive from where they are trapped. It's still perfectly legal to kill them. Tribes, however, are not subject to state law.
"It really has to do with our management of wildlife, as part of our broader treaty rights in off-reservation resource management," explained Tulalip Attorney Tim Brewer. "We have the right to manage these resources and we're working with the feds on federal land and therefore state law is pre-empted."
Tulalip biologists have 24 beaver friendly sites picked out, but only eight of the sites will be populated initially. The unused sites will be used to as a comparison to demonstrate how effective the project has been.
"We may use them as release sites next year," said Schilling, "but that will give us some good baseline data for beavers we released."
For more information about the project contact Jason Schilling via email jschilling@tulaliptribes-nsn.gov.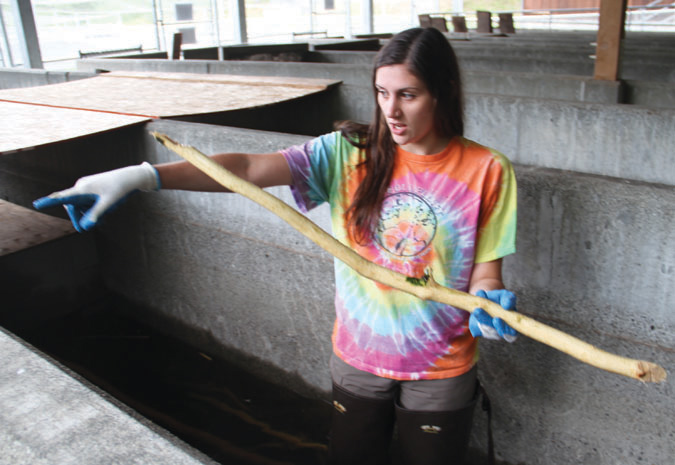 Beavers await relocation at the Tulalip Hatchery
Assistant Wildlife Biologist Molly Alves helps take care of beaver while they await relocation. She feeds them, dropping bunches of vine maple and vegetation, into the chum raceways where they are living. The beaver are also offered commercial rat food, but don't seem to care for it. They sleep in man-made lodges built out of cinder blocks.
"We have to rebuild their lodges every night," she said. "We weren't anticipating catching six, and they don't fit very well in a single lodge. The lodges are built out of plywood and cinder blocks, we have to line the plywood with steel mesh or they will chew through it."
Alves explained that beaver are highly social and prefer to sleep together. That is one of the reasons they'll be relocated as a group. Other strategies to ensure the animals don't leave include scent marking the locations.
"We take these," she held up the vine maple from the previous day, it's bark stripped and the wood notched with teeth marks, "we call them chew sticks, and we'll put them at the release site. They're more likely to stay there if their scent is already there."
The family is made up of two adults, three sub-adults and one kit.
"We've been setting up camera traps as well, so we know there are two more at the site where we caught this family," said Alves.
"There's another kit and a sub-adult. We'll go back and catch those two and release them [as a pair]," she continued. "We know the sub-adults stick around for a couple of years to take care of the kits, so we know the kit will be fine. They'll be released as their own family and they'll probably go to a different spot because by the time we get them, these ones will be established."
While the cameras are useful, Alves said the biologists knew there were more beaver because the animals can't stand a leaky dam.
"There were three dams where we caught these guys. We notched the dams, that means we pulled out sticks and mud so there was a trickle of water," she described, "it drives them crazy. When we went back some of the dams were rebuilt."
Beaver are nocturnal herbivores, although they don't hibernate, their planning and construction ensure that they survive winters just fine.
"They eat leaves in the summer and bark year round," Alves said. "They stay in their lodges all winter and they create caches of food under their lodges. Other animals like muskrats and mice will stay in their lodges too."
Hatchery visitors can learn about the beaver through series of interpretive signs that describe the relocation project and it's benefits.