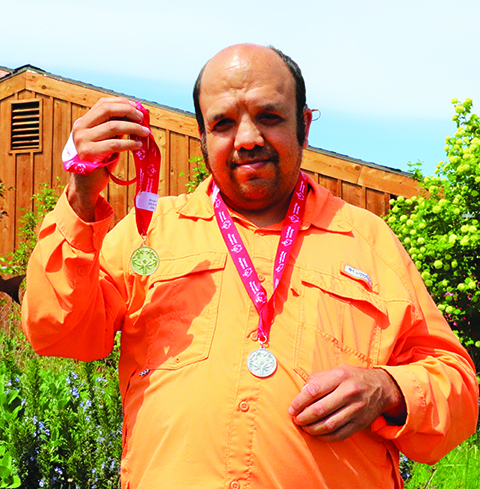 By Micheal Rios, Tulalip News 
Since 1968, the Special Olympics have been a global movement used to unleash the human spirit through the transformative power and joy of sports. They empower people with intellectual disabilities to become accepted and valued members of their communities, which leads to a more respectful and inclusive society for all.
In Washington State, year-round sports training and athletic competition are provided in a variety of Olympic-type sports for more than 18,000 children and adults who refuse to believe a disability is a limitation. These inspiring individuals are given continuing opportunities to develop physical fitness, demonstrate courage, experience joy and participate in the sharing of friendship with their fellow athletes.
Thirty-seven-year-old Bruce Williams is a proud Tulalip tribal member who has competed in numerous sporting events at the Special Olympics for over a decade. Previously showcasing his skills at soccer, basketball and volleyball in years past, Bruce is now focused on track and field. He's had a long-time passion with running, so it was only a matter of time before he transitioned to track.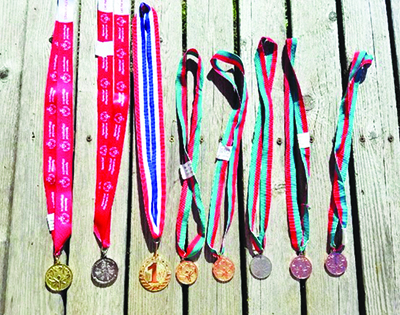 On Sunday, April 28 the Cascade Area Regionals were hosted at Mariner High School in Everett. After months of preparation and sporting his brand new pair of Nike Free running shoes, Bruce was ready to race. His first competition was the 100-meter sprint. In a highly contested dash, Bruce took 2nd place, finishing less than a tenth of a second behind the 1st place runner. For his effort he was awarded a silver medal.
A short while later, Bruce again took to the starting line, this time for the 200-meter sprint. This time he wouldn't be denied the gold. From the start he jumped out in front of the pack and maintained his momentum all the through the finish line. A huge smile on his face after finishing 1st, Bruce was beaming when he received a gold medal.
The Special Olympian proudly wore his two medals every day the following week. He made time to sit down with Tulalip News staff and share his thoughts about winning gold and silver in his two athletic events. Here are some of the highlights from that conversation:
Q: How does it feel to be a gold-winning Olympian?
A: "Feels great! Very proud of winning. Want to show everybody my medals."
Q: What was your training routine like? 
A: "Train on the treadmill, do laps at the Marysville YMCA, and lots of track stretches. Very important to stretch."
Q: Any special foods you like to have on race day?
A: "Strawberry yogurt is my favorite and lots of water."
Q: You raced in a pair of Nike Free shoes. What do you like about them?
A: "They make me run fast!"
Q: Were you nervous going into your races?
A: "A little. Lots of people racing, but I'm the fastest one around."
Q: You'll be competing at the Spring State Games next month. What are your expectations?
A: "Win more gold, the big one this time."
Bruce will be prepping over the next several weeks to compete against the best Special Olympians in the state. The 2019 Spring State Games will be held May 31 – June 2 at Pacific Lutheran University in Tacoma. Bruce asks that anyone who isn't busy those days to come out and cheer him on to victory.