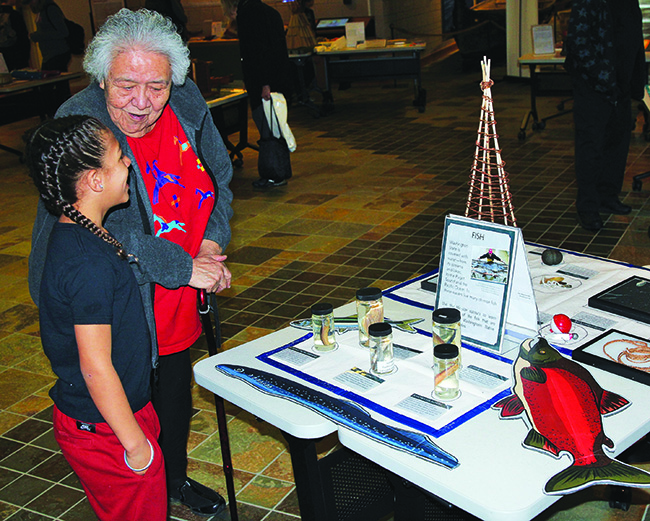 By Micheal Rios, Tulalip News
It was a much busier than normal morning for the Hibulb Cultural Center as many visitors, from young kids to elders, stopped in on April 5 to take advantage of a new opportunity to get up close and personal with cultural objects, artifacts and traditional items. Learning more about Tulalip and other tribes in the Pacific Northwest was made possible by the BurkeMobile and its helpful program educators.
BurkeMobile is a traveling program that brings Burke educators and real museum objects to learning environments across the state. Program participants are able to investigate the cultural heritage of local tribes through hands-on activities that stimulate curiosity and model new ways to learn.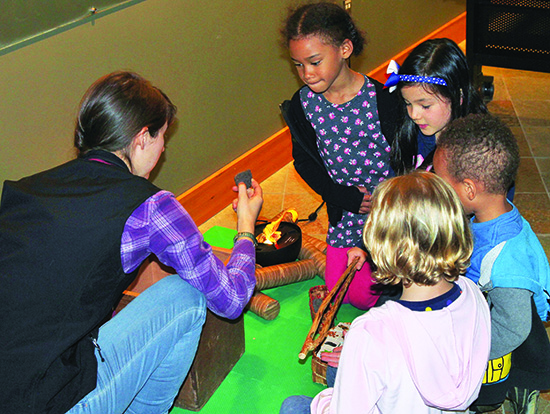 "BurkeMobile is our statewide outreach program. We travel all over the state visiting schools, communities, and public libraries to showcase natural history and culture programs," explained Katharine Caning, Burke Mobile Manager. "This specific program we've brought to Hibulb is called Living Traditions. It's about Native American cultural traditions in Washington State."
A highly appreciated program created by Burke Museum, located on the University of Washington campus, BurkeMobile was created specifically to stimulate learning about accurate Native culture. The program has included Native voices in its creation, such as collaborating with Hibulb and adding a mock Hibulb Village with accompanying miniature longhouse and canoe display.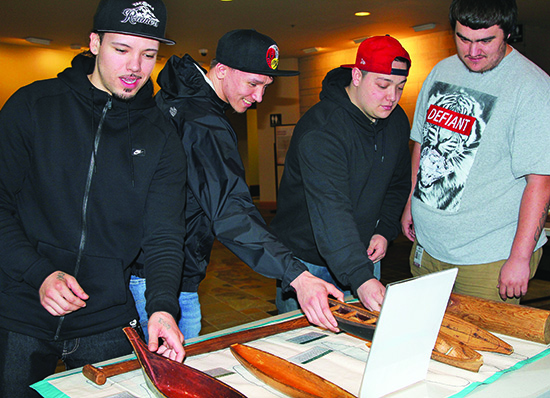 "Part of this program is help teachers implement Since Time Immemorial curriculum in their classrooms," continued Katharine. "A piece of that is having the learning material be more localized in order for students to learn about tribes living close to them. For example, when we reached out to Tulalip, Hibulb offered to build a model longhouse for us to display when we go to schools in this area."
Over the two-hour window BurkeMobile was available, many Hibulb visitors, especially the youth, were engaged with the hands-on materials. They saw how cultural practices can grow and change over time from generation to generation and learned about the diverse, local Native culture. Burke educators were more than willing to answer any questions and offer insights into various subjects, just like they do when traveling to schools.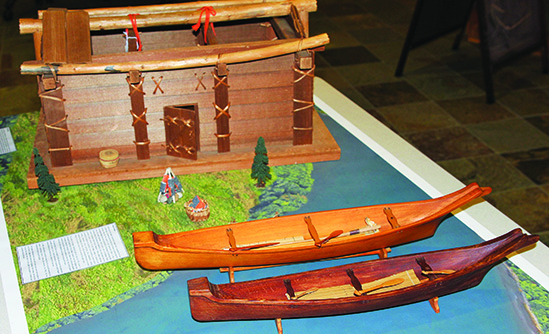 "One thing we always do is tell students whose ancestral lands they are on and what tribal cultural center is closest to them. We encourage them to learn more about tribes and ask questions to further their understanding," shared Beatrice Garrard, BurkeMobile Education Assistant. "These traditions are ancient, in that they have been practiced since time immemorial, yet they have been adopted and are still ongoing today. Students learn that even though some of the objects look old, they were in fact created recently and these items are part of a still living tradition."
For more information about the BurkeMobile, please contact (206) 543-5591 or email burked@uw.edu