By Jerry Wofford, Tulsa World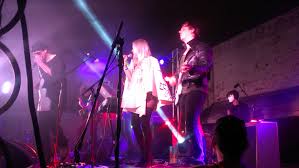 A performance by Christina Fallin, daughter of Oklahoma Gov. Mary Fallin, at the Norman Music Festival Saturday drew criticism from many, including the governor herself.
Many interpreted the provocative performance by her band Pink Pony, which included a cape or shawl with the word "sheep" drawn on the back, as offensive to Native Americans. It comes less than two months after Christina Fallin drew criticism from several groups for a photo of her wearing a Native American-style headdress.
"On Saturday night, while performing at the Norman Music Festival, my daughter acted in a way that I believe was inappropriate," Gov. Fallin said in a statement Monday. "While she will always be my daughter and I love her very much, I don't approve of her behavior on that night or that of her band. I have communicated that to Christina.
"I have great respect for Oklahoma's tribal members and I celebrate their traditions and culture. As governor, I work in hand in hand with tribal leaders on everything from disaster response to economic development. Tribal governments are important partners to our state government, and I value the good relationships my administration has cultivated with them."
Fallin spent most of Monday touring tornado damage in Quapaw, where one person was killed when an EF-2 tornado struck the town Sunday.
The band posted a lengthy statement Monday afternoon saying "nothing about our performance was connected in any way to Native American culture" and apologized to those who were offended.
Christina Fallin's band, Pink Pony, performed at midnight Saturday and posted earlier in the day on the band's Facebook page: "I heard Pink Pony was wearing full regalia tonight." The band clarified it was meant as a response to the rumors they themselves were hearing, though nothing was planned.
Samantha Crain, a singer based in Shawnee, said the earlier photo and what she felt like was a "non-apology" to the headdress stir led to her and others wanting to express frustration with the actions.
"What I was originally hoping could happen was we could talk to them and let them know how we felt before it even happened," Crain said.
With the offending photo and the Facebook post the day of the show, Crain said that the Native American community needed to peacefully respond.
"Whether it was a publicity stunt or not, we needed to rally together," Crain said.
Several people gathered to the side of the stage as the show began holding signs that read, "Don't tread on my culture" and "I am not a costume" among others, according to accounts. According to the website reddirtreport.com, which posted one protester's account of the protest, and video posted to YouTube of the performance, the author said it appeared Fallin was wearing a Native American-inspired "shawl" with the word "Sheep" written on the back.
The statement from Pink Pony read that it was "in no way a Native American shawl. It was not designed to look like one." The word "sheep" on the back refers to those who "blindly follow sensationalist yellow journalism rather than the truth," the statement read.
Norman Music Festival chair Gene Bertman said in a statement Monday that the festival was unaware of what the band's performance would include.
"The Norman Music Festival does not support the actions of Pink Pony, and in particular Christina Fallin, at our festival on Saturday night. We had no prior knowledge of the performance content, and we oppose her use and depiction of American Indian artifacts and symbols," Bertman said. "We certainly understand that these actions do nothing but promote racism, cultural discrimination and religious discrimination. The Norman Music Festival is here to support artists and bring people together — not divide them. We apologize to anyone who was offended."
The band said in the statement that "it was not our intention to offend anyone.
"Nothing about our performance at the Norman Music Festival was in any way designed to offend anyone," the statement read. "We hope that people will do their own research before jumping to conclusions or believing the lies being fed to them."
Crain said the protesters tried to remain to the side of the stage as to not disrupt the show, but at some points the crowd began to taunt them.
"It was very clear from the beginning we were there for a silent protest,; we weren't there to disrupt the show in any way," Crain said. "The beginning of it was fine. But they kind of started taunting us from the stage and got the crowd to flip us off and yell at us."
At the end of the performance, Crain said she felt that overall their presence had some positive aspects.
"I felt like it was positive," Crain said. "People were looking at the signs and asking questions."