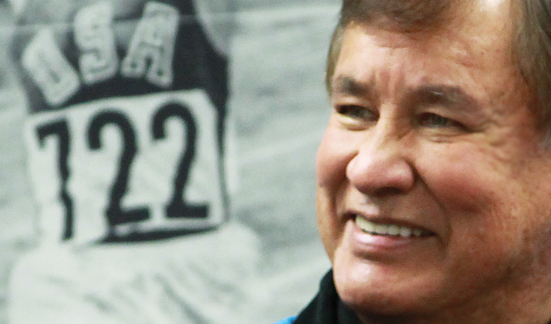 By Monica Brown, Tulalip Writer
President Barack Obama will be honoring civilians today with the second-highest civilian honor—the 2012 Presidential Citizens Medal— in 1969 the Citizens Medal was established to honor American citizens who have performed exemplary deeds of service for their country or their fellow citizens.
Among the list of 13 selected is Billy Mills, an Oglala Lakota.  Mills co-founded and serves as the spokesman for Running Strong for American Indian Youth, an organization that supports cultural programs and provides health and housing assistance for Native American communities.
"I am humbled and honored to be recognized by the President in this extraordinary way," said Billy on the Running Strong for American Indian Youth website. "The most powerful thing you can give to a child is a dream. I hope every child in Indian Country knows what is possible if you follow your dream."
Mills is most remembered for his unexpected Gold Medal win in the 10,000 meter run during the 1964 Tokyo Olympics. Today, he remains the only American to ever win this event it is is frequently referred to as the greatest Olympic distance race of all time. Afterwards Mills received his Lakota name, "Makoce Te'hila" which means "Loves His Country" or more traditionally "Respects the Earth".
Today Billy travels over 300 days every year. He visits American Indian communities throughout the U.S. and speaks to American Indian youth about healthy lifestyles and taking pride in their heritage, states the website for running Strong.
Mills along with the other 12 honorees were among a group of 6,000 nominations.