By Micheal Rios, Tulalip News; photos courtesy Nicole Willis
Native Americans are the first Americans, yet they have for far too long been treated as third class citizens.  It is unconscionable that today, in 2016, Native Americans still do not always have the right to decide on important issues that affect their communities.  The United States must not just honor Native American treaty rights and tribal sovereignty, it must also move away from a relationship of paternalism and control and toward one of deference and support.  The United States has a duty to ensure equal opportunities and justice for all of its citizens, including the 2.5 million Native Americans that share this land.  It is no secret that this isn't the case today.*
"Time and time again, our Native American brothers and sisters have seen the federal government break solemn promises, and huge corporations put profits ahead of the sovereign rights of Native communities.  As President, I will stand with Native Americans in the struggle to protect their treaty and sovereign rights, advance traditional ways of life, and improve the quality of life for Native communities," states Democratic presidential candidate Bernie Sanders.
Sanders has repeatedly acknowledged the need to correct the U.S. history books and openly apologized for the wrongs done to Native people. It's easy to understand why Natives from all across Indian Country are choosing to 'feel the Bern' and rally behind a candidate who honors us in such an honest and sincere manner.
Sanders continues to gain support and more momentum towards his bid for the White House, evident in his holding the largest political rally Seattle has seen since Obama in 2008. An estimated 18,000 people showed up at KeyArena on Sunday, March 20 to show their support for the Vermont senator.
Amongst his horde of supporters were many respected leaders and representatives of Coast Salish tribes, including Tulalip's own Chairman Mel Sheldon and recently re-elected Board of Directors Theresa Sheldon and Bonnie Juneau.
"For the first time in my life a U.S. Presidential candidate spoke on Native American issues during his national platform. Elevating tribes to the national platform is a big deal," says Theresa Sheldon. "It's so important for tribes to be engaged and visible during this Presidential election. Our relationship is with the federal government, therefore we need to be present and participate in the civic process."
During the rally, five Tulalip tribal members (Theresa, Bonnie, Deborah Parker, Monie Ordania and Justice Napeahi) took center stage to perform the Women's Warrior song.
"We are thankful the creator gave us an opportunity to sing the Women's Warrior song from our First Nations relatives at the Bernie Sanders rally," adds Theresa. "The Women's Warrior song honors and acknowledges the missing and murdered indigenous women who have been taken from us way before their time."
In a more private setting, Sanders met with a tribal delegation including NCAI President Brian Cladoosby, VAWA champion Deborah Parker and Yakama leaders including Asa Washines.
It was during this setting that the Coast Salish leaders honored Bernie Sanders with a Lushootseed name.
"Native American leaders named Bernie Sanders 'δΞσηυδιϖυp' (pronounced dooh-s-who-dee-choop)," Deborah wrote on Facebook. "This name is now bestowed upon Bernie Sanders and will be known among the Coast Salish people and beyond. The Lushootseed language meaning is 'the one lighting the fires for change and unity.' Thanking our Tulalip language teacher Natosha Gobin for helping us with Bernie Sanders Lushootseed name."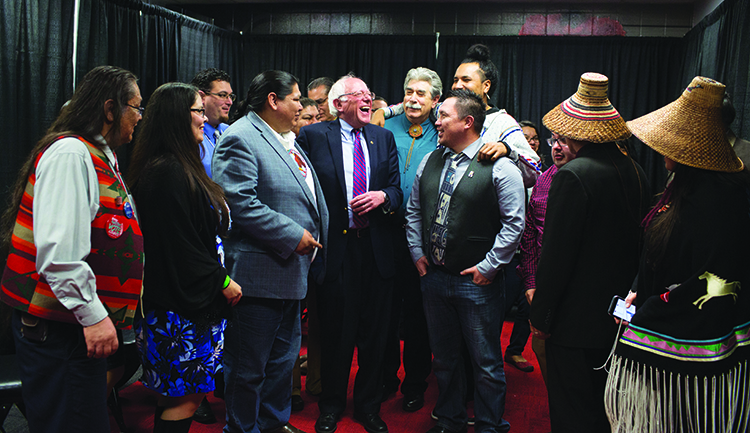 According to Theresa, Sanders' rally was historical for many reasons. Sanders has not only been a huge supporter of native issues, but he continues to stand shoulder to shoulder with tribes on such important issues as Violence Against Women and Oak Flats. He is an absolute protector of Mother Earth and he gives tribes total credit for the conservation and protection of the Earth that we do. If push comes to shove and the U.S. President has to make the call to either support treaty rights or to support corporate America and Army Corp of Engineers in the permit to build the coal terminal at Cherry Point, then you can guarantee that Sanders will go with treaty rights and support the tribes.
This is a huge shift that is happening nationally. Tribes are finally elevating themselves to the appropriate level, forcing mainstream media and corporate America to pay attention to us. When we are seen and heard by candidates, we can and will make a difference.
*source: https://berniesanders.com/issues/empower-tribal-nations/