By Kalvin Valdillez, Tulalip News
For its seventh consecutive year, the popular Community Wellness Conference returns to the Tulalip Resort Casino once again on May 14 and May 15. Sponsored by the Tulalip Tribes Problem Gambling Program, the two-day event invites local citizens to focus on their healing journey by providing them with tools, education and resources on how to improve overall health and wellbeing through a number of interactive workshops, professional panel discussions and community talking circles. 
Approximately 200 participants attended each day of the conference in previous years, and Problem Gambling is anticipating about the same number of attendees this year. Both the Tulalip Tribes and the Marysville School District agree that self-care is of the utmost importance, especially in today's social media led society. For this reason, the school district is allowing their students the opportunity to attend the Wellness Conference during the school day; middle school students on the first day and high schoolers on the second day. Tribal government employees are also often allotted two-hours of paid administration leave to participate in the workshops, upon supervisor approval. 
"What to expect from this year's Wellness Conference is a great gathering for the community and also for the youth," says Community Wellness Conference Emcee and Youth Education Advocate, Deyamonta Diaz. "There's middle and high school days where the students get a chance to be exposed to some great keynote speakers and also some helpful educational workshops that will teach them a lot of things that maybe are too hard to talk about, as far as wellness or self-care, as well as other issues we face in the community. The theme is 'champions for life' so it's a positive message, something that can go a lot farther than just the conference."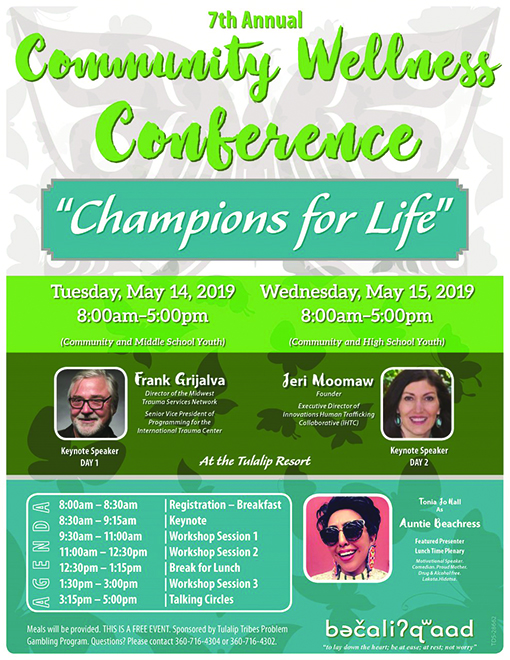 Each workshop presenter knows about the issues we face in Native America, and specifically in Tulalip, as the conference is a collaborative effort with local departments such as the Child Advocacy Center, Family Haven, Youth Services, the Education Department and Family Services. The conference aims to equip those carrying emotional, spiritual and mental baggage with the tools of how to get through their toughest days and several resources for when they're in need of a helping hand or an ear to listen. 
Since we are living in a new era, many youths now deal with cyber-bullying, stalking and harassment on social media platforms like Facebook, Twitter, YouTube, Snapchat and Instagram. The Child Advocacy Center is debuting a workshop during the Wellness Conference addressing these issues and teaching the community about the dangers occurring on social media sites. 
"I'm doing a social media health and safety workshop," says Child Advocate and Wellness Conference presenter, Megan Boyer. "I think it's important for families of youth, and youth themselves, to learn about what the dangers are when online and how they can keep themselves safe and what parents can do to keep their kids safe. They are going to learn about some of the policies and laws about how law enforcement uses social media as evidence. They'll learn to identify red flags, what bullying is, what consent is, how social media can be harmful and how it can be helpful, because education is key."
Sarah Sense-Wilson, Problem Gambling Coordinator, briefly explains the topics the keynote speakers will be touching upon during the Community Wellness Conference.
She states, "Our keynote speaker for day one, Frank Grijalva, is going to be talking about resiliency, and health and wellness, as it relates to overcoming trauma and overcoming various barriers that are experienced within tribal communities, that interfere with individual health and wellness and thereby affects the family unit and the community as well. The idea is that there's hopefully going to be some stronger, more in-depth awareness and understanding about trauma responses and how trauma responses negatively affect relationships. 
"Day two is Jerry Moomaw." Sarah continues. "She's nationally known within the movement addressing Missing and Murdered Indigenous Women and Children. We're hoping people take away prevention strategies and also awareness and understanding about how to keep our communities safer, our women safer and our children safer. And that interweaves with all the rest of the workshops in learning about red flags and warning signs around commercial and sex trafficking."
And the Wellness Conference committee added a special surprise for those who are fans of Native humor by adding the talents of Toni Jo Hall to the mix. Known nationwide within tribal communities, the Native American comedian will be performing at both conference days as her beloved, yet hilariously inappropriate, character Auntie Beachress. 
"In acknowledging and recognizing that much of the workshop topics are heavy and can stir and bring up trauma and negative experiences and feelings, we felt it was really important to have balance and that we also include comedy relief and have a good time with laughter.  We know that laughter is good medicine and helps us heal," says Sarah.
Both of the conference days will end with gender specific talking circles where the attendees are welcome to open up, be vulnerable and begin their healing process without judgement. The ladies talking circle will be led by Tulalip tribal member, Deborah Parker, while the fellas circle will be guided by community elder, Jim Hillaire. 
The Problem Gambling program and the Wellness Conference committee invites everyone to the 7th annual Community Wellness Conference. The event is open to the public from 8:00 a.m. to 5:00 p.m. on Tuesday, May 14 and Wednesday, May 15, in the Orca Ballrooms of the Tulalip Resort Casino. They would also like to encourage local elders to attend the second morning of the conference (May 15) for the Tulalip Youth Council special honoring for all of the wisdom keepers in attendance. 
"We're hoping participants take away a stronger understanding on how to support their youth," expresses Sarah. "We're looking at building tools, building skills, providing resources and education on some of those issues, but also aim to have fun and hopefully build stronger connections amongst each other and with the community. It's about healing, it's about wellness, it's about health. We want people to walk away with a good experience that is valuable for them, that they could apply to their life. The champions for life theme really embodies that idea. We want people to leave feeling empowered and feeling that they are part of that champions for life message."