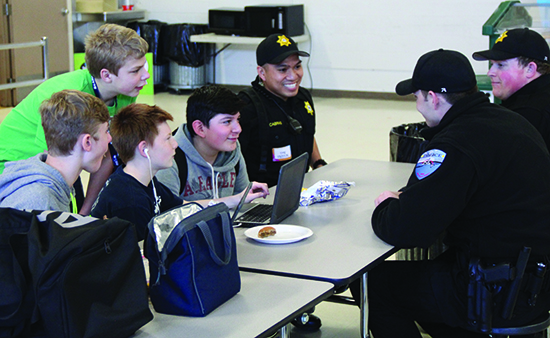 By Micheal Rios, Tulalip News
There is a saying at Totem Middle School, PRIDE in our Learning and POWER in our Actions. Normally a saying applied to only the students and faculty, it took a much larger scale on Thursday, March 17, as it was applied to a sense of community.
During the normal scheduled 6th, 7th, and 8th grade lunch times, Totem Middle School welcomed all family and community members of Native students to enjoy a complimentary lunch while visiting with the middle-schoolers. It provided a perfect opportunity to stay connected with students, faculty, and friends while building something much larger – student success and identity safety.
"Part of identity safety is looking around the school and seeing people who look like you, knowing those around you, and feeling comfortable in a familiar setting," says Chrissy Dulik Dalos, manager of the Indian Education Department for Marysville School District. "Our Native students go from being 80 percent of the population at Quil Ceda Tulalip Elementary to 20 percent here at Totem Middle School. We have to be vigilant that our Native students feel they are in an identity safe environment and one way of doing that is to ensure they recognize how important they are to our school's community."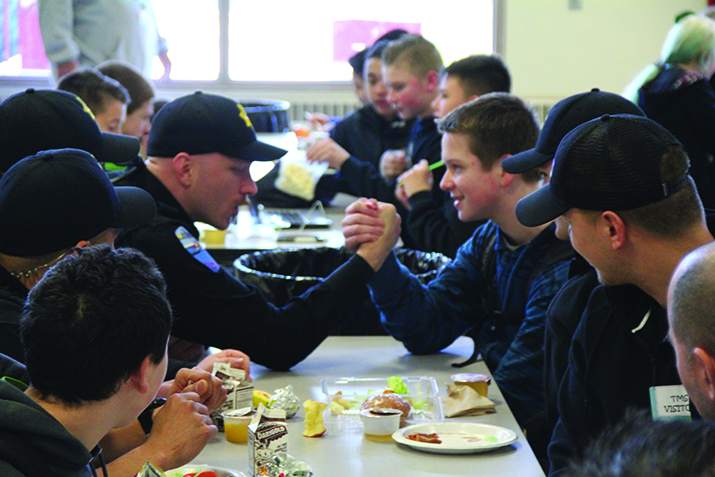 Fostering a sense of community while also helping to bolster identity safety was particularly achieved by way of a simple open invite to have lunch. In order to get community members who Native students are comfortable with at their school and responsive to the invite, school officials went with the lunch hour. Understanding that a lot of folks are preoccupied in the late afternoon and evening hours, and not to pry into hours that may already be reserved, the time slot of 10:30 a.m. – 1:00 p.m. was chosen.
"We chose the lunch strategy to see if we could get more people involved," continued Chrissy. "I think it paid off. We ended up with about 65 people that joined our students for lunch. That's pretty phenomenal."
That's 65 Tulalip community members made up of family, friends, staff, Board of Directors, and law enforcements officers who took time out of their busy day to connect with the students. Spanning the lunch time, community members could be seen sharing a meal with the students, playing pool and foosball with them, simply chit-chatting, and even sharing in the craze that is March Madness. Students are allowed to use their Chomebooks for entertainment during their lunch. A few of the students managed to stream March Madness games and found themselves sharing their computer screens with several very attentive adults.
"For me, as an administrator, I have a strong belief that school is the center of the community, and this school has a unique location serving unique populations from Marysville and Tulalip," explains Tarra Patrick, Principal of Totem. "So how do we create a situation where it is reconnected to the community? There is a power in breaking bread together. If you are a student here and you see your family come in and you see the principal and teachers deferring to your family, then you realize your family can come and advocate for you. This is an opportunity for the kids to also see the bridge between the school faculty, the students and their families, that's what makes us a community."
It really does all add up. Whether openly acknowledged or not, the Native students of Totem saw how many of their family and community members took the opportunity to spend time with them. And isn't that what kids need the most? To feel valued by the adults around them, to know that they are important and that they matter. It's not the sound of our words, but the POWER in our Actions that determines this.
We are all partners in education. From the teachers, secretaries, food preparers, maintenance workers, to family and friends we all have one common goal and that's to see our students succeed. When we work together, every child can succeed in school.
Principal Tarra upholds that we all play a vital role in the success of our children and students as she stated, "It's going to take the entire community together to support all of our students in order to help them be successful. That's what today was about. It was just community, in this building, and it was absolutely beautiful."
Contact Micheal Rios: trios@tulaliptribes-nsn.gov