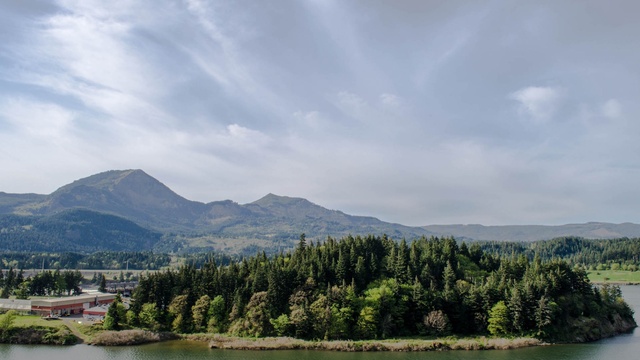 By Courtney Flatt, NPR
For decades the Army Corps of Engineers used an island near the Bonneville Dam as a dumping ground. Toxic chemicals leaked into the Columbia River. The island is also a historic fishing site for the Yakama Nation.
The tribe is now suing the Corps to recover costs from helping clean up the contamination.
In 2003, the Corps removed electrical equipment and contaminated sediment found at the bottom of the river. In 2007, it dredged the area to remove more contaminated soil.
Tests show toxic materials like PCBs, which were banned in the 1970s, are still found in resident fish – even after the Corps finished cleaning up Bradford Island. The Yakama Nation says the PCB counts in resident fish are higher now than before the cleanup. No one is really sure why, but it's possibly because of the way the sediment was disturbed.
Rose Longoria, the superfund coordinator with the Yakama Nation, said the tribe was not reimbursed for its efforts to help cleanup the site. The tribe is asking for about $93,000, although that number could change.
"More importantly, we want to make sure that we have a very definitive role in the decision making process so that we can ensure that the cleanup actually is protective not only the resident fish but all the resources in that area," Longoria said.
The Corps is looking at several options to continue cleaning up the island. A feasibility study is expected to be completed in 2015.
A Corps spokeswoman said she had not seen the lawsuit and could not comment.

A map of PCB fish concentrations in Washington.
Longoria said the Bradford Island cleanup is one of Yakama Nation's top priorities, simply because of the level of contamination in the fish — and high counts of PCBs of other animals in the area, like osprey that eat small-mouth bass in the contaminated area.
Oregon and Washington have issued a do-not-eat fish consumption advisory for resident fish one mile upstream of Bonneville Dam. Migratory fish like salmon are still okay to eat.
"The PCBs in that resident fish tissue are a magnitude higher than PCBs in fish tissue in other locations," Longoria said. "It's rather astonishing how contaminated those fish are."