By Niki Cleary, Tulalip News
All photos by Niki Cleary
If you're like me, you're chronically short on time, so home cooked meals can be a challenge. Maybe you're like a couple of my family members, you hate eating the same meal twice and will avoid it like the plague. If you're frugal, the idea of good food going to waste just makes your blood boil. Enter the leftover makeover, and suddenly, everyone is happy.
The leftover makeover is all about planning ahead and being flexible. It starts at the beginning of the week with a foundation meal. If you read my last recipe article, "It's too hot to cook," you know I'm a bit of an amateur foodie. I'm also a huge believer in food activism. You don't have to be an extremist to be an activist, by the way. In my opinion one of the best ways to affect change is to vote with your dollars.
Most of the food I buy and eat is local, and whenever possible, I buy it from people I know. I also purchase a produce box from a local organic farm every week. That said, I'm not afraid to pick up a handful of ingredients based on pure convenience. A bit of advice, don't make health too difficult or you won't stick with it.
Prepwork
Food is far more than nourishment, it's a way to connect with the people around you. Most of the meals you see in the syəcəb didn't happen at my house, they happened at my mom's, or a friend's. Why? Food is better when it's shared with good company. Plus you can enlist the diners as prep cooks before the meal and dishwashers after (I love food, not dishes).
Making a meal that can be plated all at once takes practice. Don't feel bad if you botch it. I do all the time. Trust me, the people eating will be just as happy to snack in courses as they will be when you hand them a full plate. You'll get the hang of cook times the longer you cook.
Don't be afraid to try things out. Don't know how to cook over live fire? Learn. Or just cook indoors, the broiler setting on your oven works like an upside down grill. If you see unfamiliar produce at the grocery store go ahead and buy it. Google it for recipes and maybe find a new favorite. Be flexible, it's not brain surgery, just dinner.
The foundation meal: Salmon and salad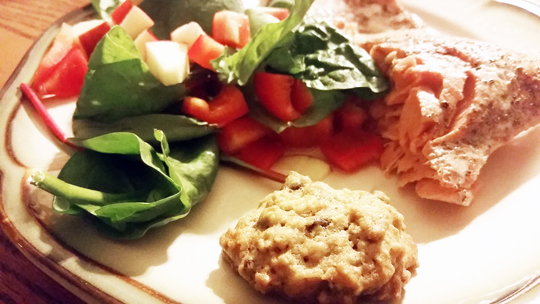 A foundation meal is like a 'choose your own adventure,' book. It's just a starting point and the rest of the week's menu can go anywhere from here. We're starting with a fresh King Salmon caught right here in Tulalip Bay. Remember, support our local fisherman, they are a living link of our culture.
If you've eaten food cooked over a wood fire, then you know the rich flavor wood smoke adds. That said, I don't cook over a fire, instead I buy salt. Not just any salt, but alder wood smoked sea salt produced by a company called Salish Saltworks.
We cooked our salmon on a Weber grill, over indirect heat. Because this is a large fish, we had to cook the halves one at a time, for about 30 minutes each. Indirect heat (notice the coals aren't directly beneath the fish), allows the meat to cook more evenly. Large cuts of meat cooked over direct heat tend to be burnt on some areas and raw in others. The grill should be hot, about 400-450 degrees.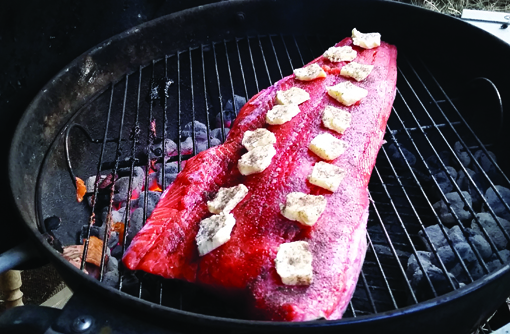 Salmon is tasty. It really doesn't need much to dress it up. In this case I coated it evenly with smoked sea salt and pepper and topped it with butter. I use Plugra which is a European style butter. Why? Because America's Test Kitchen gave it great reviews, and sometimes I totally buy into the marketing. Plus, I think it tastes good. Each fillet is cooked for about 30 minutes, no need to flip the fish, just leave it alone.
Remember when your mom used to yell at you for opening the door because, "You're letting the heat out!" Same principle. Every time you raise the lid on the grill or open your oven door you let the heat out and extend the cooking time. Be patient, what's the worst that happens, you burn it? Trust me, it's still tasty, just add some cayenne pepper on the backside and call it 'cajun' blackened salmon.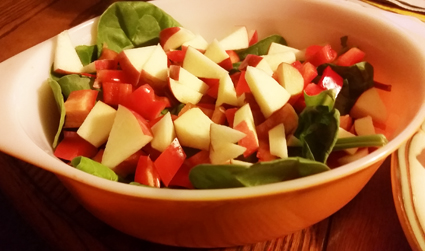 For a quick side I chopped some red peppers and apples and tossed them over a bed of mixed greens. A healthy meal definitely needs something decadent, so I went to the freezer. Anytime I make cookies, I make a double batch and freeze half the cookie dough.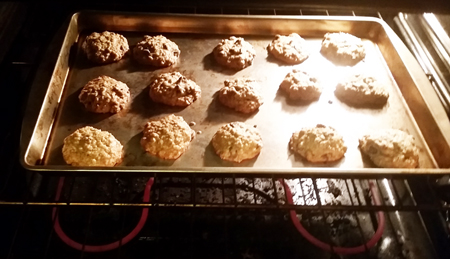 The cookies pictured are adapted from a Quaker oats recipe for cowboy cookies (http://stage.www.quakeroats.com/cooking-and-recipe/cowboy-cookies.aspx). Since I'm not fond of raisins and chocolate together, I cut the raisins out. I use real butter, and reduced the sugars from 1 cup each to ¾ cup each. You can generally reduce sugars by ¾ to ½ without affecting the texture, but be aware, the cookies don't brown as quickly. Pay attention or you'll overcook them. Of course, if you're like me, crispy cookies are even better, so, who cares if they get overcooked? Break out the milk or coffee, dip them and enjoy anyways.
As soon as you've eaten, prepare your salmon for the following meals by flaking it (peel it apart with your fingers and pull out all the bones), then packing it up and freezing immediately. You have two hours from safe temperature (off the grill) to refrigeration. Food safety is one of the few places where I am a fanatic. Process your leftovers immediately or just throw them away. Don't risk food poisoning. It's not worth it.
It's okay to put it in the fridge and pack it the next day, but better to freeze it the same day you cook it. My rule of thumb is that meats are good for about six days total. Three days from the time you buy it to the time you cook it and an additional three days after you cook it. However, you can keep meat in the freezer for about 1-3 months. Just thaw overnight in the fridge prior to use.
Meal 2: Salmon tacos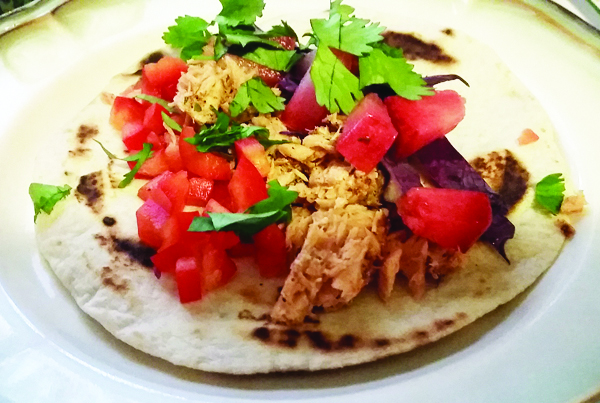 Even if you didn't remember to thaw your frozen cooked salmon the night before (I didn't, as usual), you can toss the freezer bag into a bowl of cold water and it will thaw in about 30 minutes. While your salmon is thawing, chop veggies. These will end up in your tacos, so pick stuff you like.
I have some general rules I follow when making tacos. I rarely use lettuce, I choose cabbage instead. Why? Lettuce is a pesticide heavy crop and cabbage isn't. Cabbage also tends to be less expensive and it's crunchier. As for the other toppings, I've almost always got bell peppers on hand during the summer, I love cilantro, and lime, so that's what I chopped. This week we also received pluots in the produce box, a pluot is a hybrid between a plum and an apricot. It tastes like a plum, but slightly sweeter. I diced those up too. A little fruit added to something savory just takes it to the next level. Trust me, it works. Don't be shy with the veggies, any extra will be repurposed later this week.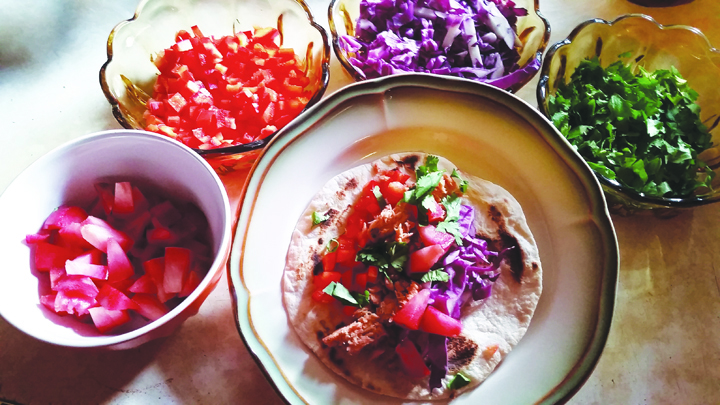 Finally, I'm prejudiced against microwaves. I don't actually own one anymore and I find that I rarely miss it. Instead of nuking your tortillas, toss them directly on the burner over low heat (if your burner has settings from 1-10, that's generally a 2 or 3). The tortillas end up flexible and the char marks add flavor. Want tostadas? Just cook them until they're crunchy instead of flexible.
Now that all your toppings are prepared, and your salmon is thawed, toss it in a skillet along with whatever seasonings you love. If you were hoping for specifics, sorry, I don't measure unless I'm baking. I do toss my spices in a bowl, mix and taste before I add them to the food. In this case I used garlic powder, chili powder, salt, paprika, black pepper and a little bit of allspice. Trust me on this, the allspice doesn't taste sweet in small amounts, and it plays well off the pluots.
Now that everything is done, heat your tortilla's and assemble. Eat. Repeat.
Meal 3: Chicken tenders, stuffed jalapenos,  pasta and fruit salad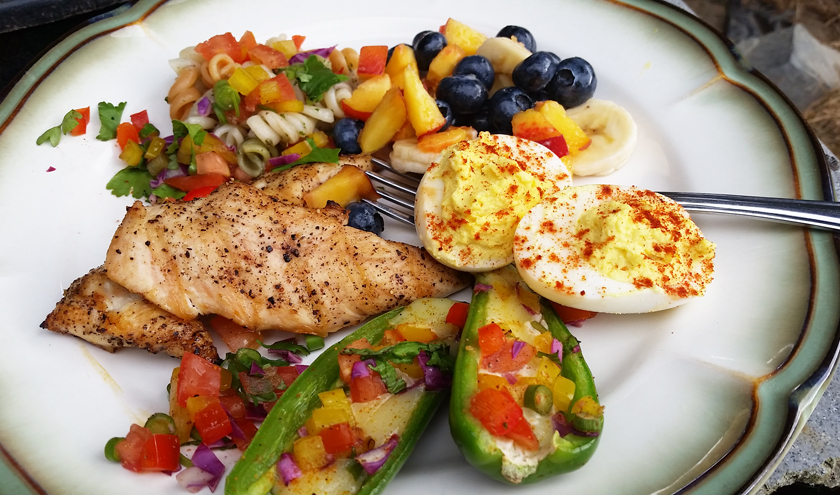 You're probably wondering, where is the salmon? It's in the freezer, we'll use it tomorrow. Tonight we're taking the leftover veggies from our tacos and turning them into homemade pico de gallo or fresh salsa. Size matters. The finer your ingredients are chopped, the more surface is exposed and the more the flavors pop. This salsa is made from finely diced red and yellow bell peppers, garlic scapes (which taste like a cross between green onions and garlic, what can I say, my mom has a lot of random ingredients in her fridge), roma tomatoes that have been seeded (slice them into quarters and scrape all the wet stuff out) and diced, juice from about half a lime and the same spices we used on tacos yesterday. Cover this and let it sit out at room temperature, cold food doesn't have as much flavor as warm, so unless there's a food safety reason, I don't refrigerate before serving.
Once the the pico de gallo is done, we need to light charcoal for the grill. Everything being cooked today is actually grilled, which means high heat and short cook time. Barbecue has become a general purpose term, but it actually means low heat and long cook time. So for future reference, grill = hot and fast, BBQ = low and slow.
Stuffed jalapenos are up next. First, slice the jalapenos in half lengthwise and seed them. Fill each with a small rectangle of pepper jack cheese, top with pico de gallo and sprinkle with fajita seasoning. Then set them aside. We'll grill them as soon as the coals are ready.
Now we're going to get some pasta underway. Here's where convenience rules over principles. Instead of making it from scratch, I opened a box, in this case the box is Kraft Suddenly Salads (pasta) classic flavor. Prepare according to the box instructions and if the mood strikes you, add pico de gallo or veggies of your choice to the finished pasta.
Time to prep the chicken. We used chicken tenders because they cook quickly. I basically rolled the chicken in olive oil and sprinkled it with salt and pepper. Done. There's so much flavor going on in this meal, you don't need extravagant chicken too.
For desert today we have fruit salad. I chose peaches and blueberries because both are still in season and yummy, I added bananas to cut the acid and sweeten it, then tossed it all with juice from about half a lime. No sugar needed.
The peppers cook on the grill for about 3-5 minutes at about 450 degrees. Once they come off, put the chicken on. The chicken only needs 2-3 minutes per side. When in doubt, stab it with a knife. The juices should run clear, if it's still bleeding, toss it back on the grill.
I'm lucky, my mom lets me invade her kitchen often. Prior to this meal I gave her a call and asked if she'd make deviled eggs. She said yes and the deviled eggs were done before I started cooking. Deviled eggs, by the way, are super easy, a great way to use eggs when they approach the expiration date and can be easily turned into egg salad sandwiches the following day (if there are any leftover, which there never are at our house).
The leftover fruit salad can become a breakfast smoothie. Leftover chicken can be sliced in half for chicken sandwiches at lunch. Save your leftover pico de gallo for tomorrow. All leftovers should be refrigerated as soon as you're done serving today's meal.
Meal 4: Salmon burgers
Now it's time to throw all those leftovers together. It's the end of the week, so this is the simplest meal of the bunch. Toss your flaked salmon in a bowl with a couple eggs to bind it together. It's going to be wet. Add enough crushed crackers or chips (you can always go fancy with Tim's Cascade Jalapeno chips, or whatever you like, for some extra flavor) to make it about burger consistency. Form into baseball sized balls and drop them on a piece of foil. Flatten with your hand and then slide the patties into a non-stick skillet over medium heat (about 300 degrees).
I bought dinner rolls to use as buns. Slice them and top with some of that pepper jack we bought yesterday. I also used the avocados that I bought for tacos. Unfortunately, they weren't ripe on taco day, but they're perfect here on burger day. You can either cut the avocados into thin slices, or put them in a bowl and mash them with a little bit of lime to keep them from browning. Add the burger and top with the pico de gallo from yesterday.
Desert today is honeydew melon. Because we had one and it needed to be eaten. Tada! A week's worth of meals from one foundation dinner. Remember to be flexible and don't take it too seriously, food should be fun.