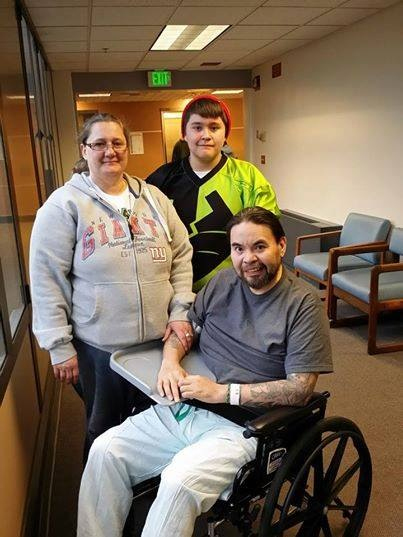 Randy Ervin's GoFundMe campaign opened to help deal with life changing stroke
By Niki Cleary, Tulalip News

Randy Ervin is a guy who loves life. Ask his many friends who have enjoyed, or lovingly suffered, his bizarrely funny bitstrips and constant Christmas countdowns. He's also a friend, a mentor, a beloved co-worker and leader. He's a beacon of hope for those in recovery, and a poster child for living better sober than addicted. Since February 25, Randy has been completely incapacitated after suffering a massive stroke. He is looking at returning to a two-story home and full time caregiving, with no prospects of returning to a normal life anytime soon.
Randy's wife of 23 years, Tina Ervin, painted the picture.
"I left the house on February 25, I was only gone for about half an hour," she explained. "I came home and he was sitting in the chair and he was just sitting there. He was non-responsive. I pulled up on his face, and I said, he's having a stroke."
Randy was in a medically induced coma for a week and a half. Doctors kept him breathing with a ventilator while they monitored the swelling in his brain. It took another two weeks to slowly bring him out of the coma.
"His right side is paralyzed," Ervin said, describing her husband's symptoms. "He's learning how to speak all over again. He lost the ability to form words when he tries to talk and he's learning to write with his left hand.
"If you write 'apple, banana' and leave an open space, he's trying to figure out what to put in that open space, but he can't tell you that the line of words means fruit.  His brain is still not firing the way it should. Three hours a day he's in physical and speech therapy, they're teaching him how to use the other side of his brain."
Family and friends aren't the same for Randy either, many of his memories are missing because of the stroke.
"He didn't recognize his brother, his best friend," said Ervin. "Our anniversary is the 23rd of this month [March], and he didn't even remember that. But he did recognize Pete Warbus from the casino. He loves his crew and his job. Other than his family, that's his life."
A family friend, Mike Pablo, helped Ervin set up a GoFundMe account to help raise money for Randy's expenses, which are numerous. The stroke is the most recent in a cascade of medical complications. In 2013 Randy was diagnosed with a tumor in his colon. Because colon cancer runs in his family, the best option was to remove it surgically. After the surgery, things went downhill quickly.
"He was eating dinner and he coughed," said Ervin. "His shirt started filling up with blood. By the end of the night it turned brown and started to smell really bad. He stood up and it just gushed out of his belly. I rushed him to the hospital and the surgeon said, 'Why did you wait so long!'
"They said his small intestine blew out like an inner tube blows out if you fill it too much. From there, his kidneys shut down. He spent more than 48 days in the hospital. It was a long road, but he finally went back to work December 23rd. The aneurysm came out of nowhere."
Because of his ongoing medical care Randy has no paid time off remaining, leaving his family deprived of the primary breadwinner. Because his leave has been exhausted he will likely lose his job at the Tulalip Resort, a job that currently provides the medical insurance paying for his care. Ervin said they're doing what they can, but she's concerned about how to pay for ongoing medical expenses and the necessary remodel of their home.
"I talked to Jay Napeahi in housing because my house is not set up for a wheelchair and I don't have a full-sized bathroom downstairs. In the meantime they're going to put us up in a duplex. We're trying to raise some funds, we're going to have to buy a wheelchair and some other equipment and I'm not sure how much his insurance will cover."
His co-workers are doing what they can.
"We are definitely feeling the loss of him not being here," said friend and co-worker Ashley Hammons. "It was a mess here, and everyone was trying to hold it together. "
Resort employee Aliana Diaz agreed.
"It was pretty bad to the point where we approached the Employee Assistance Program and let them know that several of our team members were affected by it. I was giving them a heads up that people might need them."
Slot Assistant Director James Ham, who has known Randy for years, described the outpouring of support, "Randy did a lot to give back. He would talk to anyone in addiction and recovery, he was reaching out constantly. I've seen a lot of people donate hours, there's definitely been an outreach here."
Coping with medical bills, the trauma of becoming a full time caregiver and the unknown challenges of the future might seem overwhelming, but Ervin's been too busy to dwell on it.
"Ever since this happened it's been, 'What's the worst case scenario?' I've just tried to get everything going rather than sitting around and crying all the time. Right now we need a different bed, probably just a full size, because our water bed is too big [for the duplex]."
If you would like to help Randy's family, check out www.gofundme.com and search Randy Ervin. The family is hoping to raise $15,000 to remodel the family's home and get Randy set up for full time caregiving. As of March 25, $1,270 has been raised towards that goal. Ervin said every bit helps.
—–
Crowdfunding is becoming the new hand up
At the Tulalip 2014 Annual General Council, Tulalip Tribal citizen Mike Pablo made a motion to create an emergency relief fund for tribal members who are in need, either due to emergent medical situations, or because of natural disasters, fire or other catastrophes beyond their control. When he made the motion he was thinking about Tulalip citizen Randy Ervin who recently suffered a life-altering stroke. The motion was tabled, so instead, Mike helped the Ervin family to set up a crowdfunding site.
Increasingly, crowdfunding has become a way for people to directly support their causes. Whether it's Matika Wilbur's use of Kickstarter to launch Project 562, a photo project documenting contemporary Native America, or Randy Ervin's GoFundMe campaign, citizens are turning to their peers, rather than a government agency, for assistance.
Crowdfunding isn't new, in 1884 the American Committee for the Statue of Liberty ran short on money and Joseph Pulitzer launched an enormously popular fundraising effort. More than 125,000 people donated (mostly donations of less than $1) ultimately bringing in over $100,000. According to the website measuringworth.com, $1 in 1884 is equivalent to $24.50 today. So, a similar donation by modern citizens would mean about $25 each to raise around $2.5 million. This example is clear evidence that financial support for a cause doesn't have to be a financial burden in order to be effective.
Crowdfunding quickly becoming a way for tiny businesses, broke inventors, and unknown musicians to launch a career. Unlike traditional investing, crowdsource funding doesn't promise a return on investment, just the knowledge that your money is directly funding a cause that you support. According to the 2013 Massolution Crowdfunding Industry Report (http://www.crowdsourcing.org/research) crowdfunding is anticipated to bring in $5.1 billion in total global funding for the year.