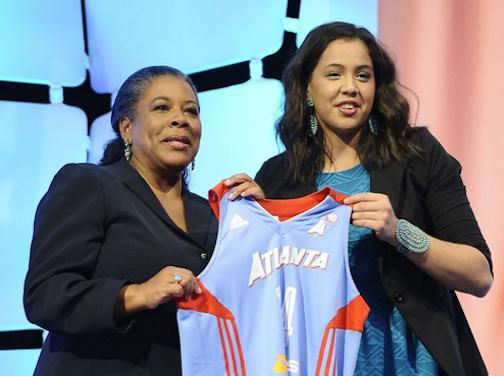 "DREAM BIG" followed by several emoticons and then "#N8tive" was what Shoni Schimmel tweeted on Monday night before she held up an Atlanta Dream uniform on the WNBA draft stage at the Mohegan Sun Arena in Uncasville, Connecticut.
The 5-foot-9 University of Louisville guard became the highest drafted Native American player in WNBA history when she was selected eighth overall by the Atlanta Dream.
"I was very happy to hear my name called, and the fact that it's down the road in Atlanta will make the transition even easier," Schimmel told WNBA.com. "I'm just so excited."
"We are all excited about Shoni Schimmel coming to Atlanta," said Michael Cooper, head coach of the Dream. "She can play in an up-tempo offense like we play, and is a player that can push the tempo and play multiple positions."
Schimmel ranks fifth in NCAA Division I history with 387 three-point shots, just five shy of the 392 record. She became the first Louisville player ever to accumulate totals of at least 2,000 points and 500 assists, finishing with 2,174 and 600, respectively, said WNBA.com.
RELATED Shoni Schimmel's Career Comes to a Close in Electrifying Fashion
Schimmel sat in the green room prior to the draft with her parents, Rick and Ceci Schimmel. Her sister Jude Schimmel was also there to congratulate her. After the news was announced, Jude tweeted, "Can't explain how happy I am for my sister" and "@Schimmel23 killed that interview! REPRESENT!!!! It's the revolution."
"Most people's dreams don't come true because they don't work at it hard enough," Shoni's father, Rick Schimmel, told theNew York Times. "She's put everything she could into it."
"It's really starting to hit me now," Schimmel told the Oregonian days before the draft was announced. "It's crazy. You're used to going to school, and now you're trying to figure out everything about pro basketball. It's hitting me fast, but I'm excited. I'm getting ready to start my life."
Read more at
http://indiancountrytodaymedianetwork.com/2014/04/15/schimmel-highest-drafted-native-player-wnbas-history-154466