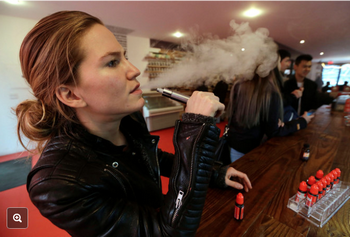 By SABRINA TAVERNISE, New York Times News Service
WASHINGTON — The Food and Drug Administration will propose sweeping new rules on Thursday that for the first time would extend its regulatory authority from cigarettes to electronic cigarettes, popular nicotine delivery devices that have grown into a multibillion-dollar business with virtually no federal oversight or protections for American consumers.
The regulatory blueprint, with broad implications for public health, the tobacco industry and the nation's 42 million smokers, would also cover pipe tobacco and cigars, tobacco products that have long slid under the regulatory radar and whose use has risen sharply in recent years. The new regulations would ban the sale of e-cigarettes, cigars and pipe tobacco to Americans under 18, and would require that people buying them show photo identification to prove their age, measures already mandated in a number of states.
Once finalized, the regulations will establish oversight of what has been a market free-for-all of products, including vials of liquid nicotine of varying quality and unknown provenance. It has taken the agency four years since Congress passed a major tobacco-control law in 2009 to get to this stage, and federal officials and advocates say it will take at least another year for the rules to take effect — and possibly significantly longer if affected companies sue to block them.
"If it takes more than a year to finalize this rule, the F.D.A. isn't doing its job," said Matthew Myers, president of the Campaign for Tobacco-Free Kids, an advocacy group.
Thursday's release of the blueprint — which is hundreds of pages long — is sure to set off a frantic lobbying effort in Washington as affected industries try to head off the costliest, most restrictive regulations.
Members of the Smoke Free Alternatives Trade Association, one of the e-cigarette industry trade groups, descended on Washington in November, and reported holding nearly 50 meetings with congressional officials to help them "learn more about the negative impact inappropriate regulation could have on this nascent industry," the group said in a statement.
The industry has several trade associations, and a number of them have met with Obama administration officials about the regulations over the past several months, according to public records and industry group statements.
F.D.A. officials gave journalists an outline of the new rules on Wednesday, but required that they not talk to industry or public health groups until after Thursday's formal release of the document.
The agency said the 2009 law gave it the power to prohibit sales to minors of all tobacco products that it has authority over, which now will include e-cigarettes and cigars. A spokeswoman said the move did not reflect a finding about the safety of these products.
Perhaps the biggest proposed change would require producers of cigars and e-cigarettes to register with the F.D.A., provide the agency with a detailed accounting of their products' ingredients and disclose their manufacturing processes and scientific data. Producers would also be subject to F.D.A. inspections.
"You won't be able to mix nicotine in your bathtub and sell it anymore," said David B. Abrams, executive director of the Schroeder National Institute for Tobacco Research and Policy Studies at the Legacy Foundation, an antismoking research group.
But the new blueprint was also notable for what it did not contain: any proposal to ban flavors in e-cigarettes and cigars, like bubble gum and grape, that public health experts say lure children to use the products, or any move to restrict the marketing of e-cigarettes, as is done for traditional cigarettes, which are banned from television, for example.
F.D.A. officials said the new regulations were the first major step toward asserting the agency's authority and eventually being able to regulate flavors and marketing. But doing so will require further federal rulemaking, they said.
For example, to restrict the use of flavors, the agency would have to establish a factual record that they pose a health risk for young people. The same goes for marketing, an area that has been vulnerable to litigation from industry. The agency tried to impose graphic warning labels on cigarette packaging, for example, only to have tobacco companies fight the measure in court and win on grounds that it violated their First Amendment right to free speech.
"You can't get to the flavors until you have regulatory authority over them," said Mitchell Zeller, director of the Center for Tobacco Products at the F.D.A. He called the blueprint "foundational."
The regulations establish federal authority over tobacco products that were not named in the 2009 tobacco control law, including certain dissolvable tobacco products, water pipe tobacco and nicotine gels. E-cigarettes are considered a tobacco product because their main ingredient, nicotine, is derived from tobacco.
One exception is sure to worry antismoking activists: Mr. Zeller said the agency was asking for public comment on whether premium cigars — hand-rolled with a tobacco leaf as a wrapper — should be placed in a special separate category not subject to F.D.A. authority. The cigar industry has lobbied Congress furiously for exemption to the rules, garnering some support from both Democrats and Republicans.
The new regulatory proposal is open to public comment for 75 days, and then the agency will make final changes, a process that will take months.
Under the new rules, companies would no longer be able to offer free samples, and e-cigarettes would have to come with warning labels saying that they contain nicotine, which is addictive. Companies would also not be able to assert that e-cigarettes were less harmful than real cigarettes unless they got approval from the F.D.A. to do so by submitting scientific information.
In the proposed restrictions on sales to minors, vending machines in public places where minors are allowed would no longer be able to carry them. A ban on Internet sales to minors, already in place for cigarettes, would extend to e-cigarettes and cigars.
E-cigarette consumption is rising fast, and in the absence of federal regulations, many states have already passed laws that ban e-cigarettes from public places, regulate their sale, and in some cases tax them. More than half of states already enforce bans on their sale to minors.
Under the new rules, companies would have to apply for F.D.A. approval for their products, but would have two years after the new rules are finalized to do so. Companies can keep their products on the market in the meantime. Eventually, the companies would have to adhere to F.D.A. standards for manufacturing their products, not unlike how drug companies and food companies do now, but the agency has yet to write those rules.
Some experts have cautioned that too high a regulatory bar could stifle smaller e-cigarette producers and help deep-pocketed tobacco companies, which have also gotten into the e-cigarette business. Innovation to make e-cigarettes better would also slow if regulations were too burdensome, they say. Meeting such requirements includes the expenses of application costs, user fees that industry pays the agency, and assembling a scientific case to show that a product should be approved.
Bonnie Herzog, an analyst at Wells Fargo Securities in New York, said the proposal would probably lead to consolidation in the fragmented e-cigarette industry, where there are now around 200 manufacturers.
"It benefits the entrenched players," she said, referring to the three big tobacco companies that produce e-cigarettes, Lorillard, R.J. Reynolds and Altria, the parent company of Philip Morris U.S.A., as well as larger e-cigarette producers, like Njoy and Logic.
Health experts disagree over the role of e-cigarettes, with some arguing that they offer the first real alternative to the deadly risks of smoking and could save millions of lives. Others are more cautious, saying their gadgetry and flavors tempt children, and that people are using them to enable smoking habits, not to quit.
Antismoking activists say the agency must strike a balance.
"In the urgency not to stifle innovation, we shouldn't eliminate the need for scientific evidence," Mr. Myers said. "You can't let them be fly-by-night operations."