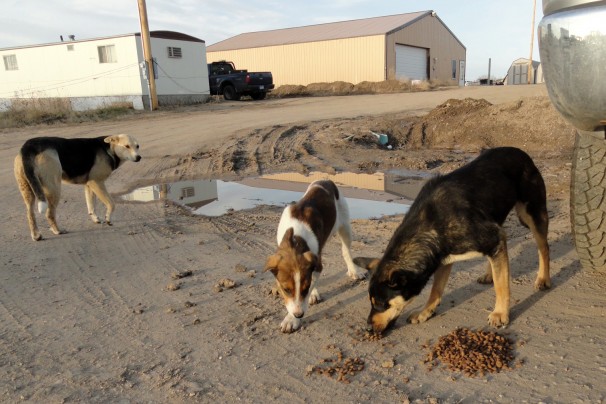 Associated Press
LOS ANGELES — A decade ago, the Rosebud Sioux Indians in South Dakota were paying people to catch and shoot wild dogs. Dogs that weren't caught were covered in mange and parasites. Some froze. Some starved. In packs, they survived be eating each other. And dog bites were 20 times worse than the national average.
Because animals are such an important part of Indian history and culture, tribal leaders called spay and neuter expert Ruth Steinberger. In the next eight years, they worked together to sterilize 7,000 dogs, moving 1,500 of them to other parts of the country for adoption.
Many U.S. tribes still rely on roundups to manage dog overpopulation, but two tribes in the West are going to take part in an experiment this fall using shots of a different kind.
Veterinarians plan to catch and inject 300 wild female dogs with a birth control vaccine that has worked on white-tailed deer, wild horses, wallabies and ferrets.
The two-year test using the government vaccine GonaCon is scheduled to begin in September on two isolated Indian reservations in the West, said Steinberger, the project manager. Reservation officials asked not to be identified until the study is further along.
The $60,000 contraceptive study will be conducted by the U.S. Department of Agriculture's National Wildlife Research Center and Spay First, Steinberger's Oklahoma-based organization working to reduce dog overpopulation in chronically poor places around the world.
Right now, the dogs are getting scraps from people who don't want to see them die — but the litters keep coming.
Steinberger, 56, said she learned a long time ago she could do more to help animals by preventing litters rather than rescuing them. Her work at Rosebud is generally considered a textbook example for ending overpopulation.
"The reservation is a better place. … This is easier to explain in Lakota than in English, but dogs are a part of our lives. They have been in the past and they will be in the future. To be able to take care of them is so important," explained Belva Black Lance, a Rosebud Sioux community advocate who helps with the dog program.
In the GonaCon test, dogs will be caught, microchipped, tattooed, collared, injected and released, she said.
After a year, researchers will round up as many as they can and do blood tests to measure reaction to the vaccine, Steinberger said.
The hardest part of the study might be that roundup, said Dr. Jeffrey Young, founder of Planned Pethood Plus, another group working globally to end animal overpopulation. He is not involved in the study, but has worked with Steinberger on other projects and is familiar with government-made GonaCon.
"A lot of the animals will die, disappear, get shot, poisoned or hit by a car," he explained.
"Dogs on reservations have a higher death rate than normal dogs in society," he said, noting that wild dogs in poor areas live an average 3.2 years. The average American dog lives 10 to 12 years, varying by breed and size.
Depending on who's counting, there are more than half a billion feral dogs around the world, Steinberger and Young said.
There are an estimated 6 million feral dogs in the United States, Steinberger added.
Tens of thousands of people die of rabies in developing nations each year — and 95 percent of the cases are caused by dog bites, she said.
Spay and neuter surgeries are out of the question in such regions so researchers have been looking for a fast, effective and humane vaccine. The perfect blend would be a combination of sterilization and rabies vaccines, Young said.
"It would be a major game changer," Young said. Rabies kills up to 40,000 people a year in India alone.
If he had his way, Young would forego the tests. "It's been tested. They need to get it out there. It should be spread around like candy in India and Mexico," he said.
GonaCon has worked as long as six years in some of the wild animals tested. Booster shots were given to others to extend sterilization, Steinberger said.
It was never tested on a large number of dogs because no one stepped up to foot the bill.
Petco Foundation donated about half the money for the study.
"Animals are the reason Petco is in business. We are always looking for ways to make their lives better and help with the tragedy of overpopulation," said foundation executive director Paul Jolly.
Steinberger brought together the tribes, researchers, donors and volunteers.
GonaCon can't be used on domestic pets, Steinberger emphasized. The Food and Drug Administration would require about a decade of testing and that would cost between $16 million and $20 million, Young said.
Young, who operates a low-cost clinic in Denver, has performed over 165,000 (mostly spay and neuter) surgeries, more than anyone else on the planet, he said.
"I would love for something to put me out of that business," he said.
___
Online:
— www.spayfirst.org
— http://www.aphis.usda.gov/wildlife_damage/nwrc/about/about.shtml
— www.plannedpethoodplus.com