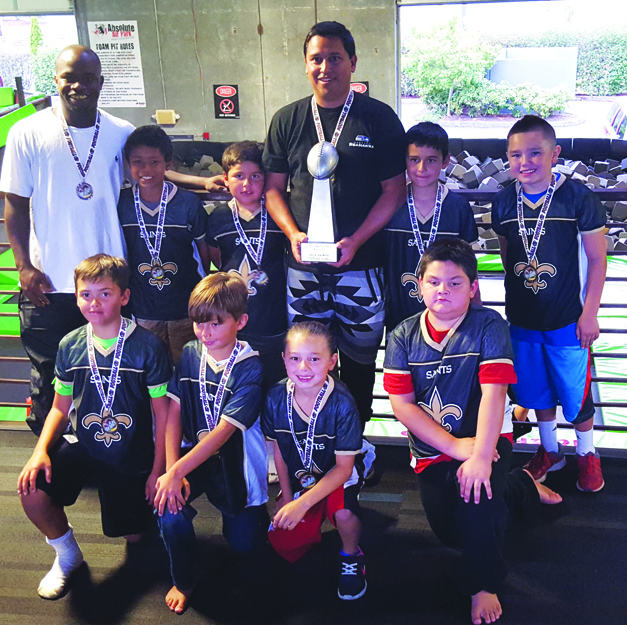 By Brandi N. Montreuil, Tulalip News
The Tulalip Boys & Girls Club flag football team, the Saints, battled other club teams across Snohomish County for eight weeks to take the spring season championship title. Coached by Tulalip tribal member James Madison, the team beat out their rival the Everett Boys & Girls Club Eagles in a triple-header.
This season was stacked with win after win for the Saints who are comprised of nine and ten-year-olds who have played with each other since they were four.  James says there are a few new members each season but the team has stayed consistent for six years.
A former football player himself, James uses his years on the field to teach the team sportsmanship and help them build confidence in their own ability to play and succeed.
"I am very organized and methodical," said James about how he structures his team's plays and practices. "I try to put the kids in a position for them to succeed so they are not frustrated. It's about them growing as an athlete and about them having the most fun as possible."
A majority of the Saints, whose name changes each season based on a donation from the National Football League, who sends out mini NFL jerseys for the teams to play in, play more than one sport together. James explains that most of the team plays basketball and tackle football together in addition to the flag football, which they consider their fun time. This constant togetherness has created a bond for the team that is visible on and off the field.
"There are a lot of expectations upon them but every single one of them is competitive and loves to compete. I orchestrate and they perform," said James.
This season the team performed with perfection. As the youngest team players in most match ups they are known for out performing their opponents, holding to the tradition other Tulalip teams have set before them. When Tulalip comes to play you know you are going to get a get game.
"I get really excited out there because I know what the kids are capable of doing and this is Tulalip, this is our kids. It is so important to me to break the stigma of Indian kids playing sports. So for me, when I started coaching, I took that on and win or lose we are going to give them everything we have," said James.
"All throughout the season you expect things out of your best players but to have eight year olds and nine year-olds perform on plays that high school players perform is great. We had a girl on our team that was every bit as feisty and an athlete as her opponents. They exceeded all my expectations and that, as a coach, is the proud moment."
While the team has won championships before, one previously in flag football and two in basketball, this season says, James, was a big one.
"The team we played were our equal athletically and they are a super talented team and we made them look ordinary. To win against the Eagles was huge and our biggest accomplishment this year," said James. "This isn't about me this is about these kids. To see how they reacted to pressure situations and believing in themselves, to know that if they work as a team they can accomplish anything. We have this championship as a team and will be forever linked together because of that."
Congratulations Saints on your championship win!