Herald staff October 8, 2013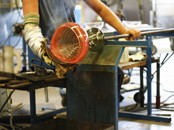 EVERETT — The open studio nights for teens returns this week to the Schack Art Center with the first one happening from 6-8 p.m. Thursday.
The free, after-hours events at the center at 2921 Hoyt Ave. include up to four different hands-on art projects where teens get to meet and work with local artists, as well as refreshments and glassblowing demonstrations.
Projects at this week's event include "Neon Oil Pastel Leaves" with Colleen Temple, "Bird Masks" with Anna Mastronardi Novak and printmaking with Bonnie AuBuchon.
Schack Teen Nights started in fall 2011 as a way for local teens to learn about the Schack Art Center's programs and classes. The studio nights with hands-on, take-away projects have been popular in the past.
The Schack Art Center is an admission free, visual arts center in downtown Everett featuring art exhibits from locally and internationally known professional artists, as well as emerging young talents. It features a state-of the-art glass blowing studio that allows the public to watch local artists work.
For more information, go to www.schack.org.