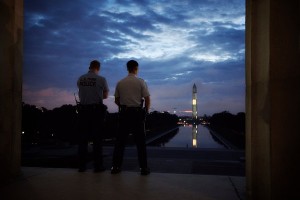 By Michael D. Shear, New York Times
WASHINGTON — The United States government sputtered back to life Thursday after President Obama and Congress ended a 16-day shutdown, reopening tourist spots and clearing the way for federal agencies to deliver services and welcome back hundreds of thousands of furloughed workers.
Across the country, the work and play of daily life, stalled for more than two weeks, resumed at federal offices, public parks, research projects and community programs. Museums opened their doors. Federal money for preschool programs started flowing again. Scientists at the South Pole began ramping up their work.
And the National Zoo's panda cam flickered on again (though a flood of online visitors soon crashed it).
For Shafiqullah Noory, on his first trip to the United States from Afghanistan, the legislative deal came just when he needed it. Sitting on the steps of the Lincoln Memorial, admiring the view of the Washington Monument, he said he knew why Abraham Lincoln had been an important leader.
"If you have the unity, you have the prosperity," he said. "And then everything comes after that."
In Boston, tourists once again spilled into the Charlestown Navy Yard, the national historic park that contains the Constitution, the world's oldest commissioned warship afloat. Among them was Dorothy Bank, a retired kindergarten teacher from North Carolina, who was just about to leave Boston for a foliage tour in New England.
"I was hoping it would be open; we didn't know whether it would be in time," she said, noting the uncertainty of the legislative fight in Washington. Of the ship, she said, "I like it as a part of history."
In New York City, office workers poured in and out of the mammoth building at 26 Federal Plaza in Lower Manhattan, eager to start working — and be paid — again. "Put yourself in that situation," said Regina Napoli, 60, a legal administrator who had been furloughed from her job with the Social Security Administration. "The bills pile up."
Washington's Metro trains were once again packed with federal workers streaming in from suburban Maryland and Virginia, government IDs dangling from lanyards around their necks. Robert Lagana said Thursday morning that he was eager to get back to his job at the International Trade Commission.
"It beats climbing the walls, wondering where your next paycheck is going to be and how you're going to make your bills," Mr. Lagana said. "They really need to come up with a law where this never happens again."
Meanwhile, those arriving at the Environmental Protection Agency headquarters in Washington were met by none other than Vice President Joseph R. Biden Jr., being boisterous, as usual. "I brought some muffins!" Mr. Biden said as he arrived at the security desk, greeting employees with handshakes and hugs.
And at the White House, President Obama took a moment to speak directly to federal workers, saying: "Thanks for your service. Welcome back. What you do is important. It matters."
The government's top personnel officer announced just before 1 a.m. Thursday that officials should restart normal functions "in a prompt and orderly manner." Those few words were enough to kick-start the government. A memorandum from officials at the Department of the Interior encouraged returning workers to check their e-mail and voice mail, fill out their timecards and "check on any refrigerators and throw out any perished food."
But not everything was back to normal immediately. In Chicago, people who had been waiting to visit the Internal Revenue Service office since the shutdown began were still turned away by security. "If you aren't making a payment, they won't see you," said an officer in the lobby, who suggested they try again on Friday.
Cynthia Ellis, a South Side resident, needed to get federal tax documents for a state program that helps pay her mortgage. "I heard the news say all government employees are back to work," she said, clearly frustrated. "This is bad. This is really bad."
The agreement extending federal borrowing power, hammered out at the last moment in Washington, paves the way for another series of budget negotiations. Conservative Republicans in the House and Senate vowed to renew their fight for cuts in spending and changes to the Affordable Care Act.
Across the globe, investors shrugged at the decision by United States politicians to end the shutdown. On Wall Street, stocks were mixed in part on reports of disappointing earnings from I.B.M.
At the Capitol, lawmakers immediately began post-shutdown posturing as they braced for another confrontation in the budget negotiations that are set to begin in the days and weeks ahead.
"We've got to assure the American people that we are not going to do this again," Senator John McCain, Republican of Arizona, said Thursday on MSNBC's "Morning Joe."
For some people across the country, the political debate remained raw. In Oak Ridge, Tenn., where the shutdown was set to furlough about 3,600 employees at the Y-12 National Security Complex, Dean Russell said he had no plans to do away with the sign he posted at the entrance of his restaurant: "Members of Congress not welcome here."
Even in deeply conservative Tennessee, Mr. Russell said his edict applied to both parties, who are now barred from the restaurant's selection of apple, chocolate and coconut fried pies.
"I'm sure the anger will pass, and I'll take it down," Mr. Russell said. "But we'll keep the sign because I'm sure they'll do something again."
But others were just happy that the shutdown was over.
At the Santa Monica Mountains National Recreation Area, north of Los Angeles, Bonnie Clarfield, a supervisory park ranger, spent Thursday morning taking down the closed signs — 16 of them in all — and cleaning up after vandals who had ripped some of them down and in some cases posted signs of their own.
She found one handwritten sign that read, "Congress Can't Shut Down the Park," while some official park signs announcing the closing were strewn in the bushes.
"We had a lot of vandalism of infrastructure," she said. "People were frustrated, and they were taking it out on the rangers. We were doing our jobs, and they were taking it out on the messengers. I feel great today. No one's been mad at me."
Federal officials said the lingering impact of the shutdown should begin to dissipate in the coming days as agencies reopen fully and begin taking stock.
Sean Hennessey, a spokesman for the National Park Service, said 85 furloughed employees were back to work in Boston. He estimated that the city's national historical sites, which include the navy yard, the Bunker Hill Monument and the downtown Faneuil Hall visitor center, lost about 55,000 visitors because of the shutdown.
The U.S.S. Constitution Museum alone, he said, lost an estimated $7,000 per day.
Reporting was contributed by Jess Bidgood from Boston, Alan Blinder from Oak Ridge, Tenn., J. David Goodman from New York, Emmarie Huetteman from Washington, Ian Lovett from Thousand Oaks, Calif., and Steven Yaccino from Chicago.