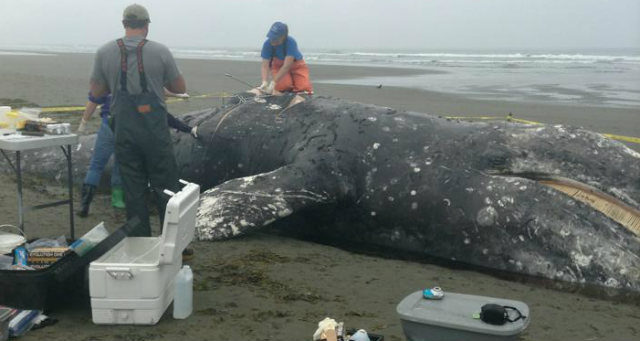 BY JOSH KERNS  on July 31, 2013
A dead gray whale that washed up on the Washington coast overnight Sunday was likely killed in a collision with a ship, researchers determined after a preliminary necropsy. And you'll soon be able to see the skeleton up close.
The 39-foot adult female was found Sunday night on the beach in Grayland near Westport. Its carcass will be stripped and the skeleton sent to the Westport Aquarium, the owner of the aquarium told KBKW in Aberdeen. Marc Myrcell says he plans to put it on display in the future.
Jessie Huggins, with Cascadia Research, says the whale suffered broken bones and bruising in front of the blowhole, near the whale's jaw. "It's like the bridge of the nose near the cheek" on a human, though that comparison is not exactly equivalent, Huggins tells theDaily World.
Myrcell plans to get a backhoe to drag the carcass about 1,000 feet up the beach in the next couple of days to private, wooded land, where it will be allowed to decompose.
The whale is the second to wash up on the Washington coast in the last month. A fin whale was found dead on the beach near Ocean Shores in early June. Its carcass eventually washed out to sea. In April, another fin whale was found on the shore in Burien. Wildlife officials towed it to another beach where it was allowed to decompose.
Related:
Photos: Huge dead whale on Washington beach
Reeking, dead whale draws crowds to Burien beach