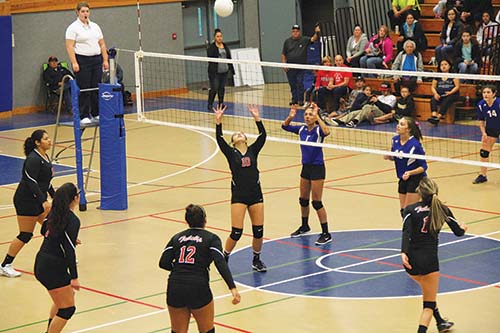 By Micheal Rios, Tulalip News 
After losing their first matches of the season, the Tulalip Heritage Lady Hawks (5-2) looked to bounce back and right the ship when they traveled to Grace Academy to play the Lions (3-3) on Friday, October 7. This was the second matchup between the teams, as they previously played back on September 8 in a thrilling match the Lady Hawks won 3 games to 2.
In the 1st game, the Lady Hawks came out flat and Grace took advantage by going up 17-10, forcing coach Tina Brown to call timeout. Following the timeout, Lady Hawk players were much more active and got engaged defensively. They were flying around and diving to save rallies. Clutch serving by Aliya Jones and Cidney Marteney proved to be the difference, as they helped their team go on a 15-4 run and take the opening game 25-21.
Both the 2nd and 3rd games played out the same with both teams playing well at the net and forcing each other into unforced errors. The Lady Hawks weren't able to go on those long rallies to string together points, which allowed Grace to close-out both games. Grace took the 2nd game 25-22 and the 3rd game 25-19.
Down 1 game to 2 and needing to grind out back-to-back games is an all too familiar place for the Lady Hawks lately. They were not able to do it in their last two losses. However, unlike in the previous two games, the Heritage fans were in full force and were determined to give that "7th man" energy to their team. It was such a great experience to witness the Heritage fans pick up their team and motivate the girls to dig deep.
Seemed like after every point the Lady Hawks scored in the 4th game was met with cheers and applause from their fans. After winning the 4th game and forcing a match deciding 5th game, the fans really let loose. Sounded more like a home game then an away game for sure.
In the 5th and final game, the momentum from the last game coupled with the energy from their fans proved to be huge for the Lady Hawks. After being down 1 game to 2, they soared back and won back-to-back games to claim match victory 3 games to 2.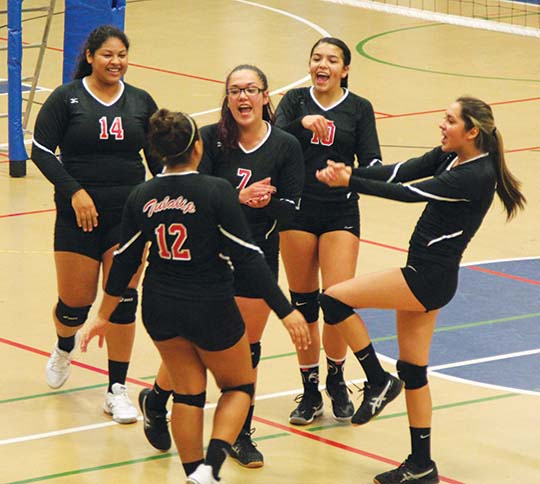 On Monday, October 10 the Lady Hawks (6-2) hosted the Marysville Pilchuck C-team (4-3) at Francy J. Sheldon gymnasium. On paper this looked to be a very lopsided mismatch, with all the advantages in favor of the home team. There were expectations going in that the Lady Hawk starters would take care of business early, so that the younger bench players could see heavy minutes and get more game time experience. Unfortunately, that expectation would not be met.
Games 1 and 2 played out in near identical fashion. In each game the Lady Hawks took an early 5-2 lead, only to squander it and be tied 13-13 minutes later. Instead of going on rallies and putting the pressure on the less experienced Tomahawks, the girls played without energy and kept committing unforced errors. The Lady Hawks lack of team work and hustle cost them both games by the score of 23-25.
Before the start of game 3, coach Tina Brown urged her girls to get into game mode and to work through their mistakes as a team. Her team responded in an emphatic way. The Lady Hawks came out with a sense of urgency and were firing on all cylinders to take a commanding 16-8 lead. They continued their solid play and closed out the 3rd game, 25-12.
For whatever reason the Lady Hawks lost that sense of urgency and again played sluggishly. They found themselves trailing 5-15 in the 4th game and waited too late to mount a comeback. They lost the game 20-25 and the match 1 game to 3, sending their overall record to (6-3).