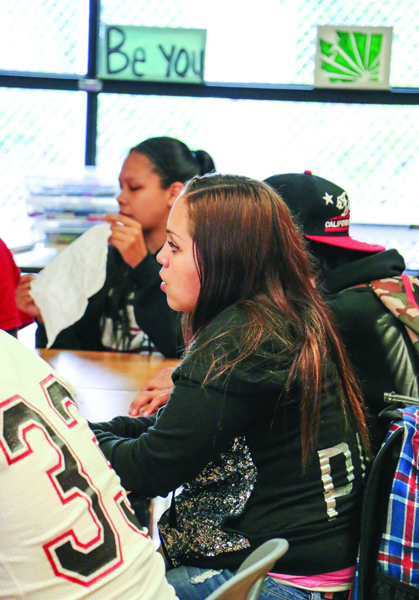 By Brandi N. Montreuil, Tulalip News
TULALIP – Every October the nation is splashed with a dose of bright pink, as result of a national campaign to bring attention to breast cancer. This campaign has resulted in an increased number of early detection screenings and a decrease in death rates since 1989. Since 1987, purple ribbons have begun to be associated with the month as well, as a result of the domestic violence awareness and education campaign. Both campaigns have resulted in successful lifesaving education. However, incidents of domestic violence are still at epidemic proportions.
To bring awareness to the dangers of intimate partner violence happening in her community, Heritage High School art teacher Cerissa Gobin, decided to use the platform of the popular social media trend 'women crush Wednesdays,' to educate and engage students about the dangers of domestic violence and teen-dating violence.  Instead of picking a women who is admired for beauty as the crush of the day, Gobin is asking students to think about Native women who are missing or murdered as a result of intimate partner violence.
"In the spirit of 'women crush Wednesday,' I wanted the class to do some research on the missing and murdered aboriginal women in Canada. It really is an issue that affects all us women around the world, because we, as Native women, are the ones that are the least represented and the ones that are highly victimized," said Gobin, who is also a Tulalip tribal member.
As part of the in-class project, students are researching the current statistics of aboriginal women murdered and missing in Canada, along with the current statistics of domestic violence in Indian country. Students are also learning about dating violence experienced in their own age group. Students will then use the research they have completed to create a piece using art mediums such as poetry, multi-media, sculpture, photography, painting, drawing, or sculpture. The project will need to include statistics and what the student has learned.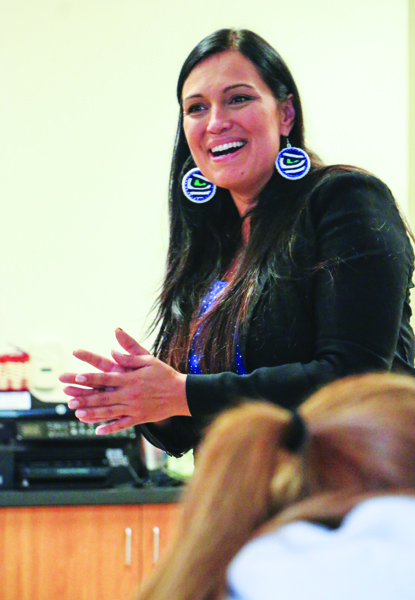 In support of the student project, Tulalip Tribes Councilwoman Deborah Parker gave a special presentation about her work in educating the public about the plight of First Nations women and her work regarding Violence Against Women Act.
"It is not an easy conversation that our fathers or even mothers have had with our young men," said Parker, to a dozen male and female students during her presentation on September 25. "How do we treat our women? Sometimes we see how our dad treated our mom and that is the way we treat our partners, or how our moms treated our dads, because domestic violence can go both ways. We have broken systems here in Tulalip, but also throughout our indigenous communities. It is a difficult issue to talk about. Nobody wants to talk about sexual assault and physical abuse."
According to the National Coalition Against Domestic Violence, "on average, nearly 20 people per minute are victims of physical violence by an intimate partner in the United States." These statistics mean that 1 in 3 women and 1 in 4 men will experience some form of domestic violence from their intimate partner, regardless of age, economic status, sexual orientation, gender, race, religion or nationality.
In Indian country the statistics are even more alarming. According to a 2008 Centers for Disease Control study, "39 percent of Native women in the U.S. identified as victims of intimate partner violence in their lifetime, a rate higher than any other race of ethnicity surveyed." The report also points out that most crimes go unreported due to a belief that nothing will be done.
According to the CDC teen-dating violence is defined as, "physical, sexual, or psychological/emotional violence within a dating relationship, as well as stalking." The CDC also states that 1 in 5 women and 1 in 7 men in high school reported experiencing abuse from their partner while dating. And "many teens do not report abuse because they are afraid to tell friends or family. Teens often think some behaviors, like teasing and name calling are a 'normal' part of a relationship."
Although many school districts, including the Marysville School District, have a zero tolerance policy towards bullying in any form, many incidents of dating violence that happen within school boundaries are never reported.
"It is not only my goal, but the goal of the Tulalip Board of Directors and the goal of our Tribe, that we stop this type of abuse. We stop the madness and we stop putting down each other, whether you are male or female. To our men, if you think this issue is not about you, it is absolutely about you. Part of your role historically as Native men is to promote our women. It is not to harm. It is not to hurt, to disregard, but to uphold our women," said Parker.
"I don't want to see our kids bullied. I don't want to see our young kids raped and abused. People ask me why I am so passionate about this, it is because I was one of those kids. I was one of those kids who were abused. You are the heartbeat of our nation. You are the heartbeat of our people. I don't want you to walk away from here today feeling disempowered. You are never alone. We stand together," said Parker.
For more information about teen-dating violence, please visit the website www.loveisrespect.org. If you feel you may be a victim of domestic violence or have questions, please contact the 24/7 hotline at 1-866-331-9474 or text "loveis" to 22522. You may also contact the Tulalip Legacy of Healing Advocacy Center & Safe House at 360-716-4100.
Brandi N. Montreuil: 360-913-5402: bmontreuil@tulalipnews.com