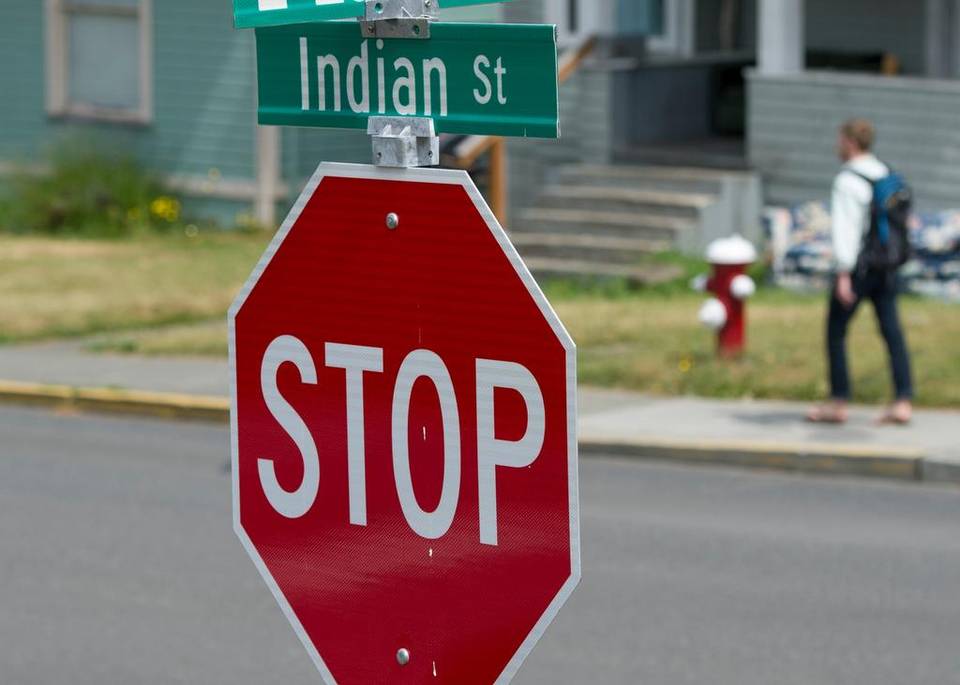 BY SAMANTHA WOHLFEIL, The Bellingham Herald
BELLINGHAM – Indian Street will likely be renamed Billy Frank Jr. Street, after the Bellingham City Council asked staff to make the change.
Council member Terry Bornemann requested the change, which was supported by the full council at its Monday, June 15, meeting.
Council member Roxanne Murphy, a member of the Nooksack Indian Tribe, said she supported changing the name of the street as much as she supported honoring Billy Frank Jr., whose activism in the 1960s and '70s led to a major strengthening of tribal fishing rights under the Boldt court ruling. The decision recognized Washington tribes' rights to half the fish harvests under their 1850s-era treaties.
"It comes with a bit of heartache that we have a street named Indian Street, because that means so many different things to so many different people," Murphy said during an afternoon council meeting June 15. "So many people identify with it in Indian Country, and others detest it. This is just as much to me about getting rid of the name Indian as it is about honoring Billy Frank."
Frank, a member of the Nisqually Indian Tribe, was arrested dozens of times during the "Fish Wars," when he and other Native Americans asserted their treaty rights and refused to obtain state licenses to fish. He died May 5, 2014.
Indian Street has had its name since at least the beginning of the 20th century. It was chosen as part of an alphabetical sequence of New Whatcom street names because it starts with an "I," although how much deliberation went into the name no one can say, according to Jeff Jewell, historian and photo curator at Whatcom Museum.
Bellingham Fire Department's Rob Wilson is in charge of an addressing committee that oversees such name changes. The committee is made up of representatives from the police department, fire, dispatch centers, and the planning, public works and permitting departments.
The committee was generally supportive of the name change, Wilson told the council, but did have a few concerns: 147 addresses — 110 apartments, 33 houses and four businesses — would be affected by the name change, and any of those people could appeal to the hearing examiner if they disagree with the proposed change.
Whatcom Educational Credit Union owns two buildings on Indian Street, but neither is open to the public, so the change wouldn't affect the credit union much, Marketing Manager Kessa Volland wrote in an email.
"Our buildings on Indian are all behind-the-scenes departments and storage at this point," she wrote. "I have to say I'm relieved we won't have to change brochures/location listings on any of our materials."
The change also would carry costs to change the street signs, and to have staff prepare and send letters to every address affected. A rough estimate put the bill at $20,000 to $30,000, Wilson said.
Another of the committee's concerns had to do with the naming structure for that part of town.
"Indian Street today does fit a historical naming theme that is alphabetical," Wilson said. "The change would disrupt that theme."
The street-name sequence has not been completely alphabetical since the early 1900s. It starts with Old Town's Army Street, which was never built; followed by Bay Street; then Canoe, which was changed to Commercial Street in 1904; and then Dock Street, which was changed to Cornwall Avenue in 1923, Jewell wrote in an email.
"Railroad Avenue was a train right-of-way predating the street grid, so it doesn't figure in," he wrote. "Elk Street, which was the 'E,' was changed to State Street in 1926 so (it) doesn't work. After that it's smooth alphabetical sailing: Forest, Garden, High, Indian, Jersey, Key, Liberty …"
Wilson said staff members would probably start sending notices to residents within about two weeks.