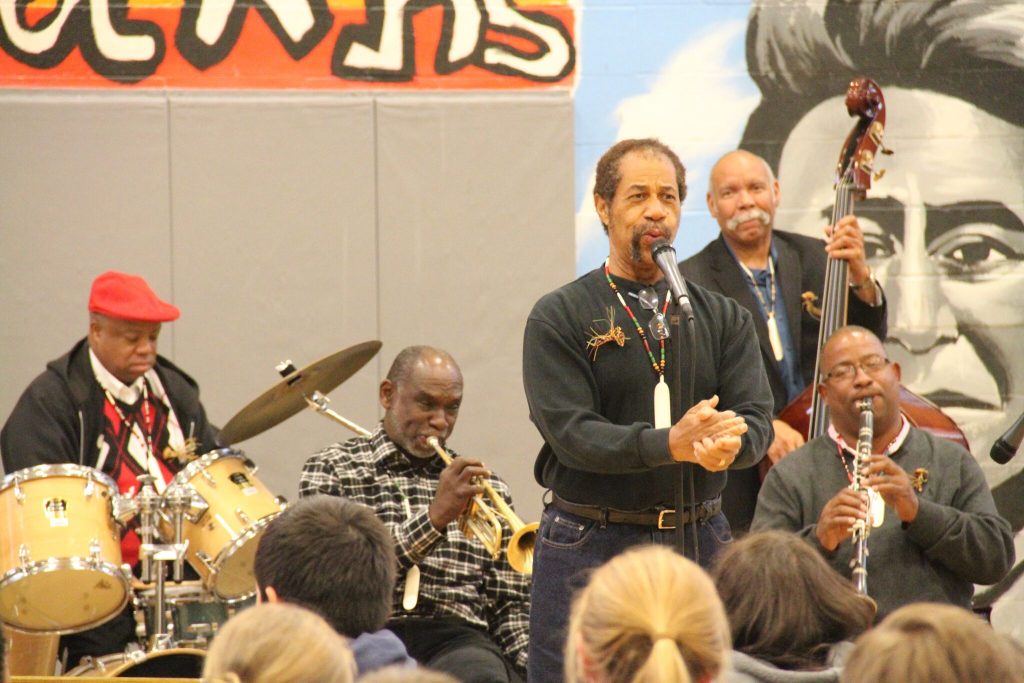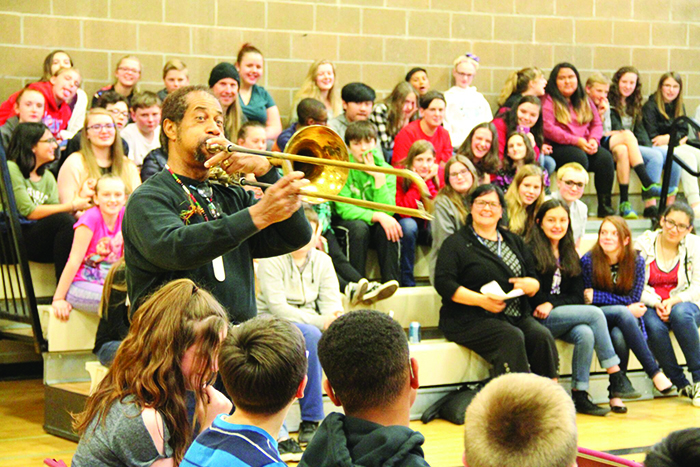 By Kalvin Valdillez, Tulalip News
As the last note of their second set was hit and spit valves were emptied, trumpet extraordinaire, Gregg Stafford, approached the microphone at the Francis J. Sheldon Gymnasium. He graciously thanked the audience of middle and high school students for the standing ovation he and his fellow band members of the Preservation Hall Legacy Jazz Band were receiving. The traditional six-piece New Orleans jazz band recently traveled to Tulalip to perform and speak with the youth of the community about jazz history, culture and the importance of keeping traditions alive. During their week-long visit the band performed for over 4,000 students at schools within the Marysville School District including Quil Ceda Tulalip Elementary, and Heritage, Getchell and Marysville-Pilchuck high schools.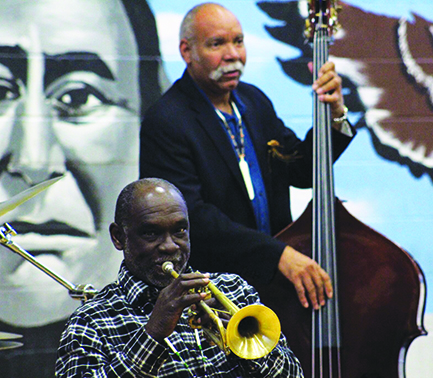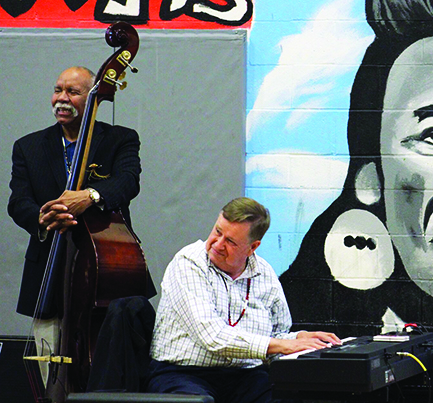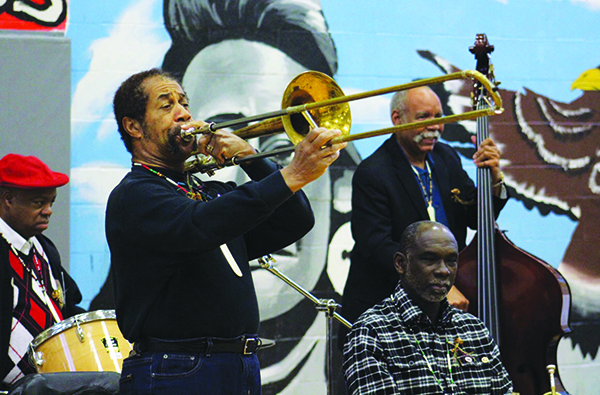 After the much deserved cheers and applauds began to quiet down, Gregg informed the students that the band would be answering any questions the students had for them. The kids asked a variety of questions ranging from who is your favorite jazz singer to more complex questions regarding mutes, tempo and time signatures. Inevitably, a student asked 'how long have you guys been playing?' In this moment Gregg, along with trombonist Fred Lonzo, clarinetist Louis Ford, pianist Lars Edgrean, bassist Richard Moten and drummer Joesph Lastie Jr collectively grinned as Greg looked at his watch and responded 'oh about twenty-five minutes now.' Laughter filled the entire room, most notably from the band.
Those small joyful moments, within the twenty-five-minute jazz set, where the entire room is smiling ear to ear, sharing laughter with one another and getting lost in the music is the reason Tulalip Tribes Employee Assistance Counselor, Jessica Talevich, brought the Preservation Hall Jazz Band to the Pacific Northwest.
Nearly two years ago, after witnessing the band live in their native New Orleans and once again in Seattle a week after, she discovered the band offers outreach work to high schools nationwide. In the wake of tragedy amongst the Tulalip-Marysville community, Jessica consistently witnessed division as several messages from 'talk-based' outreach programs missed their mark and constantly reminded community members of their hard times.
In an effort to change the cycle and promote healing, Jessica and the Tulalip Tribes partnered with the Marysville School District to bring the unique outreach program to the community.
"They just exude so much joy," exclaimed Jessica. "The history of New Orleans is built on tragedy. From the early days of illness' and diseases killing off many people, to the whole city burning to the ground and being rebuilt, and slavery is a whole other aspect. And then there's instance after instance of hurricanes coming through and decimating [the city] such as Katrina and then the gulf oil spill that happened after [Hurricane Katrina]. These are resilient folks and their culture and arts, especially their music, have a lot to do with their resiliency so I wanted to bring that up here and talk about creativity as a tool for resiliency."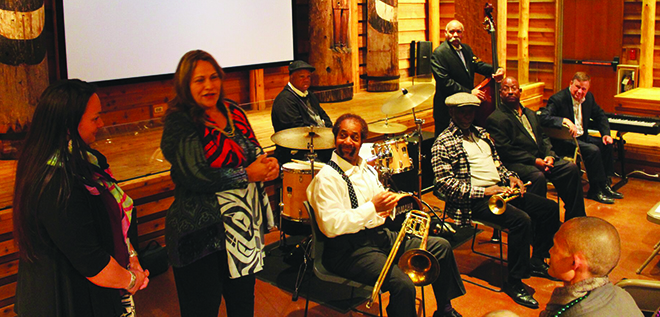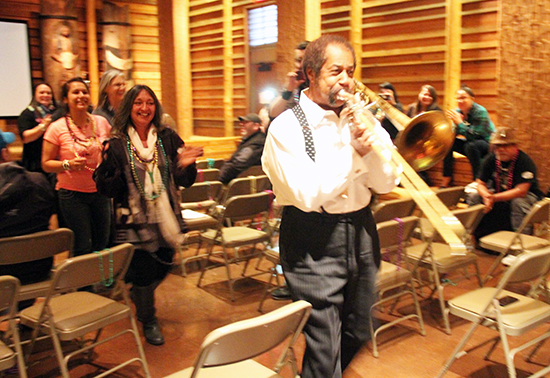 After a tour of Tulalip, hosted by Tulalip tribal member Freida Williams, the band performed for the community at the Hibulb Cultural Center. Plenty of audience members danced and joined in a march led by Fred while he performed a solo on his trombone. Following the performance, the band had an open discussion with the audience touching on subjects such as the ever-changing music industry and music education. Gregg inquired about the local population of black bears and the tribe's hunting regulations.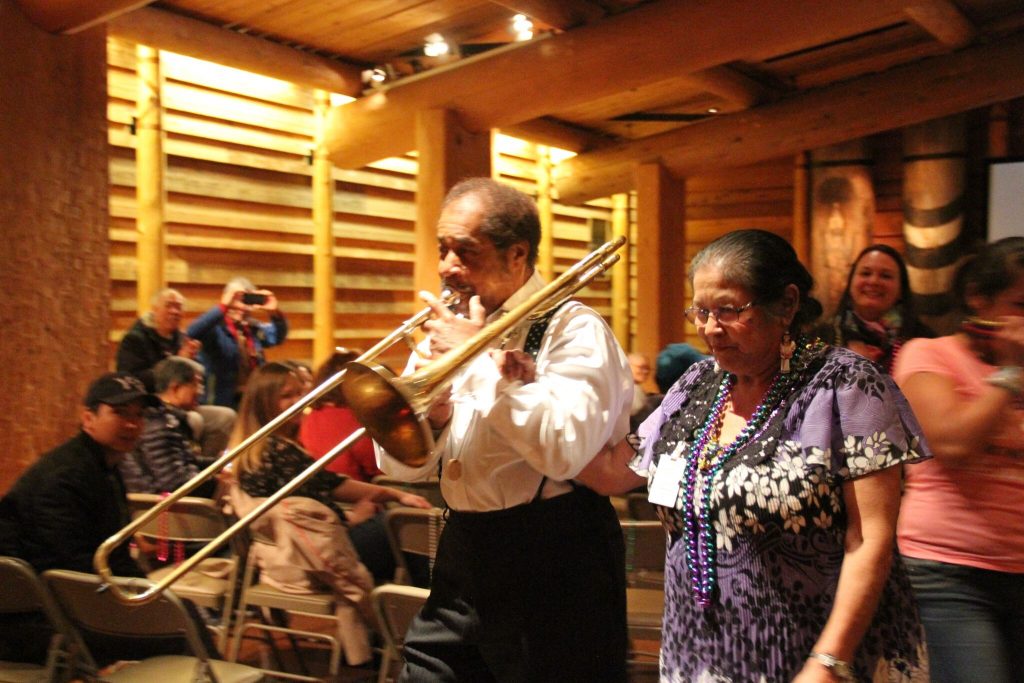 Tulalip tribal member Natosha Gobin and her children were present for nearly every Preservation Hall Jazz Band performance to offer prayers and gifts to the musicians.
She states, "It was a good week, my kids had so much fun! I think that music is such a great outlet and sometimes there are youth out here who kind of feel overwhelmed with not knowing our own traditional songs or like they can't sing their songs and express themselves through our culture. And I think that a lot of the youth were able to find a connection and a love and passion for another music outlet and they understand more about Preservation Hall, although they are not an Indigenous group. They're not a tribe, yet everything that they struggled with is parallel to what our people struggle with. So you can make those connections and those connections help – they're inspiring for kids. For our youth, I think its inspiring that music does have a culture."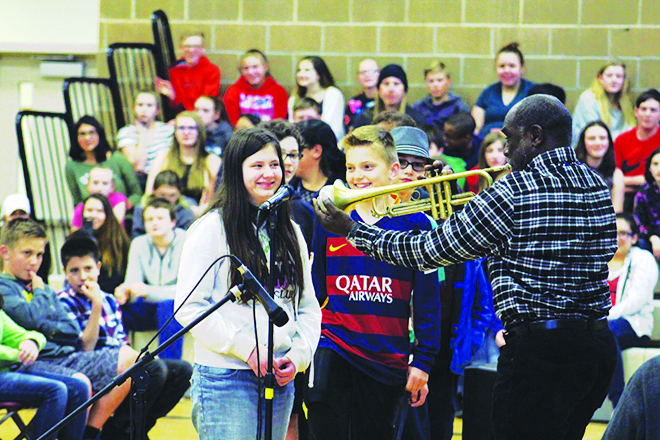 On their last night in the community, the Preservation Hall Jazz Band spent the evening performing for a large crowd in the Marysville-Pilchuck auditorium. Both Getchell and Marysville-Pilchuck high school jazz bands showcased their skills for Preservation Hall. Fred, Louis and Gregg made special appearances and performed alongside the bands.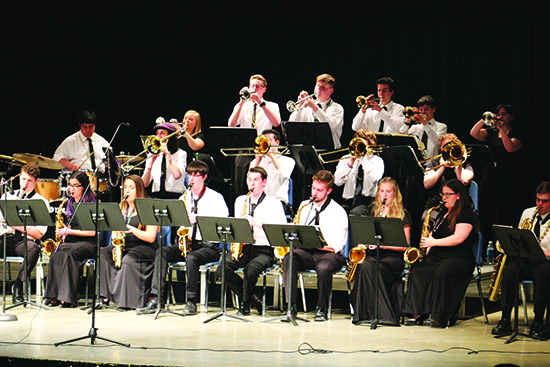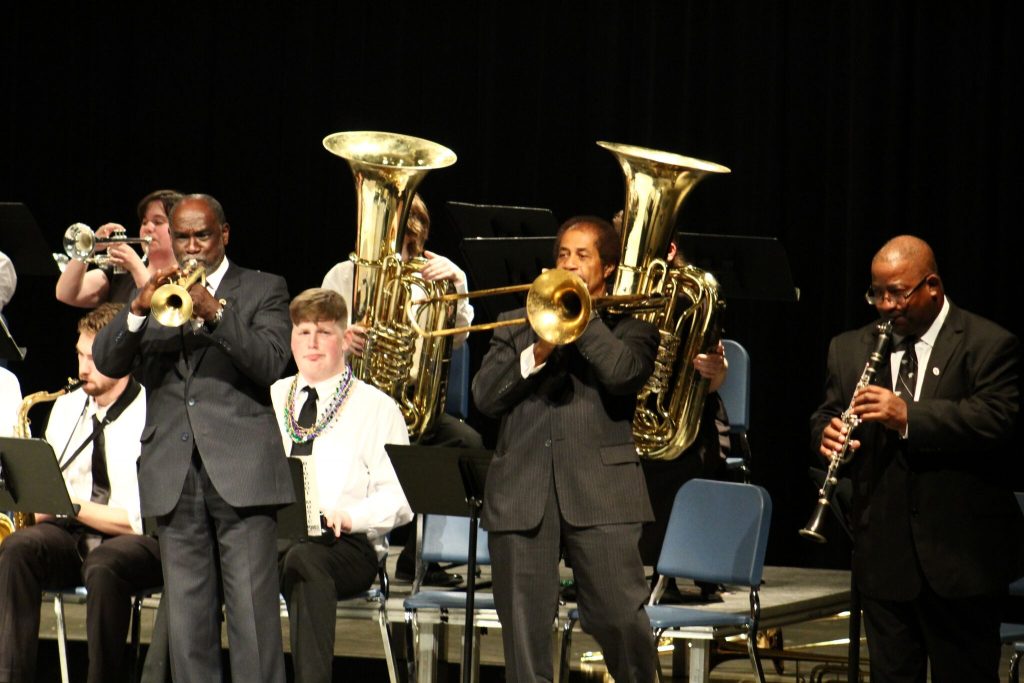 During their final performance the band shared the stage with Native American Grammy Award Winner, Star Nayea. The band played Dixieland jazz, jazz blues, and ragtime as well as jazz funeral music. The audience was highly engaged and interactive throughout the bands last set. The crowd sang along to classic songs such as What a Wonderful World and A Closer Walk with Thee. Nearly everyone in attendance marched around the auditorium before rushing the stage while the horns blew to the tune of When the Saints Go Marching in.
"Witnessing the interactions between our musicians with students from the Tulalip community was both inspiring and impactful," states Preservation Hall Foundation Program Director, Ashley Shabankareh. "We saw such passion from students in the community for their own cultural traditions and were able to make meaningful connections to how we pass traditions in New Orleans. This trip is something myself and our musicians will never forget – we were overjoyed to see the power of music bringing communities together."
For additional information about the Preservation Hall Jazz Band please visit PreservationHallJazzBand.com