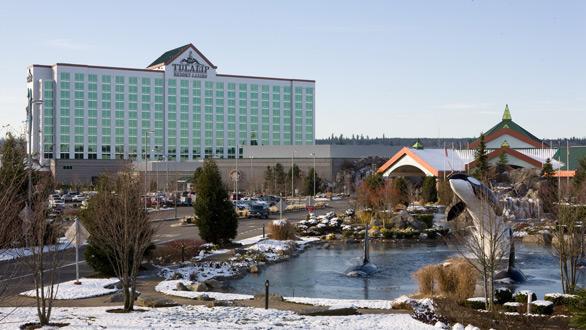 SEATTLE – Casinos operated by 22 Native Nations in Washington State generated millions of dollars in contributions to communities, non-profits, and smoking-cessation and problem-gambling programs in 2013 and 2014, according to a report by the Washington State Gambling Commission.
In accordance with compacts, or agreements, with the state, Native Nations contribute 0.5 percent of machine gaming net receipts to nonprofit and charitable organizations; up to 2 percent of table-game net receipts to governmental agencies; 0.13 percent of machine gaming net receipts to smoking-cessation programs; and 0.13 percent of Class III net receipts to problem-gambling programs.
Staff members of the state commission presented "Tribal State Compact Tribal Contributions" to commissioners on Jan. 15. Commissioners and reporters had the opportunity that day to ride along with enforcement agents, watch gaming-machine compliance tests, and tour a forensics lab.
The mission of the gambling commission is "Protect the Public by Ensuring that Gambling is Legal & Honest," and Native Nations with casinos help in that mission through the compact and, in many cases, with their own gaming commissions.
According to the report: Native Nations with casinos distributed nearly $6.5 million in community impact funds in 2013, and $6.6 million in 2012; contributed copy2.6 million in 2013 and copy1.8 million in 2012 to non-profits and charities; allocated $2.4 million in 2014 and $2.2 million in 2013 for smoking-cessation programs; and allocated $2.8 million in 2014 and $2.5 million in 2013 to help prevent and treat gambling addictions.
Community impact funds are invested in local law enforcement, public safety, and roads. Charitable funds benefit local food banks, disaster relief organizations, sports and recreation programs, United Way, veterans organizations, YMCA, YWCA, youth organizations, and others.  Smoking-cessation and problem-gambling contributions help pay for the state Department of Health's 1-800 Quit Line, community behavioral-health programs, and programs operated by local health care authorities.
Contributions for 2015 were not available.
Jobs Providers
For most if not all Native Nations that have casinos, gaming is only part of a larger economic development portfolio. According to Julie Saw'Leit'Sa Johnson, Lummi, chairwoman of the Native American Caucus of the Washington State Democratic Party, Native Nations – or Tribes – are collectively the fourth-largest source of jobs in Washington state.
The Quinault Nation, owner of the Quinault Beach Resort and Casino, as well as other ventures, is the largest employer in Grays Harbor County. The Suquamish Tribe's Port Madison Enterprises, which manages the Suquamish Clearwater Casino Resort, White Horse Golf Club, and other ventures, is the second-largest private-sector employer in Kitsap County, west of Seattle. The Tulalip Tribes town of Quil Ceda Village, home of Tulalip Resort Casino, Tulalip Amphitheater, Seattle Premium Outlets, and other dining, entertainment and retail businesses, is the third-largest source of jobs in Snohomish County.
Many casino-resorts have evolved beyond gaming and become convention, dining and entertainment destinations, as well as showcases for cultural art. Guests at the Suquamish Clearwater Casino Resort Hotel can take a shuttle to the Suquamish Museum and other cultural sites. The new Yakama Nation Legends Casino Hotel is being built a half-mile from the Yakama Nation Museum & Cultural Center.
Read more at 
http://indiancountrytodaymedianetwork.com/2016/02/19/tribes-contribute-millions-dollars-washington-communities-non-profits-163486