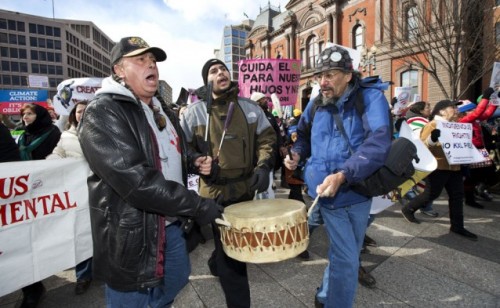 By Katie Valentine, ThinkProgress
As President Obama's decision on Keystone XL nears, opposition from Native American tribes — many of whom have long spoken out against the pipeline — is getting louder.
Last weekend, members of South Dakota's Rosebud Sioux tribe set up a prayer camp near Mission, SD in protest of the Keystone XL pipeline. Tribe leaders say their plan is to send a message to the White House that Native Americans won't back down on this pipeline, which they say would run through land guaranteed by an 1868 treaty for tribal use. The tribe members plan to keep the prayer camp up until President Obama denies the pipeline or until the pipeline is approved, in which case the camp will turn into a "blockade camp."
"We've been talking about the XL Pipeline. Reading about it, discussing it, having meetings, and I think reality hit today," Oglala Sioux President Bryan Brewer said at the camp's opening ceremony Saturday. "This is the first day that we're actually going to try to stop it."
Tribe members have erected nine tipis, including one that will stay occupied 24 hours a day until the White House comes out with a decision on Keystone, and surrounded the camp with hay bales. The tribe is planning to enact three more prayer camps — also called spirit camps — near the proposed route of Keystone XL.
"You can feel the power here," Brewer said. "This will be non-violent; we will take our coup stick and count coup. This Thursday the [Oglala Sioux] tribal council is going to declare war on the Keystone XL pipeline."
Native Americans are ramping up their opposition to the Keystone XL pipeline after vowing in February to take a last stand against the pipeline, which they've called the "black snake." Arizona Rep. Raul Grijalva, vice-chair of the House Native American Caucus, said on MSNBC this week that Native Americans' opposition to the pipeline — especially recently — brings a spiritual dimension to the pipeline's opposition, and will force people to pay attention to the issue if they hadn't been before. The Rosebud tribe is also one of several to be planning a trip to D.C. at the end of April to protest the pipeline.
But Native Americans aren't the only ones adding their voices to the call against Keystone XL. In a letter made public Tuesday, more than 200 business owners, venture capitalists and professors — inlcuding executives at Apple, Facebook, Google and Oracle — called on Secretary of State John Kerry to reject the pipeline as not in the country's national interest. The letter called Keystone XL the "critical linchpin" for the development of Canadian tar sands and said it "undermines our international commitments."
"The Obama Administration has expended great time and resources toward establishing America's leadership on global challenges including the development of clean, low-carbon energy," the letter reads. "By approving Keystone XL, the country would instead be locking itself into the development of high cost, high carbon fuels for the foreseeable future."