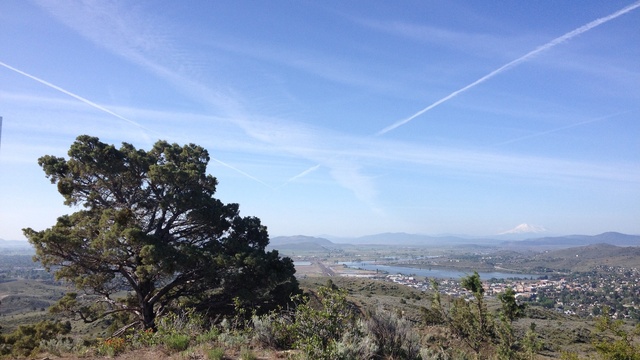 By Devan Schwartz, OPB
A second straight year of water shutoffs in the arid Klamath Basin is drying up ranchland and forcing many ranchers to sell their cattle early.
But the water woes have created an unlikely alliance that could lead to a historic solution.
Scott White is the Klamath Basin watermaster. He has the difficult task of telling ranchers to turn off the water they use for cattle and crops.
"It was probably one of the hardest things that I've ever had to do – it was a terrible feeling," said White.
After decades of court wrangling, state water rights became enforceable in the Klamath Basin last year.
Klamath Basin Water Rights
This is how it plays out. Those with the oldest rights make a call to the state of Oregon for the amount of water they're legally granted. Until those amounts are met, the watermaster shuts off so-called junior water users.
"It was extremely difficult when you're driving up and down doing your follow-up and seeing all those fields dry up and folks aren't out working the fields," White said.
In drought years like last year and this year, that means a lot of spigots turned off, a lot of fields going dry.
So who are the senior water users? In the Klamath Basin, it's two main parties: a group of farmers from a federal agricultural project and the Klamath Tribes.
When project farmers make a call, water is diverted from Upper Klamath Lake to fields of onions, potatoes, mint, horseradish and grains.
Tribal water rights are a different story. Their water is kept in tributaries to the lake rather than going to ranches. That extra water is meant to improve stream health for fishing and gathering on former tribal lands.
Don Gentry, chairman of the Klamath Tribes, says the long-term goal is restoring waterways for the return of salmon. Four hydroelectric dams on the Klamath River have blocked salmon passage for nearly 100 years.
"I'm always aware of the fact that we don't have salmon up here anymore," Genry said. "A number of our tribal members, elders, people that have gone on and aren't with us here today, talk about the importance of those fisheries and where they caught the fish at."
2001: A Bad Year In The Klamath Basin
In the flashpoint summer of 2001, the tribes and farmers were in strong opposition. The government kept water in the river system to support fish while project farmers saw their irrigation water shut off.
The bad blood ran deep — with threats of violence and antagonistic signs lining the highway.
For a long time, the tribes and farmers say they could barely sit down at the same table. Now they're more united than ever.
Both groups support a bill that would remove the Klamath River dams, stabilize the basin's water supplies and do wide-scale environmental restoration.
Gentry sees great upsides for the tribes. "We really believe that what we've built into this is going to help us immeasurably to restore our fish," he said.
Greg Addington represents Klamath Project farmers. He says the bill would benefit many Klamath Basin stakeholders who joined an agreement to make it happen.
The Klamath Agreements
"This agreement doesn't make more water," Addington said. "What it does is it gives people more certainty. So, we'd be knowing early in the season what our amount of water is so that we would avoid involuntary shortages — and that's really the big thing."
Addington says the Klamath Tribes made the first move in their partnership. "They were the ones also that came to the table and said, 'Look, there's a better way — and a way to share water.'"
Many ranchers were holdouts. They hoped to be awarded the best water rights. When the tribes and the project farmers prevailed, the incentive to stay outside the tent evaporated.
Support for the legislation now includes a majority of those ranchers. So even in a drought year with widespread water shutoffs in the Klamath Basin, there's hope for a solution.
An Unprecedented Environmental Solution?
Experts say that solution would have historical and ecological significance. This includes Michael Hughes, who directs the environmental sciences program at Oregon Institute of Technology in Klamath Falls, Oregon.

Waterfowl at Klamath Lake. Credit: Flickr
"This has never happened in our country — and to my knowledge it hasn't happened anywhere in the world," Hughes said.
He argues that the Klamath Basin's natural resource challenges are more complex than any in the nation's history. That includes Chesapeake Bay, the Mississippi River Delta, the Colorado River, or even the Columbia River here in the Northwest.
"Each of them is overshadowed in some way or another by what's happening in the Klamath," he said.
No Easy Path For Solving Klamath's Water Woes
Solving the Klamath Basin's water woes would be a major accomplishment. And even with some momentum, it remains a difficult one.
A related bill was introduced in Congress in 2011, but it didn't go anywhere. An updated, more economical version — still about a half billion dollars — is headed for a likely Senate vote this year. It carries support from all four of Oregon and California's senators.
But the hurdle of a divided Congress remains a very real one. Some conservation groups say the bill doesn't go far enough for parched wildlife refuges in the Klamath Basin. And some ranchers are still fighting in court for better water rights.
In the meantime, watermaster Scott White will keep telling water users to turn off their spigots.
White says he wishes the situation was different — whether through a political solution or even a few more rainstorms.
"If I could put something on my wish-list, the next 10 years would be extremely wet," White said. "I can't remember the last time I got a phone call complaining about too much water."